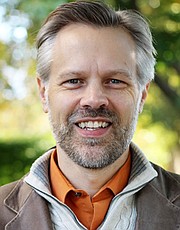 Imagine something goes wrong with your home during a blizzard like Jonas. Even worse, imagine you don't have a home at all to protect your family from the blustering snow. This was a reality for the 61 adults and 21 children who sought refuge at Carpenter's Shelter as 24 inches of snow blanketed Alexandria a couple of weeks ago.
Homelessness is a reality in our community. At Carpenter's Shelter, we have a long history of serving the homeless population, but there is nothing like a snow storm to make us realize that the need for shelter in our community is ever-present.
How big of a problem is homelessness in our community? Groups like Carpenter's Shelter and the City of Alexandria ponder the same thing. At the end of each January, municipalities across the country, including the City of Alexandria, conduct a Point-In-Time (PIT) count. Volunteers canvass the city and count the number of homeless men, women and children. The 2016 PIT count was conducted on the night of Jan. 28, and although we do not yet have the results of the 2016 count, last year's count was unchanged from the prior year. The total number didn't move. It was one more piece of evidence that the need for shelter and homeless services persist.

We know that homelessness is a lack of housing. With the present need and diminishing supply of affordable housing in our community, we need to be creative when helping individuals or families through their housing crisis. For example, people that are homeless can be successfully re-housed with Rapid Re-Housing funds. These pay for a deposit on an apartment or some portion of the first few months of rent. Individuals or families are able to move out of emergency shelters quickly, and use the money they have saved during their stay in shelter for future expenses.
Here's an example of how it can work. Linda and her family came to Carpenter's Shelter when she had no other housing options available. While in shelter, Linda continued working full-time and coordinated with her case worker to create a manageable budget. After working with Carpenter's Housing Locator and finding a new home for her family, Linda was approved for Rapid Re-Housing funds. Linda received funds for her security deposit and three months of rent at her new townhome — costs that would have otherwise prevented her family from moving into a new home. Linda and her family moved from homelessness to housed in just over two months.

Rapid Re-Housing funds aren't always enough. Finding and maintaining permanent housing is even more challenging when an individual faces barriers like mental illness, substance abuse, or physical disabilities. Permanent Supportive Housing (PSH) can be part of the solution to ending homelessness for these individuals. The units allow people to gain independence yet remain close to their support networks.

Take David, a Carpenter's Shelter client, for example. For many years, David struggled with chronic homelessness and substance abuse. Last winter, David frequented the seasonal Winter Shelter, and eventually moved into the Residential Shelter program, which has more structure. While in the Residential Shelter, David maintained his sobriety and worked diligently to secure a part-time job. After several months in the shelter, David was approved to move into Carpenter's Shelter pilot permanent housing unit. The unit provides a permanent home, independence and responsibility along with the supportive services through Carpenter's Community Case Management program.
While major snow events and the recent PIT count highlight homelessness in our community, the need for shelter is ongoing throughout the year. We, as a community, are working together to find solutions to end homelessness. We are on the right track and have shortened shelter stays and reduced reoccurrences of homelessness through Rapid Re-Housing and Permanent Supportive Housing. As long as there is a need, our efforts won't stop. With creative solutions and collaboration in the community, we will one day be able to say that homelessness is a thing of the past.