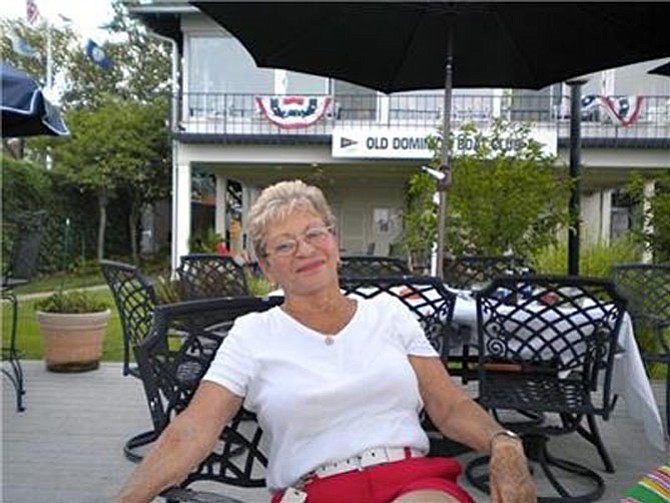 Doug Phillips remembers the first time he set eyes on his wife Dee.
"She was working for a law firm at the corner of Cameron and Pitt and I was an Alexandria firefighter," Doug Phillips said. "I saw her on the street and that was it."
The two were married in 1991 and spent the next 25 years sharing a passion for boating and volunteer service to the community. On Jan. 19, Dee Phillips died after a three-year battle with colon cancer. She was 76.
"I nicknamed her 'my gladiator,'" said Dee Beresford, a close friend of Phillips and fellow member of the Old Dominion Boat Club. "She just kept fighting. Her spirit was unbelievable."
Born Dec. 25, 1939 in Ashland, Ohio, Phillips was the daughter of the late Irving and Ruth Whitt Wiley. The military family moved often with Phillips settling in Alexandria in the 1950s following time spent overseas with her parents.
"She worked for the City of Alexandria Housing Authority back in the '60s," Doug Phillips said. "And she was very involved with the Penn Daw Volunteer Fire Department."
Phillips was a flight attendant with American Airlines and USAir prior to becoming the office administrator for Federal District Court Judge Teresa Buchanan. For more than 15 years, Phillips was the secretary of the Old Dominion Book Club.
"Dee was a great volunteer," Beresford said. "And she was passionate about the Boat Club and the community. She had so many friends and a wonderful sense of humor."
Phillips is survived by her husband, Douglas Phillips; children, Steven Norris and Stacey King; granddaughter, Courtney Yates; sister, Sharon Gower and brother-in-law, James Gower. Phillips' stepson Paul, a captain with the Bonita Springs, Fla., fire department, died in a hunting accident Dec. 20, 2015, just days before he was set to retire.
A Celebration of Life service was held Jan. 25 at Everly-Wheatley Funeral Chapel followed by interment in Mount Comfort Cemetery.
"Dee had such a passion for life," Beresford said. "She loved many things — boating, going crabbing, traveling. But most of all she loved her family and this community. To the end, my gladiator never gave up."