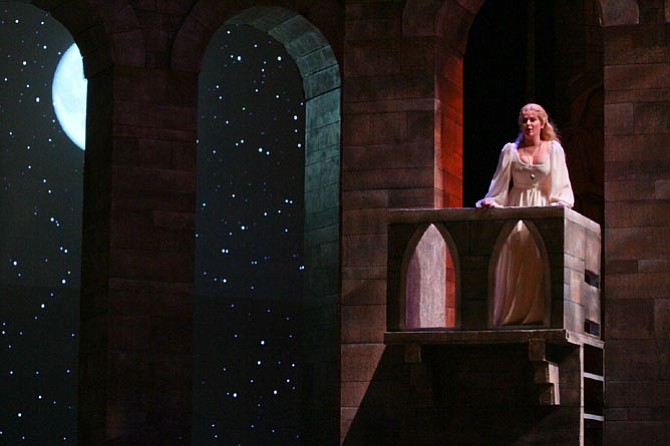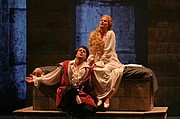 Where and When
Virginia Opera performs "Romeo and Juliet" at the George Mason University Center for the Arts, 4400 University Drive, Fairfax.
Performances: Feb. 13 at 8 p.m. and Feb. 14 at 2 p.m.
Tickets: $48, $80 and $98. Tickets call 888-945-2468 or visit http://cfa.gmu.edu. Sung in French with English supertitles. There is a pre-performance discussion with Dr. Glenn Winters.
Note: There is a special package for Valentine's Day weekend. The package includes champagne, chocolates and two champagne glasses. Keepsake pictures from a special photo booth. Tickets $125, $190 and $225. Tickets call 888-945-2468 or visit http://cfa.gmu.edu">http://cfa.gmu.edu.
Fall in love again this Valentine's weekend with "Romeo and Juliet." The ultimate in passionate romance and profound love in the face of adversity "will transfix audiences, this time as a moving opera," said Bernard Uzon, director, Virginia Opera's "Romeo and Juliet" soon at the George Mason University Center for the Arts. The production is a major collaboration between Virginia Opera and Opera Carolina.
"It is sublime opera with great music and singing that will touch audiences in both pleasure and sorrow, as two young people show it is possible to find love despite conflicts surrounding them." added Uzon. There will be a chorus of about 60 and a full orchestra for this celebrated account of young love. The orchestra will be conducted by Colorado's Central City Opera Music Director John Baril.

The opera "Romeo and Juliet" by composer Charles Gounod is based upon William Shakespeare's tale. Gounod's work is known for its beautiful duets between Romeo and Juliet. The opera includes a glorious masked ball where Romeo first sees Juliet, the famous balcony scene where they declare their devotion, and then to ultimate tragic woe.

Adam Turner, Virginia Opera principal conductor and artistic advisor said "the music provides great texture and color to the characters and to the scenes that words alone cannot as strings swell and the gorgeous sounds of the oboe are heard." Music also reinforces the aural images of the songs of larks and nightingales that are so key to the original text.
Making her Virginia Opera debut, soprano Marie-Eve Munger is Juliet. She described Romeo and Juliet as two people "who are equals and powerful." Each take turns "chasing each other to become caught up in the dream of being together and married." Romeo will be performed by internationally acclaimed tenor Jonathan Boyd who has performed previously with Virginia Opera in "La Boheme."
"I was very pleased when we were able to work with Virginia Opera to schedule their northern Virginia production of 'Romeo and Juliet' to occur on Valentine's Day weekend." said Tom Reynolds, director, artistic programming, Center for the Arts.
Additionally, there will be a distinctive package of Valentine mementoes available at the performances. "What goes better with romance than champagne and chocolate?" noted Reynolds.

Even if you think you know "Romeo and Juliet," this is an opportunity to run headlong into a romantic musical world. A beguiling way to celebrate Valentine's weekend.