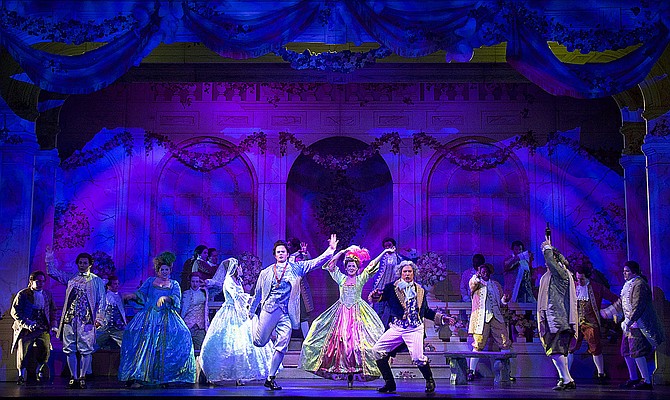 Human connections are at the heart of Rossini's "Cinderella" ("La Cenerentola"). It is a comic opera unlike the fairy tale some may recall or read to children and grandchildren.
Rossini's "Cinderella" differs from the more classic fairytale. It is not full of the supernatural or magical characters. "There is no fairy godmother, no magic pumpkin, or even a glass slipper," noted Kyle Lang, Virginia Opera director. Rossini's opera has glimmering splendor, comic characters, "with an ending about forgiveness and transformation."
Rather Rosinni's "Cinderella" has "characters who are quite human and tangible," added Lang. There are "disguises and mistaken identities" as key points for the opera's story. And the opera is full of "movement and music and that entwine in the story." Adam Turner will conduct the orchestra for this production provided by the Virginia Symphony Orchestra.
Rossini's enduring "Cinderella" was composed in late 1816 when he was 25 years old. In place of the traditional evil stepmother, the character of Cinderella is mistreated by an obnoxious, rather broke aristocrat. Instead of a fairy godmother, Cinderella is helped by a kindly tutor. There are two conceited step-sisters. And a love-struck prince with his clever valet who trade places with a critical purpose in mind. Another difference from the classic fairy tale: no sparkling, showy glass slippers. There are a matching pair of bracelets for the lovers to find each other.
What makes Rossini's "Cinderella" unique; his "vision of forgiveness; not just transformation at the heart of the production. It is emotionally moving," noted Lang.
The role of Angelina (the character of Cinderella) is sung by the vocally distinctive Alyssa Martin. "'Cinderella' is marvelous. It is funny and thought provoking. Envy and pride are vanquished as goodness wins the day," said Martin.
Martin grew up in a small rural town outside of Greensboro, N.C. She knew from an early age that she wanted to sing. With the support of her family and local music and voice teachers she discovered and nurtured her voice talent.
The role of Cinderella is one Martin indicated is "a favorite; if fits my voice range" Martin added the character Cinderella is "a woman who makes her own choices. She is powerful and authentic; not an object. Love, family, and connections are what matter to her.
"The human voices can do so much when not amplified," said Martin inviting audiences to take in the Virginia Opera production.

Where and When
Virginia Opera presents Rossini's "Cinderella" (La Cenerentola) at Center for the Arts, Concert Hall, 4373 Mason Pond Drive, Fairfax. Performance Feb 15 at 8 p.m. and Feb 16 at 2:30 p.m. Tickets: $110, $70, $40. Call 703-993-2787 or visit www.cfa.gmu.edu. Note: Sung in Italian with English supertitles. An "Opera Up Close" pre-performance discussion with Dr. Glenn Winters begins 45 minutes prior to the performance. Seating is limited. Special Note: There is a Valentine's Package available including a Fairytale Valentine photo station. The special Valentine Date Package includes: Two tickets for Cinderella, Champagne and chocolates, two commemorative champagne glasses and two spill-proof tumblers to enjoy the champagne during the opera! Valentine Date Package tickets: $255, $175, $115. This offer valid for either performance, Feb. 15 or 16. To purchase package call the Center for the Arts Ticket Office at 703-993-2787. Package is non-refundable and cannot be exchanged.