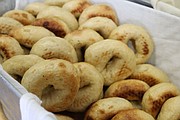 Details
Bagel Uprising
Where: Four-Mile Run Farmer's Market, 4109 Mount Vernon Ave., Alexandria
When: Every Sunday, 9 a.m.-1 p.m.
Baking Secret: "One of the secrets to good bagels is refrigerating (the bagel-shaped dough) overnight, ideally longer, like maybe two or three days is the best," owner Chad Breckinridge said. "If it's going to be longer than that, you can even freeze them."
There's a revolution afoot at the Four-Mile Run Farmer's Market most Sundays. Amid the produce vendors, soapmakers and craftspeople selling their wares, you'll find one table with a line dozens of customers deep. And to hear them speak of it, what this guy is selling is worth its weight in gold.
There's an uprising happening, all right. A Bagel Uprising.
The success of Bagel Uprising, the product of a one-man/one-family operation based in Del Ray, has been startling in its speed. From September 2015 to now, owner Chad Breckinridge has nearly quadrupled his business's output, leading to a steady following and an extra refrigerator in the living room.
Breckinridge has been baking bagels at home for about a decade, but only last year did he decide to make a go of selling them in the public square.
"I stated making bagels mostly for my kids at home, stuff like that, and then over the summer … some cousins were over and we were having some bagels, and I'd sort of been toying with the idea, mostly just in my mind, that (launching a business) would be a fun thing to do, but never thought I'd actually do anything more than talk about it," he said.
But talk turned into action, and by early autumn, Bagel Uprising had found a home at Four-Mile Run. And the first Sunday of sales was an eye-opening experience for Breckinridge.
"I came to (the Four-Mile Run Market) for the first time in September, and I showed up with about 150 bagels the first time, which is many more than I had ever made — and they sold out in a couple hours," Breckinridge said. "And I was thrilled that they sold out. It was great."
But Breckinridge knew that if he was going to continue to expand his business beyond 150 bagels, he was going to have to upgrade his infrastructure. Though he still bakes everything in his family's home, he was quickly outgrowing his family's refrigerator.
"I Freecycled a fridge … and that fridge is now in our den," Breckinridge said. "… I got that fridge pretty much immediately after that first weekend. My wife tolerantly said 'OK.' So the next weekend I made 300 bagels and they sold out in about 1 hour. And in the busiest (season) of the market, it was crazy: I was making about 500 bagels, which was my max, and they were moving pretty fast."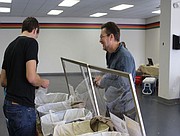 Now that the market has moved into the winter months, Bagel Uprising continues to sell out quickly. It's not uncommon for 450 bagels to disappear from the display case within 90 minutes — and that's on a slow day.
As fall turned to winter and will soon pivot into spring, Bagel Uprising has begun to welcome plenty of repeat customers into the fray. And over time, Breckinridge gets to know them — their names, sure, but also their preferences.
"I know their orders — there's one guy who gets a batch of salt (bagels), every time. The first few times I didn't have any salt bagels, and he said, 'You've got to get some salt bagels.' So I got the salt bagels. He's a reliable salt-buyer," Breckinridge said.
Sunday mornings start early at Bagel Uprising HQ — Breckinridge begins baking around 4 a.m. amid the solitude of a quiet house, when the children are still asleep and the stillness of the day is unbroken.
"In my Freecycle fridge, there are 450 bagels ready to roll" on baking day, he said. "They come out of the fridge and right into the water while they're still cold, and they boil for a few minutes. And then I top them at that point, and then they go into the oven for about 10 minutes. … It's been really fun."
So what's the next revolutionary step for Bagel Uprising? Breckinridge downplayed any possibility of a storefront, saying he's having a great time focusing on farmer's markets for now.
"I like the entrepreneurial part of it," he said. "I like that my kids can see that if you have some crazy idea, go for it. Try it out and see how it goes."
Hope Nelson owns and operates the Kitchen Recessionista blog, located at www.kitchenrecessionista.com. Email her any time at hope@kitchenrecessionista.com.