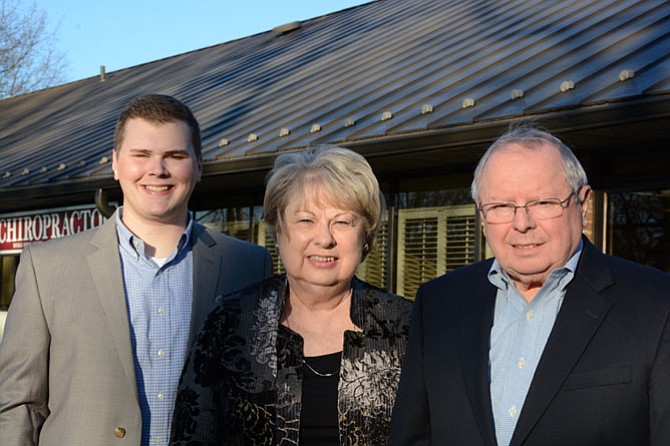 Some find it harder than others to keep their work and personal lives separate. In the case of three Burke businesses, their owners have completely merged the two, and been living happily ever after.
Pat Richter of Fairfax Station obtained her license to sell real estate in the late 1970s. She started working for Long and Foster, and then Re/Max in Burke. In 1990, she broke off from the larger firm and opened her own Richter Group Residential Preferred Properties, located in the Burke Centre Professional Plaza. When her husband Don would get home from working for the National Archives on audio-visual records, he would help his wife with some of the running around -- hanging lock-boxes, pounding in open house signs.
"We worked together very well," Don said, "we didn't argue."
"I'm the people-person," Pat said. "I love helping people, I'm a problem solver, and I'll become your friend."
When Don retired, he decided to join Pat's business full time, ready to pursue an activity where he didn't have to sit behind a desk. And though he put in more hours, their roles remained largely the same.
"We had an understanding and followed that," Don said.
"This was my business," said Pat. "He agreed with that."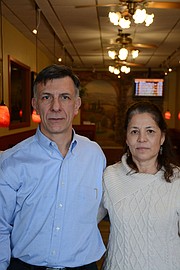 KOSTAS AND MARIA DASKALAKAS of Fairfax, who own and run Hopsfrog Grille in Burke and Fireside Grill in Lorton, said having clearly defined spheres has also worked well for them: Kostas spends more time at Fireside while Maria puts in more hours at Hopsfrog, which has been located in the Burke Centre Shopping Center for 18 years. Working alternating day and night shifts has also been successful, they said, allowing enough absence to make their hearts grow fonder.
Kostas had been working for the government but decided he wanted to pursue his own business, building on his experience with catering and food service.
"We planned to work together," he said, "with shared responsibilities. But I'm more technical, she's the people person." Maria had previously worked at a car dealership in Alexandria.
Both say that working together over the years has been great, but, "when conversations about the business come up in the house," Maria said, "we try to avoid it."
The Daskalakas' two children essentially grew up with the restaurants. Both have helped in the family business, though one has gone off to work for Lockheed Martin as a networking engineer and the other is studying computer science at the University of Maryland.
After 24 years of marriage, Maria's advice for couples contemplating marriage and business-ownership: "Not to do it," she said with a smile. "At least the business part," Kostas added.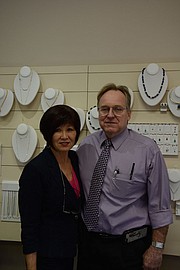 HELEN AND TOBY FITZKEE, Fairfax Station residents and owners of Five Star Jewelry, a few doors down from Hopsfrog, have the Daskalakases beat by a few anniversaries. They opened their doors in Burke in 1987 after both working for Helen's brother in a store by the same name in Fairfax.
Toby had a master's degree in fine arts, but had wanted to go into business for himself. With him handling repairs and Helen managing sales and the business front, the couple decided "just to do it" and open their own store.
"We're very open partners and friends," Toby said. "We have our differences but we work them out."
The couple has three more years on their lease but is hopeful about renewing for at least another five.
"We still enjoy it," Helen said. "The Burke area has been good to us, they're good customers."
So the jewelry business, and model of successfully blended professional and personal life, will continue.