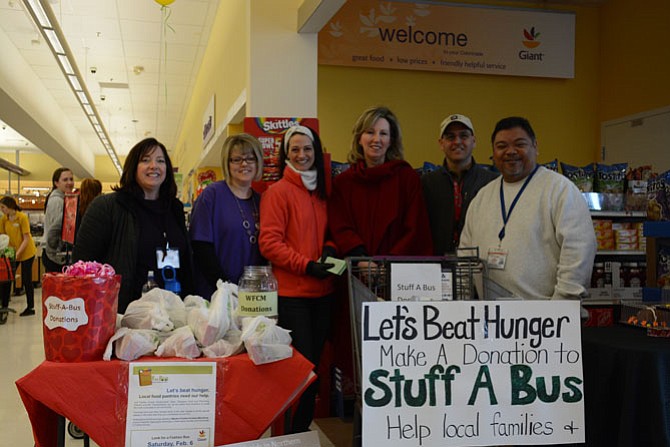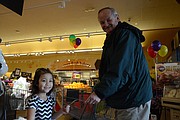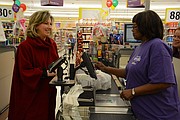 As shoppers hustled in the sliding doors at the Giant Food in Clifton, many on last-minute errands in preparation for Sunday's Super Bowl 50, five-year-old Selena Padeway was eager to hand them another shopping list.
On Feb. 6, that Giant was one of several grocery and retail stores around Fairfax County participating in a month-long initiative called Stuff the Bus to both raise awareness of local food pantries and residents with food insecurity, and to help stock their shelves with donated food.
Padeway's shopping list included suggested items that shoppers could pick out themselves, or Giant employees had pre-wrapped plastic bags of food totaling $5 that customers could add to their carts for convenience.
"We're helping out families that are in need," said Laura Fox of Centreville, who's worked at the same Giant Food for 13 years. "It's a great cause."
Various food pantries in the county benefit from Stuff the Bus. Food from this location is going to Chantilly-based Western Fairfax Christian Ministries, which serves more than 1,000 client families out of their food pantry each month.
"Donations are the primary means of stocking our pantry," said WFCM community outreach manager Jennie Bush.
In 2015, the food pantry received 4,367 pounds of food from Stuff the Bus. This year's total was 2,850 pounds. "We're grateful for the community's generosity in donating to our food pantry," Bush said in an email. "We couldn't do the work we do without their support."
U.S. Rep. Barbara Comstock (R-10) attended the event, checking out with several of the pre-wrapped grocery bags before helping greet shoppers at the store's entrance.
Comstock said that while the periods just after holidays are when pantries experience their highest need for food, "food insecurity is a year-round problem in our community."
"Giant has been great," Comstock added, "and this is an easy opportunity to come together and help this charity. We see the need throughout the county, and here people can pick up new food, high quality items to donate. Moms come in with their kids and see giving back going on."
For more information about upcoming Stuff the Bus events, visit www.fairfaxcounty.gov/living/food/stuffthebus. For more information about Western Fairfax Christian Ministries, visit http://www.wfcmva.org.