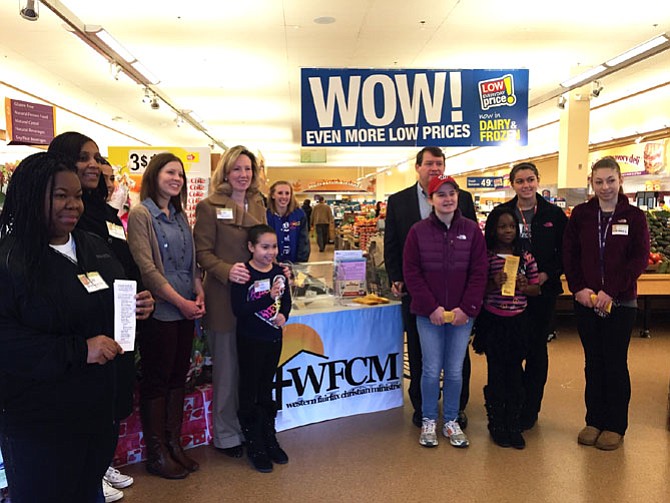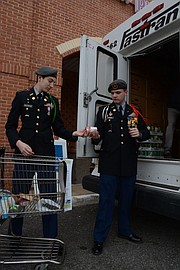 For members of the South County High School JROTC program, Saturday's "Stuff the Bus" food donation event was as much about community service as it was about "service learning."
"Community service is what you're doing; service learning is what you're getting out of it," said South County junior Alexander Thomas.
"We're learning how to help by getting people to donate," added junior Lauren Dost.
The students helped run one of two Stuff the Bus donation drives on Saturday, Feb. 7. Theirs took place at the Giant grocery store in Lorton and benefitted the Lorton Community Action Center, while another occurred simultaneously at the Giant in Clifton and benefitted Western Fairfax Christian Ministries.
Fairfax County has organized "Stuff the Bus: Helping Fairfax Families" for five years, in collaboration with local grocery stores, non-profit organizations and Fastran buses with drivers from MV Transportation.
This year, the county lined up buses to appear in 13 different locations between Jan. 17 and Feb. 16.
At Saturday's drive in Clifton, U.S. Rep. Barbara Comstock (R-10) and Supervisor Pat Herrity (R-Springfield) helped get the donations rolling.
"We know people make donations around the holidays," said Comstock, "but there's still great need this time of year. It's great to have a reminder this is a year-round issue."
Lorton Community Action Center supplies food to between 240 and 280 local families each week, according to food program manager Stephenie Hart. "This area is definitely an area in need," she said, "especially along the Route 1 Corridor."
"Thirty-six percent of our kindergarteners have free and reduced lunch," Herrity said. "Sometimes it's easy to forget, but the need doesn't go away."
The drives in Lorton and Clifton each ran from 9:30 a.m. to 4:30 p.m. In Lorton, they collected 2,280.6 pounds of food (97 percent over 2014) and $807. The Clifton drive brought in 4,422 pounds of food and $417.25.
With four events left, the 2015 Stuff the Bus program has collected over 26,000 pounds of food and more than $6,000 overall.
For more information on the remaining Stuff the Bus dates and locations in February, visit www.fairfaxcounty.gov/living/food/stuffthebus.