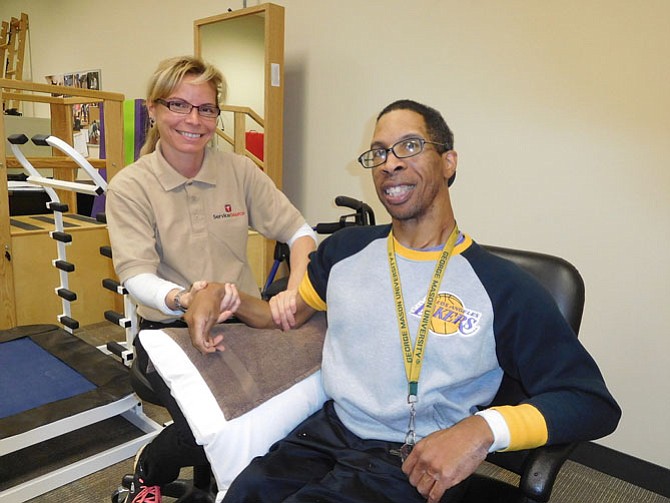 In one section of the ServiceSource Chantilly Center, music therapist Myra Goodrich leads a group of budding musicians playing a cheerful song. Meanwhile, elsewhere in the building, Mickey McGrady creates an art project and Larry Hernandez gets physical therapy for his sore elbow.
It's a typical Thursday there, and a diverse group of people are both enjoying themselves and receiving the specialized services they need. There are about 80 of them, ages 21-70 and older.
"ServiceSource serves 18,000 people annually in 10 states and Washington, D.C.," said Mark Hall, an executive vice president with the ServiceSource Chantilly Center. "We're the largest nonprofit organization in Northern Virginia serving people with disabilities. We're headquartered in Oakton and have been in Fairfax County since 1971, but have operated the Chantilly Center for three-and-a-half years."
"It's a community-based, day habilitation center for people who are medically fragile and have other significant disabilities," continued Hall, of Chantilly's Poplar Tree Estates community. "Several are bedridden and need help with personal issues, medication and behavioral issues."
Many, however, are able to go into the community and do things. They package and deliver meals and load trucks for Meals on Wheels, eat at restaurants such as McDonald's, go to parks and out shopping and also enjoy themselves at the Cub Run Rec Center.
"They're doing what everyone else does, as much as possible," said Hall. "People with disabilities want to be part of the community, and we're always looking for more ways to engage them in it. We also work with Therapeutic Riding in Clifton. It's an opportunity for them to have fun, be outside and try something new — and they always have great, big smiles on their faces."
MOST OF the Chantilly Center participants live in the Sully District (Centreville and Chantilly), but don't have to be to use the program. "It's an important part of human services coming to Sully," said Hall. "And it helps build the infrastructure to serve people with disabilities in western Fairfax County."
Located at 14048 Parkeast Circle, Suite 200A, off Newbrook Drive, it's a 25,000-square-foot, one-story, all-accessible building. It's light, airy, bright and spacious, but also has private rooms for participants needing personal-hygiene care.
"The program area is nearly 20,000 square feet," said Division Manager Jacque Scholl. "There, people do activities based on their own, individual, service plan, working toward their goals/outcomes. Four to eight people at a time mainly deal with their safety and health, plus communication skills and visual and tactile stimulation. Many need medical care, so we have two, full-time nurses who help give out medications."
At the center, participants receive a variety of therapies. For example, speech-and-language therapist Cathy Coleman uses an iPad to increase people's abilities to communicate with others. Others receive occupational, physical or sensory therapy, as well as music, art or dance therapy.
"It's a good place to receive quality service," said Hall. "But it's not about the building, it's about the people."
Noting the opportunities the participants have to interact with the community, Scholl said they volunteer with the Lunch for the Soul in Herndon. "Our staff drives and they hand out meals to day laborers in Herndon," she said. "They also do the set up and cleanup for it."
Scholl said some participants rearrange furniture and books and dust items at Habitat for Humanity's ReStore in Chantilly. And others get paid for sweeping floors and breaking down boxes at Unicom, a government warehouse also in Chantilly.
"We offer a lot of employment opportunities," said Hall. "ServiceSource has a contract with government agencies and other businesses. We do evaluation, testing and job placement."
Meanwhile, at the Chantilly Center, said Scholl, "We provide people with the opportunities they need to become as independent as possible. The range of disabilities runs the whole spectrum, and we serve wounded veterans, too. Our ratio is one staff member to three-and-a-half participants."
Offerings such as music and art therapy, yoga and horseback riding are an enhancement paid for by the ServiceSource Foundation, the fundraising arm of ServiceSource. "Public funding from, for example, Medicaid and Fairfax County doesn't cover these things, and we want to provide the highest-quality program possible," said Scholl. To donate, go to www.ServiceSource.org.
AT ANY GIVEN TIME, a variety of therapy is going on. Occupational therapist Maureen Lynch evaluates the participants' needs before working with them. On a recent day, she was adjusting the seat on Larry Hernandez's wheelchair.
"I'll do feeding and seat-positioning assessments, and I have particular equipment to relieve physical pressure and make people comfortable," she said. "We have stairs and a trampoline to strengthen the joints, provide a sensory experience and drain the lymph nodes. We also use standing walkers with support and do leg and trunk strengthening to improve balance."
Across the room, physical therapy assistant Celine Tourpe was about to help Ronald Lambert. "I had surgery on my wrist in 1987, but it didn't work, so my elbow is painful," he said.
"And the pain got worse over time," said Tourpe. "So he's receiving physical therapy for it so he can have a better range of motion." Not that he lets his problem stand in the way of helping others.
"I do a lot of work on behalf of the disabled," said Lambert, 43. "I raised over $200 toward wheelchairs and walkers for wounded warriors. And I held a coat drive and a food drive and was on the board of the Northern Virginia Training Center."
He's been coming to ServiceSource's Chantilly Center for two years and, he said, "I like the therapy here and I really love playing basketball here. I planned a lunch out last week for my buddies here, and I wrote and put together a Christmas play for people to perform here. I come here every day and I look forward to it. I would recommend this place to others because there's a good staff here and the facility's wheelchair-accessible. And the physical-therapy offerings are really good."
Tourpe has worked for ServiceSource for eight or nine years. "I like it because I'm really making a difference," she said. "And even though it can take months to see results, it's so rewarding to see improvements – I just love it. And they allow us to take the time we need to work with our clients. And when Medicaid stops paying because the person isn't making progress, ServiceSource will pick it up so we can finish our work and have a good result."
The ServiceSource Foundation also funded the building's sensory room, filled with various lights, colors and objects. With different things to touch, feel and see, it's geared for people needing tactile and visual stimulation. There's background music, plus aromatherapy so nonverbal people can communicate what they do or don't like.
In one area are bubble tubes with colored bubbles rising inside them. There's also a tactile board to help desensitize people in need of that treatment; it also allows the visually impaired to touch things.
Besides Chantilly, ServiceSource has branches locally in Oakton, Springfield, Manassas, Alexandria, Annandale and Arlington. The participants live in group homes or with their parents, and those attending the Chantilly site mainly come from Centreville, Chantilly, Herndon, Reston and Vienna.
TOUGHEST, said Hall, is finding the funding for everything. "We serve people with significant disabilities," he said. "We value people's lives and want to enhance them and keep them safe. Historically, Fairfax County has done a great job helping to fund us. However, there's a lot of budget pressure, so we have to be strong advocates."
"We can do the work, but it takes money," continued Hall. "We also want to create new opportunities for our participants to work, volunteer or participate in the community. And we want the community to know we're here."
Scholl, who's been with ServiceSource 35 years, says the best part of her job is "the smiles — to see people enhance their lives and know we're doing what we can to help them. It's also seeing them grow. Whether they're playing games, doing therapy or talking to other people, they enjoy the camaraderie — and that makes their day."
Hall's son James has Down syndrome and, he said, "As a parent of a child with a disability, it's about the families. Everybody we serve has someone who cares for them and wants to know they're in an environment where they're safe, healthy, engaged and cared about every day."
More like this story