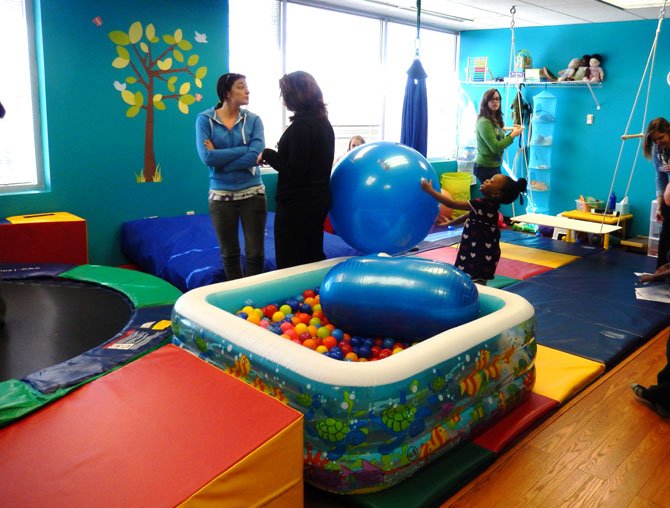 Chantilly — When Donna Shank's son Ryan was diagnosed with autism eight yeas ago, she traveled throughout the Washington Metropolitan area to get treatment for him.
"Most children with autism, and other children with special needs, require several different types of therapies, such as speech and occupational therapy and additional tutoring," she said. "But it's difficult to find all these services in one location. So my dream was to provide an all-in-one, integrated, therapy center."
Shank, of Centreville's Sully Station community, has now done that. Two months ago, she opened Wings to Fly Therapy and Play Center in Chantilly. A treatment facility for special-needs children from birth to 18 years old, it's at 4530 Walney Road, Suite 203; phone 703-466-5533 or see http://www.wingstoflytherapy.com. Hours are Monday-Friday, 8 a.m.-7 p.m., and Saturday, 9 a.m.-1 p.m.
This 2,300-square-foot clinic has two occupational/sensory-exploration rooms, several individual therapy rooms and a trained staff. The goal is to provide services and recreation all under one roof and empower families to become their own experts about their children's potential.
"I really feel there's a need — not just for services for the child — but also for support for the family," said Shank. "We'll provide education, workshops, speakers and other resources to help parents navigate the difficult journey through the various therapies."
She also hopes to provide high-school and college students with opportunities to volunteer. "Those interested in the special-ed field can get some good exposure and experience working with the children under the supervision of a licensed therapist," she said. "They can also participate in the educational workshops."
Besides that, said Shank, siblings of children being treated at the center can take advantage of daily, open-play times on the sensory equipment — the trampoline, small-ball pits and swings.
At Wings to Fly, treatment is tailored to meet each child's individual needs. In addition, the staff will listen to the family's wishes about the child's future and work with them and all the therapists as a team. They'll brainstorm strategies to help parents during challenging situations and will also integrate family members, such as siblings, grandparents, babysitters, etc., into the child's therapy plan.
In most cases, parents need a referral from a doctor for services. "We're offering free, 15-minute consultations to discuss any questions people may have," said Shank. Those interested in obtaining more information may email info@wingstoflytherapy.com.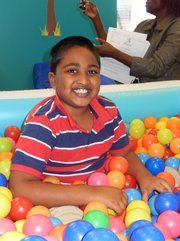 The center offers a variety of services, including a speech therapist, occupational therapist and special-ed teacher who also have experience and training in other areas besides their own, clinical fields. Shank, the owner/director, has a bachelor's in psychology, has worked in the special-ed and autism field for many years and is currently working on her master's in occupational therapy at Shenandoah University.
Also offered are programs in playful interaction, art expression, music-listening, social skills and academic tutoring. The idea is to provide well-rounded and sustainable therapy for each child's ongoing progress.
"I'm very excited about it," said Shank. "I'm really doing this to help families — to make their journey simpler. I also want to work with the community, including the school system and medical providers, to bridge the gap between them."
Ryan's now 11 and, said Shank, "He's come a long way. But it's been the result of thousands of hours of therapy. He's my inspiration, and he motivated me to create a therapy center from the perspective of a family member."
At the facility's recent open house, parents spoke with staff and visited each colorful room, while their children enjoyed the play equipment and other toys. Meanwhile, Lions Club members did free vision screening, even with the nonverbal children, and gave printouts of the results to their parents.
One visitor was Cyndi Mahler of Centreville's Country Club Manor community. "Both my sons are on the autism spectrum, so I was interested in this as an appropriate place where they could participate in open play," she said. "We feel welcome here, and it's helpful having the therapies all under one roof so people don't have to drive as far."
Since both her children love music, Mahler planned to have them participate in music therapy there. "I'm hoping it'll help them with their focus," she said. "I like how this place is bright and colorful and designed for children. And I love the wide trampoline — it's low to the ground and has padding all around."
Lillian Amoah came with her son Di'Angelo, 7, also on the autism spectrum. "Two of the staff members were his teachers at Cougar Elementary in Manassas Park," she said. "I'm excited about this because it's an opportunity to have them still work with him. This place is great; Di'Angelo was jumping on the trampoline and playing in the ball pit and on the swing."
When he's not in school, said Amoah, he's home and "doesn't have friends' houses to go to. So this lets him step out of his comfort zone and be with other people in a different environment."
Also there was Manju Gomathinayagam of South Riding, who brought her son Shankar, 9, also on the autism spectrum. "I know Donna as a friend and I came to check out the place," she said. "You can see the kids are happy to be here and are having a good time. I think it's a great place to get them motivated to work because it's so cheerful and inviting, as opposed to other facilities with a plain, drab room."
Agreeing, speech pathologist Mary Kay Yates said, "I'm excited to be here because it's everything wrapped up into one. The kids get a program tailored to their needs, while they have fun and a feeling of acceptance."
One room has a hammock, trampoline, mats on the floor and large exercise balls. There are also swings that spin and bounce, a scooter board and balance beams. Another room has tents, a nylon tunnel to crawl through, math and music mats, games and building toys.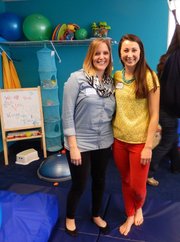 "We have five separate playrooms," said Shank. "There are two for gross-motor, sensory skills and open play. The other three can be used for speech therapy, tutoring, fine-motor skills and other academic work."
At the open house, staff members Krista Goovaerts, a special-ed teacher and speech-pathologist assistant, and Maggie Bridges, an occupational therapist, were on hand to speak with the parents and supervise the children while they played.
"All the staff wants the same things for the kids — consistency to help them make progress," said Goovaerts. "And this place is so welcoming that kids can feel safe and have fun while learning."
"It's family-centered," added Bridges. "The kids come for all the supports they need and, while they're getting therapy, their siblings can come play, instead of waiting for an hour in a waiting room with their parents."
What's neat about the center, she said, is that "children can come in for their individual therapies, group sessions and open play, all in the same place — and that also makes it more affordable. At Wings to Fly, there's so much love, fun and such a positive attitude that everyone feels good being here."