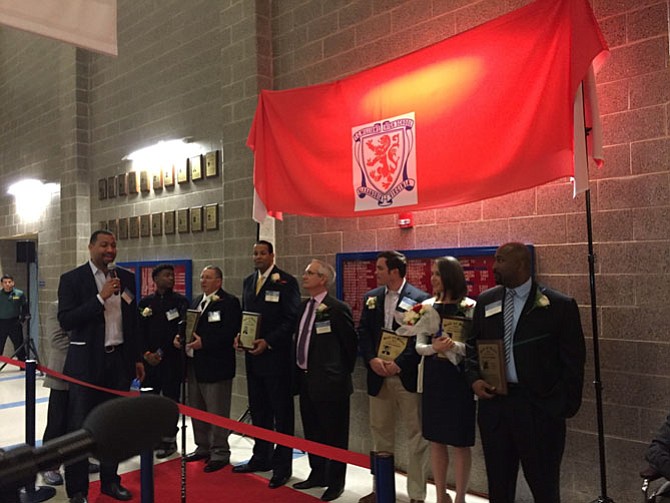 For one of T.C. Williams High School's biggest celebrities, Coach Herman Boone made a quiet entrance to the Alexandria City Public Schools Athletic Hall of Fame ceremony. He worked his way apart from the crowd, finding and greeting some of the men he used to coach in football. Boone was among the athletes inducted and coaches honorarily inducted into the ACPS Hall of Fame at a ceremony on Feb. 12.
As more and more people in the hallway began recognizing him, Boone was quickly approached by young students who'd just seen the "Remember the Titans" movie for the first time. In 1971, Boone was appointed head coach at TC and won the Virginia State Championship. The team was ranked as second in the nation by national polls and Boone was selected as "coach of the year" six times. There was a screening in the auditorium earlier that day of the movie centered around Boone and the 1971 Titans football team, but 16 years after the movie premiered Boone says he's just fine skipping out every once in awhile.
"I don't watch the movie," said Boone. "I've seen it enough times… but without the movie, young students might not understand the importance of this place."
But just because Boone isn't teaching football at TC anymore doesn't mean he's stopped following his team.
"I watched the football team this year," said Boone. "They're small, but hustling. I wouldn't want to play against them. They're like flies, they get hit but they get back up. They have spirit. They'll be all right."
Boone said he's happy to still see students at the school so involved in the sport, noting that it helps keeps students off of the streets and teaches them the value of teamwork and dedication.
"Football is a metaphor for life," said Boone. "It teaches you the important lessons you'll carry with you."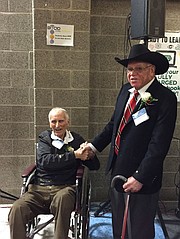 "We just wanted people to remember the young man that was born and raised here."
— Tawanna Talbert-Loving, older sister to inductee Sgt. Deforest Talbert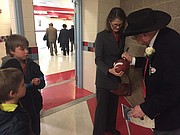 Along with Boone, TC honored coaches Bill Yoast (also featured in "Remember the Titans") and Glenn Furman. Yoast worked alongside Boone on the 1971 football team. Furman was coach of T.C. Williams' junior varsity football team with a 65 win, 1 loss record, including a 38-game winning streak and unscored on 9-0 season. Furman later became head coach and helped the Titans win two state championships. In over 30 years of coaching, Furman has never had a losing season.
Alongside the coaches, TC inducted five athletes into the hall of fame.
Michael Casey was one of the premier basketball players in TC history with an average of 17.9 points, 10 rebounds, and 3 blocked shots per game his senior year. Casey let the TC team to regional finals in 1971, after which he played four years at the University of Maryland Eastern Shore. Casey played professionally in Venezuela before earning his Master's and Doctoral degrees and becoming an educator in D.C. and Alexandria.
John Kemper, from the George Washington Class of 1964, was awarded nine varsity letters in football, basketball, and baseball, and was named Alexandria's Outstanding High School Athlete in 1963 and 1964. He has since been honored as one of Alexandria's 100 greatest athletes and in 2003 was given the Alexandria Sportsman's Club Gene Bode Memorial Hall of Fame Award. Kemper went to college at the Virginia Military Institute where he was a three year starter on the basketball team. After graduating, Kemper served three years in the Army before working in engineering and construction.
Clark Mercer was called the first "soccer superstar" to come out of the Alexandria Public Schools, as goalkeeper for TC varsity team for four years and serving three seasons as team captain. As a senior, he was district and regional player of the year, earning a school record 10 shutout games. Mercer went to Yale and played four years for the varsity football team, graduating summa cum laude. He earned a master's degree, also summa cum laude from George Washington University, and has since served as a political advisor and youth soccer coach.
Kelly Mercer was praised for her excellence in track, with five state titles during her junior and senior years, and finishing second in the nation in the one mile run at the Golden West Invitational. After graduating, Mercer attended Georgetown University where she graduated second in her class, then received a medical degree from Washington University School of Medicine. Mercer works as an oncologist at the University of Virginia Hospital.
Ratcliff Thomas was a linebacker and running back at TC in the class of 1992, as well as a star of the basketball team with an average of 20 points per game his senior year. After attending University of Maryland, he was drafted into the Carolina Panthers and later the Indianapolis Colts, eventually named to the Sports Illustrated All Pro team. After retiring from football, Thomas came home to Alexandria to mentor youth and work as an assistant coach for the Titans football team.
But the standing ovation of the night was reserved for the family of DeForest Talbert, 2001 graduate from T.C. Williams known on the football team as "Touchdown Talbert," Talbert earned a scholarship to West Virginia University, but after becoming a father, enlisted in the Army reserve. In 2004, DeForest was killed in Operation Iraqi Freedom when a roadside bomb exploded beneath his vehicle. After his death, his comrades in the 150th Armor Regiment sponsored an annual motorcycle ride from West Virginia to Alexandria, known as the Patriot's Pride, and started a scholarship fund for his son.
"Words cannot express our gratitude," said Tawanna Talbert-Loving, older sister to Deforest Talbert. Coming back to her home in Alexandria, Tawanna Talbert-Loving said so much has changed, especially the school, and said she was impressed with the maturity and confidence of the students she spoke to at TC. "We just wanted people to remember the young man that was born and raised here."
Dr. Jesse Dingle, midway through his first year as principal of T.C. Williams, said he was moved by the enthusiasm and support of the community for the school and its alumni.
"You could really feel the Titan pride in the room," said Dingle. "Tonight we celebrated 50 years of excellence, and we look forward to another 50 years."