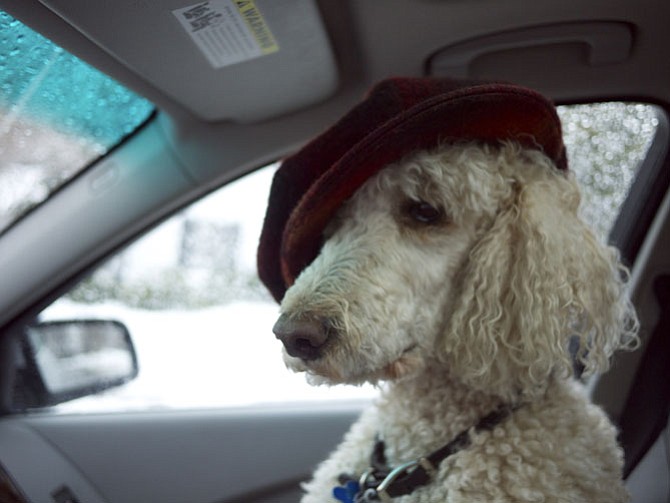 Kai's fancy "kennel" name was Sojourner, Summer of Storms. He was born in 2006, a summer full of rain and thunder. But "Kai" suited him best. It meant lover of the ocean, or, keeper of the keys. From the beginning, he loved us more than any family has a right to be loved by a dog. He was the puppy who bounced over to my 7-year-old son when we were trying to decide between puppies, and threw himself in his lap. Decided. He cuddled with the almost grown girls in the back seat the whole way home, confirming a love for car trips, and girls. That night, he whined with fear as he adjusted to life away from his home; when I held his paw, he quieted down and understood: we were his family now.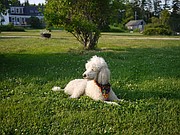 In India, he was often taken for a walk through the Lodi Gardens, full of street dogs and Mughal tombs. Indians would stop and ask: Is it a God? They had never seen such a beautiful creature, so human in aspect. Kai was famous for jumping into the horse's water trough to cool off in the hot summers, and for playing "Holi" on the lawn, his white coat streaked with bright pink, purple, and yellow powder. Any excuse for a party.
Maybe it was because we because we were a family in evolution, or because we moved a lot, or because poodles think they are people, but Kai really was more than a dog. When he first got sick, in London, it was shocking. He was only six. The vet calmly, with British reserve, said it was a pity: the dog had six months at most. We told the vet he was going to have to do better than that. That six months turned into three years. We poured on the special foods, eskimo oil, sonograms, and urine tests. We began to think he would live a normal life despite his damaged kidneys. Vets called him the miracle dog. He looked set to beat the odds, with no trace of illness.
Kai had an eventful three years: posing as a model for "Grazia" magazine, travelling to spend time in Southern France, swimming in the Thames, and returning home to Arlington, happy to be back in the land of dog parks and backyards. His protein-free diet did make him a bit of a thief: first a plate of croissants, then the bag of six kielbasa sausages — all of them — and then, he went through his fancy underwear stage. One French houseguest was warned: don't leave your underwear out. Put it in the suitcase. She did. That evening at dinner, Kai seemed delighted with something he had under the dining room table, something black and lacy: she hadn't zipped the suitcase all the way.
But then, this fall, he started to sleep more, eat less. What seemed like an infection became steadily worse. Kai was a good dog, right up to the end. It didn't drag out: one day he was leaping with joy at our arrival, running down a country road, and the next day he was an old man, thin and slow. There was no drama, no whining, no mess. He knew he was failing, but he fended off death as long as he could, trying valiantly to eat, valiantly to get up to go outside. Then he stopped eating, stopped barking at the mailman. He could still muster a tail wag. He still wanted to ride with me in the car. He had survived, with late stage kidney disease, much longer than any dog should have. We felt he must have known how important he was to us, and stayed as long as he could. We had to give him a dignified goodbye.
After putting down our last dog, we said we could never do it again, at least not that way. It seemed so wrong to put a dog down on a steel table and leave, holding only her dog tags. Since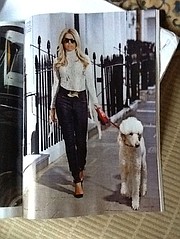 Kai hated the vet's office, taking him there, or to the ASPCA, was out of the question. My vet would not come home. I thought of my father going out to shoot each of our dogs, grim faced, but efficient, and private. People I knew had recommended "Lap of Love" home euthanasia service. I called them: it had to be scheduled, there was an extra fee for evenings, it was going to cost us $600 minimum. And there was a lot of talk about our grief, and memorials, how we would be helped to mourn. There was an option to have a paw print. I had spent thousands on Kai over the years, but now that he was going, I didn't feel his death was something to "over do." Most importantly, we wanted to say goodbye privately, without consolation from someone we'd never met. And the whole family wanted to be there, after hours. I kept looking.
I talked with Dr. Krisi Erwin, in Loudoun County; she had gotten good reviews. She was very busy and these days limits her travel to Loudon County or occasionally Herndon and Reston. "In fact," Erwin said, "it would be good to have more people willing to do home euthanasia as the demand is increasing." I called other people: most were even more expensive, many of them wanted to talk about Kai, how he was feeling right now, how he needed a cloud of love. The New Englander in me pulled away. I even thought about letting Kai die on his own — it would only be a matter of days. But those days would be the antithesis of this animal's life: ugly, quiet, toxic, painful.
I finally found Home Veterinary Care based in Burke. They were available any time. They offered me the option of taking my dog to be cremated on my own. Dr. Juan Villar came to the house in his van late Friday afternoon. Kai had crawled under the dining room table and Villar, in civilian clothes, crawled under with him, getting to know him. He spoke kindly to Kai, and commented on his noble face. When we were ready, Villar gave Kai a sedative in a vein. Kai was relaxed when he added the pentobarbital. As we hugged Kai and said our good-byes, his eyes closed, his heart beat four more times and then stopped. He was gone. Villar checked his vital signs, packed his bag, commented on the difficulty of losing an animal in a way that did not seem intrusive, asked if he could help carry the dog anywhere, told us what changes would occur in Kai, and left.
We carried Kai, on a white sheet, to lie in the sunporch overnight. We went out several times to sit with him, put flowers on his sheet, snipped a few locks of hair from his top knot. We felt him grow hard and cold, but it was not strange. It was particularly good for my son, whose exposure to death was limited. The next day we took him to Sunset Pet Services in Alexandria. This family-owned business was equally respectful and professional. Martin greeted us, gave us another chance to say goodbye, and offered us a wonderful pamphlet on grieving for an animal: Kai had so often helped us grieve for others, so often helped us make transitions. It was his turn now.
End-of-Life Pet Care
Home Veterinary Services, Dr. Juan Villar, home visit including travel fee: $249.50, www.home-vet-care.com; they will take care of cremation if desired.
Sunset Pet Services,Inc. in Alexandria, www.sunsetpetservices.com $165 for a dog less than 50 pounds.
Dr. Krisi Erwin at Wholistic Paws, www.wholisticpawsvet.com, serves Loudoun County primarily. Erwin charges $225 for the house call and euthanasia, and cremation can range from $100-300. Erwin also does home hospice for dogs, and she urges pet owners who are anticipating loss of a dog to reach out — even as early as six months before the dog slows down — and talk to someone about home hospice or home euthanasia earlier than they would normally do. The advantages are many: the doctor won't be a stranger, and the doctor may have suggestions for prolonging the life of the pet or making them more comfortable. And the doctor can help with the hardest decision: Is it time? "It's better not to have to make decisions when you are distraught over the imminent death of a pet," said Erwin.
Lap of Love, www.Lapoflove.com, $350 for evenings and weekends, private cremation $250.
www.veterinarywisdompetparents.com/ helps people cope — especially how to talk to children about pet loss.