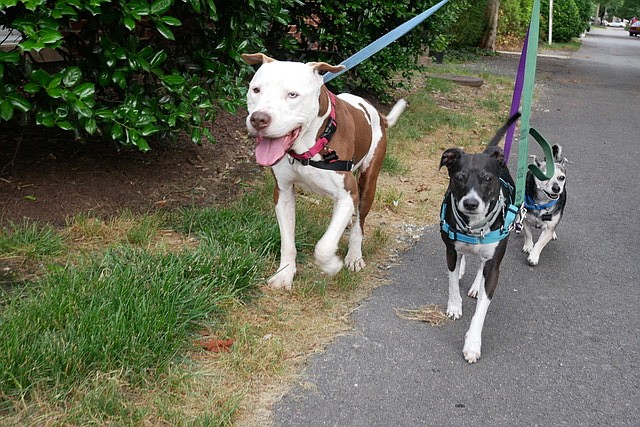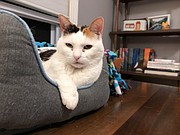 The white and brown American bulldog mix sat in the Vola Lawson Animal Shelter's community room. He had just been surrendered by owners who said he had been continuously falling down stairs and could no longer get up. They felt euthanasia was the only course of action for their 11-year-old pet.
But when the Animal Welfare League of Alexandria's shelter veterinarian Dr.Kaci Angelone and Veterinary Care Manager Arianne Killen got to the room, they saw a sweet, youthful face looking up at them, the expressive eyes — one brown and one blue — reflecting stress and pain. And they observed something else: Although obviously uncomfortable, the dog could stand up.
Killen immediately took the dog, known as Peedee, to one of the AWLA's veterinary partner hospitals for radiographs, or X-rays. The reasons for Peedee's pain and disability were suddenly clear to see: He had severe spinal fusion, which meant several of his vertebrae were locked together. Additional examination also showed serious abrasions on his paws, a result of struggling to walk, Killen said.
The veterinary team realized that Peedee could lead a happy, comfortable life — with the right support. Antibiotics, muscle relaxers and pain medication were prescribed, though Peedee resisted swallowing the pills. Undaunted, the staff tried hiding them in treats like rotisserie chicken, cream cheese, cat food and baby food, and they finally succeeded in getting him to take enough medicine to make a difference. Meanwhile, his kennel was filled with pillows and blankets to provide a soft landing for his wounded paws, and staff members assisted him to the yard when he needed to go outside.
Once Peedee was more comfortable, the vet sent him to be neutered — as all male dogs are before adoption — and dental surgery. The dental treatment was urgent — an abscess had been found under one of his teeth and was beginning to cause him great pain.
After about a month of special care, Peedee showed signs of relief from his pain. He could walk like a normal dog and even run occasionally. His friendly, social personality was emerging, and he was soon seeking affection from anyone he met.
"We could see he was a sweet dog," recalls Dr. Angelone. "Peedee probably hadn't had the easiest life, and we wanted to put out the effort to help him. He definitely needed a lot from us, but it turned out very well."
Peedee was just one medical case to come through the AWLA's doors who needed patience and longer-term support to help prepare for a future home. Costs for care like this always exceed the AWLA's standard medical budget, but community support through the AWLA's Rosemary's Fund for senior animals and Sarah's Fund for medical emergencies helps bridge the gap, helping the AWLA provide animals like Peedee with the level of care they need to recuperate.
Dr. Angelone says many of the chronic illnesses they see are in senior animals who haven't received proper veterinary care for years. Upon arriving at the shelter, senior animals are given a complete exam, including blood analysis. The tests often reveal conditions such as thyroid, kidney or liver disease, and many of the animals desperately need dental work. The AWLA treats these animals as it can, sometimes with assistance from veterinary hospitals and foster caregivers. Visiting veterinarians also come in about once a month to help with routine tasks and special challenges.
Some animals, such as a 17-year-old calico cat named Cali, chart their own courses. When Cali arrived at the shelter last year, she was thought to be suffering from diabetes, but Dr. Angelone determined that her main ailment was kidney disease. Cali became an AWLA "office cat" while under treatment, hanging out with the administrative staff and sleeping on their chairs and desks. After several months, she upgraded her accommodations when she went home as a foster with one of the communications staffers, Audrey Alessi, who allows her to rule part of her house. Cali currently has her own room, separate from Alessi's two resident cats.
"We consider Cali a long-term shelter resident dealing with kidney disease," Angelone said. "We're continuing to monitor her and treat her symptoms, and in the meantime, she is enjoying her AWLA adventure."
Peedee the dog also enjoyed stays in foster homes while continuing his recovery, and after a few months in his second home, foster "mom" Susan Doherty decided to adopt him. Doherty, who is also an AWLA volunteer, said she intended to find a permanent home for Peedee, but "we just fell in love with him. He's so sweet and loving, and he loves to run around, which is so surprising given his history. He tears around the yard with our medium-sized dog and goes out and barks at squirrels."
Peedee greets Doherty at the door at the end of each day, his whole body wagging in excitement. "When he first came to us we were handling him with kid gloves," she said, "but now we treat him just like our other two dogs. I can walk all three of them at a time and hold the leashes in one hand — they all get along so well."
But the dog who wouldn't give up just wants to keep going, Doherty says. "There's one corner we get to on our walks where he knows we're heading home. He always wants to go the other way."
To learn more about how to help animals like Peedee and Cali, visit AlexandriaAnimals.org/Rosemary or AlexandriaAnimals.org/Sarah.
The Animal Welfare League of Alexandria is a local 501(c)(3) organization. Operating the Vola Lawson Animal Shelter, which is Alexandria's only open-access animal shelter, the AWLA touches the lives of more than 6,000 animals every year, including strays, lost pets, local wildlife, rescued animals and animals surrendered by their owners. The AWLA is committed to addressing animal homelessness, promoting animal welfare and serving as an educational resource for the community. More information can be found at AlexandriaAnimals.org.