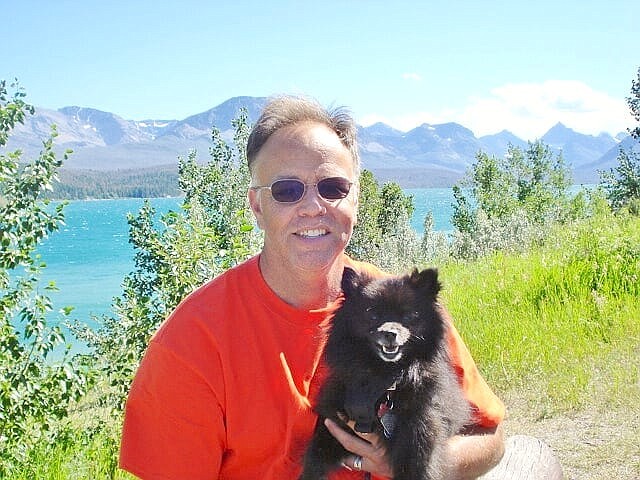 Sixteen years ago, a friend who worked at an animal shelter invited me to see a litter of puppies brought in by the Sheriff's Office, in a puppy mill abuse case. They were little Pomeranians – small enough to fit in your hand.
While I had never considered adopting a small dog, and was caring for Andy, a Labrador in the final stage of his life, I was smitten with the puppies.
One seemed to have the most energy and ambition. The shelter called him "Pooh Bear." Having a small dog seemed against all logic — I loved the great outdoors, domain of big dogs. Nonetheless, I filled out the application, and a week or so later, "Pooh Bear" came home.
Somehow, I could not see referring to or calling "Pooh Bear," and sought the advice of my mother, who is an excellent wordsmith. Spontaneously, she suggested "Atlas." The name fit superbly, and people loved it. Literally hundreds of times, people have said "I love that name!" Little did I know how much this little dog would live up to his new identity.
Once, a child asked "Why do you call him Atlas?" Before I could answer he said, "Is it because you take him everywhere?" I snapped my fingers, and replied "Yes, that's it!"
Since Andy was the first dog Atlas met outside of the shelter, and Andy had a Labrador's patience to tolerate a hyperactive Pom pup, they bonded quickly. Andy taught Atlas to be confident around other dogs – even big ones.
The first life event Atlas and I shared was the euthanasia of our 13-year-old Andy. While I literally cried a pool of tears, Atlas tried to resuscitate the deceased Andy by licking his eyes. For the next few weeks, Atlas was both a baby dog doing puppy things and an adult grief counselor – at just 8-12 weeks old.
Atlas and I spent the next two years living in Northern Virginia, where I worked with Atlas every day on his obedience skills, went for long walks, and we did outings together. Atlas loved to show off his repertoire of: sit, stay, down, heel, come, car, up/down stairs, left/right, fetch, etc. commands. All of these skills proved invaluable when he was off lead, around cars, other people or wildlife. Atlas learned to always stop at curbs, catch Frisbees (which he loved and did tirelessly!) and be an ambassador for shelter animals, wherever he traveled. Atlas even learned to step into his car safety harness.
When I was at work, Atlas bonded with his new companion, Zephyr the shelter cat. Yes, companion animals need companion animals!
A couple of years later, an ad for a mountain property caught my eye. The appeals were endless: no crowds, wildlife viewing, easy access to hiking trails, and beautiful scenery. Atlas and I moved to the Blue Ridge Mountains where, over the next 10 years, we literally hiked hundreds of miles on the Appalachian Trail, remodeled many homes and visited our new friends.
While a remote, mountain home that is undergoing renovation, full of tools and sawdust, during a cold, snowy winter can be a lonely place, I was never alone. I always had company on long treks in the mountains, even when we did not see a soul all day. My heart was full.
Atlas also became an integral part of my budding relationship with my future wife, Trish. Whatever we did, included Atlas. From kayaking the Shenandoah River to meeting Trish's relatives in New York City Irish pubs, Atlas was front and center.
And Atlas filled the hearts of those he met, with good cheer and beaming smiles, too.
Even the sober-sided members of law enforcement would get a chuckle, when I explained that Atlas did not look like a police dog, because "he was working undercover."
From Montana's Glacier National Park, to hiking, camping and train rides in New Hampshire's White Mountains to countless trips all over the country — literally from Maine's Moosehead Lake to the Florida Keys — Atlas has been an active participant.
Atlas maintained his enthusiasm for life, despite undergoing four bladder stone surgeries in 10 years. Little eight-pound Atlas showed more perseverance and stoicism than anyone I know. He was indeed the mighty Atlas.
At age 13, Atlas was diagnosed with leaking heart valves. His heart was working harder, to pump blood, and had enlarged considerably — to the size of one's fist. He was carefully followed by cardiologists at Virginia Tech Veterinary Hospital and local veterinarians.
While his eyesight, hearing and mental faculties waned, he still loved being with us.
A few weeks ago, at the age of 16, Atlas lost his interest in the dry vegetarian food he had been eating all of his life. Since we were out of town, we switched to canned vegetarian food, which worked for a day or two. He then lost interest in food altogether. We immediately arranged to visit his vet, Dr. Eric Chafetz, at the Vienna Animal Hospital.
Atlas' blood worked revealed diminished kidney function, and the prognosis was not good. Essentially, we had done such a good job protecting his weakened heart, that the next thing to fail in an elderly dog, kidneys, had surfaced.
Trish and I quickly took stock of the situation, and declared that as much joy and happiness as Atlas had brought into our lives over 16 years, the least we could do is try to stabilize his condition at the Virginia Tech Veterinary Hospital, five hours away. We left immediately, at the worst possible time — the afternoon before Thanksgiving.
Atlas was carefully put on IV fluids, gradually increasing his dosage ever so slightly over two days. After one day, Atlas appeared full of life and quite alert — our prayers had been answered! We were overjoyed and hopeful for the future. During the next few days, we met with Atlas twice a day, to reassure him and received updates from Dr. Demonico and DVM candidate Erin Struble. The care Atlas received was thoughtful and empathetic. We could not have asked for nicer or more professional care. The VTVH staff were his saviors.
As the days progressed, however, he stopped eating — a common trait of dogs separated from their caretakers and familiar surroundings, while hospitalized. We tried everything from baby food to peanut butter. Our only hope was that upon release, his appetite would resume, once home.
Our second joyous occasion was when Atlas began eating at home. We felt like we had, for the time being, solved the puzzle and that he would continue to get better. Sadly, a day later, Atlas would not eat.
For several days, we tried appetite stimulants, subcutaneous fluids, different foods and feeding techniques, etc. all with very limited, non-sustainable success. It was obvious that short of hospitalization with more IV fluids — itself risky for cardiac patients — Atlas would continue to feel worse and worse. And even if the IV fluids were successful, we would at best get a short reprieve — at the expense of an experience Atlas loathed: being separated from his family. At best, we could hope for keeping our heads above water, but at what price?
When a family member has a chronic condition, their downfall is always in the imaginary future, which is never pressing in the here and now. Somehow, we will rise and overcome, or if unsuccessful, deal with it rationally and objectively. Then the problem is neatly put out of mind, so as to not torment us.
The fact is, it is infinitely easier to talk about euthanasia in the hypothetical, than to employ it in the here and now. As Andy the Labrador had taught me, there is a finality to death, a point of no return, where the connection which took tens of thousands of experiences to mature, vanishes in thin air.
But Atlas was very sick. In between caring for him, I spent hours in front of the computer, searching for anything that might ease Atlas' malaise, to no avail.
Trish and I steeled ourselves for the inevitable, holding and comforting Atlas for the last time, all day on Sunday and Monday morning. We carried Atlas for a walk in the woods. He got to see the deer and birds and smell the woodsy smells, for the last time.
At 1 pm, on Dec. 7, 2015, Atlas received an overdose of an anesthesia, and in seconds went limp in my arms. The dog who could always fight one more round, hike 20 miles in a day — and appear no worse for the wear — was gone. Our hearts feel as though they have been ripped out of our chests, and "devastated" seems far too euphemistic.
Dr. Chafetz explained that a dog's hair gives off a different scent, when he is deceased, and that this would be a good way to let the cats at home know what had happened. Later in the day, the cats carefully inspected Atlas' hair, and immediately became sullen. They would not eat their dinner and remained quiet the entire evening. Zephyr, who loved Atlas as much as we, put her paw on me all evening, for comfort. Today, she has not left Atlas' bed.
For the first half of Atlas's life, I taught baby Atlas about living in the world. Then, Atlas taught me about life. That there is no limit to the depth of a canine relationship, if one makes the effort. We reaped the rich rewards, from the time and care spent with Atlas. Our feelings of loss are in proportion to what we emotionally invested. But we would do it all again, in an instant.
While Atlas had a family with him, as he was euthanized, there are literally tens of thousands of dogs and cats, alone and dejected in shelters, whose reprieve is a very lonely euthanasia. While we can only care for one dog at a time, hopefully during Atlas' 16 years, he inspired others to adopt.
We would like to thank all who cared for Atlas with such compassion, empathy and grace: Dr. Demonico, DVM candidate Erin Struble, Dr. Pickard, Dr. Westfall, Dr. Eric Chafetz, who, through a lifetime in the veterinary field, is as good at empathically counseling caretakers as he is caring for animals, and Dr. Brook — who, when we first met on a hiking trail, on her day off — kindly provided advice about Atlas for over an hour. And our neighbors Cathy and Ken who were so helpful over the years. It is always nice to have a nurse next door.
And thanks to people like you, who have met Atlas, and made life for this little guy such a pleasure.
The author's father was transferred to Fort Belvoir, after serving two tours of duty in Vietnam. He has lived in Northern Virginia since 1967.