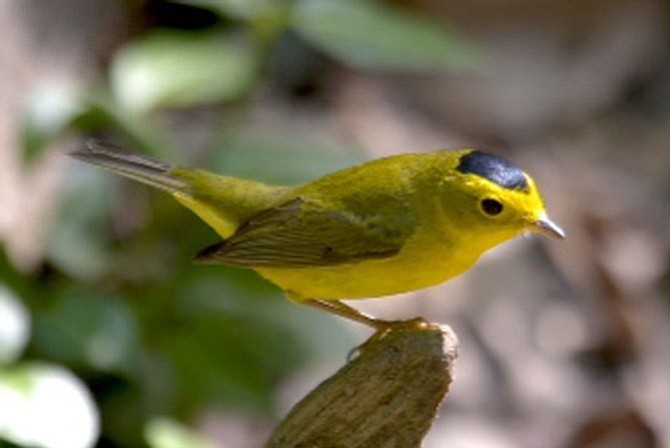 It's almost March 1, the official beginning of this year's warbler watch at Monticello Park in Alexandria. Last weekend a resident of the Beverly Hills neighborhood where the park is located was walking her dog and saw a new sign at the park's entrance announcing "invasive plant management is underway at this site. Chemical and mechanical methods are being used to control non-native plant species." The sign indicated: "For more information please contact the local resource manager."
Larry Cartwright, a local bird expert and guide, explains the importance of this small park in the middle of an urban area that attracts warblers migrating from South America to their breeding grounds in northern North America: "Monticello is one of many locations that migrating birds stop to refuel and rest before continuing on their northbound journey. It is like an automobile trip. Periodically you have to stop at a gas station to refuel. Close enough of them down and you can't make the trip. Monticello is a gas station for migrants."
Paula Sullivan who started birding at Monticello Park in the 1990s said, "If this sign is supposed to be notification, it is a joke. There is no phone number, no mention that it is the City of Alexandria and who is the resource manager anyway?"
Rob Simmons, the natural resources manager for the City of Alexandria, said the invasive plants targeted for removal at this time are English Ivy and Wintercreeper. He said there is no requirement for public notification; "it is more of a policy because we care about community involvement." Simmons said that a notice was published on the City of Alexandria Natural Resources Communication website and the signage was posted in the park Friday, Feb. 19. Spraying began the same day. He said removal of English Ivy and Wintercreeper is part of a long-term plan that was included in a report that he wrote in 2014 on best practices for removing invasives and woody shrubs in the park.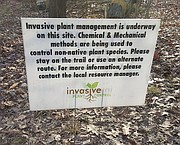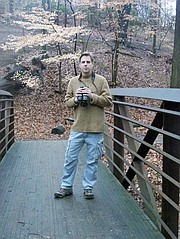 Simmons explained that English Ivy and Wintercreeper are highly invasive non-native plants that are so thick they prohibit the germination of seedlings and prevent all natural forest succession. Eventually the current trees will be gone without replacement and the canopy would disappear that serves as a shelter for the migrating warblers.
Simmons says some of the birding community was aggrieved a couple of years ago about the status of the park because they said the English Ivy was intolerable. He added that they asked what the city was doing about it and said it was killing the forest. Last year Simmons organized volunteers to pull English Ivy off tree trunks and rip it out of the ground on several occasions but their efforts hardly made a dent. It became clear they needed to try another method. Simmons said they started spraying on Monday: "There is a short window in early March to get English Ivy. In the spring it gets intertwined with the wildflowers and you can't pull out the vines without ripping out the other plants." He added that the treatment should be complete in the next couple of days although they can't spray in the rain. "It will end the first week in March."
Tom Albright, an avid birder at Monticello and keeper of daily warbler records at the park since 2003, said, "We fought this issue back in 2009 and I thought we had a deal with the city on the abatement program for English Ivy and Winter Creeper. They said they would run it by us. Suddenly this sign shows up. What is going on? I heard they are using Round Up which is a probable carcinogen." He said not only will this affect the birds but also people walk their dogs in the park. And the neighborhood children play in the stream. "The sign says to stay on the trails — what does that imply about the danger of the chemical?" Albright said, "There are fanatics in the plant community who want invasives out of every park."
Simmons explains that they are not using Round Up but "a glyphosate product that is not toxic and does not contain surfactant that which has been identified as a problem. Glyphosate is an EPA-registered chemical." He added, "Only licensed, certified applicators and technicians are allowed to apply pesticides in the City of Alexandria, including this project."
There is a great deal of discussion among birders and naturalists about the herbicide that has been used at the park. Many birders don't support the use of any chemicals at all since the full impact is often unknown. Others question the current approach since last March the World Health Organization declared glyphosate to be a probable carcinogen based on the view of 17 experts from 11 countries. Different studies have come to different conclusions. Sullivan said, "However, in the midst of such uncertainty and controversy and with the EPA currently conducting a formal review of the safety of glyphosate, I think it is totally unreasonable to use such a chemical in a public park merely to kill English Ivy, particularly without proper notification and input from the public."
Steve Young, a certified master naturalist in Arlington and anti-invasive advocate, says he has spent the last 20 years working with others to pull English Ivy out of his neighborhood park, Long Branch on S. Carlin Springs Road. He said it is now hard to find any English Ivy but it "took hundreds of hours and was labor intensive. Environmentally responsible treatment allows for more rapid progress." Young says a dense carpet of English Ivy has a number of negative impacts including the attraction of rats, with the dense carpet prohibiting robins from finding worms and with seedlings unable to germinate without light. In addition, the invasive species outcompetes native plants because they have few enemies in this country.
Albright says he is worried about the slippery slope. "Next they will go after the honeysuckle." Albright explains there are decades old eight-foot high honeysuckle bushes dotted along the trails by the stream that meanders through the park. The warblers use their branches as diving boards to fly into the stream for a mid-morning bath and then back to the honeysuckle to preen their feathers. "If they replace the honeysuckle with dinky two-foot shrubs there will be an eviscerated stream while it takes the new plants 15 years to grow. The banks will erode; the birds will disappear. I am there every day. I observe what is going on."
Simmons confirmed they will be gradually removing honeysuckle bushes in the future but he has worked it out with the birding community that they will replace the plants with comparable size shrubs if possible.
Marty Meserve, a long-time Monticello birder who remains skeptical of many assertions from EPA about the safety of herbicides, compares this to a beloved island in Maine that is being devoured by black swallowwort, the New England equivalent of English Ivy. She said, "We have watched this noxious invasive over the years as it has marched through our native habitats, and finally got to the point where it was either kill the weed or lose the island. After hand pulling, mowing and working with the reproduction cycle didn't work, the state naturalist who avoids the use of pesticides said the only way to get the island back was to use a herbicide. Meserve said, "We have a nasty dilemma, both at Monticello and on our island. If we do nothing, this will slowly devour the native habitat. The choice is a difficult, maybe impossible one to resolve. So people are making choices to the best of their ability based on their study and understanding the science."