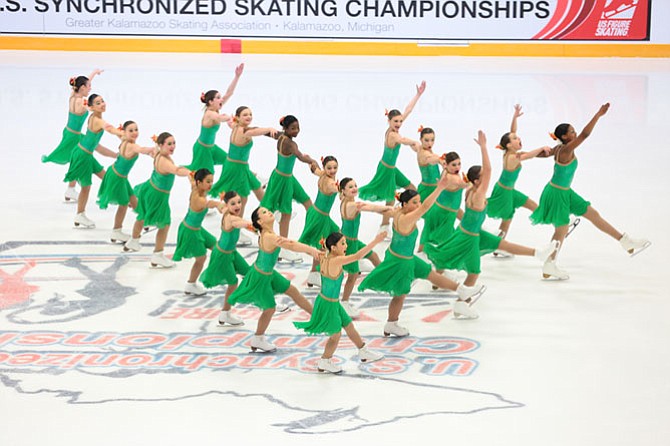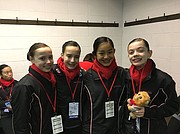 Piper Williams of Vienna, Nina Sebastien of McLean, Elaine Zhang of Vienna, and Taylor Olson of Falls Church represented our area at the 2016 U.S. Synchronized Skating Championships in Kalamazoo, Mich. last week. They are four of the 22 members of the DC EDGE Juvenile team, now ranked seventh in the nation after their performance at the national championship event. The team, which practices at Kettler Capitals Iceplex, Cabin John Ice Rink, and Wheaton Ice Arena, has been training since May 2015 in hopes of qualifying for Nationals. They secured their spot by winning the silver medal at the Eastern Sectional Championship in Richmond, Va. on Jan. 28, 2016.
DC EDGE sent four teams to Nationals with two coming home National Champions: Adult and Masters. Their Juvenile team placed seventh and Novice placed 11th. Other Fairfax County skaters include: Ashley Morris of Vienna and Nicole Berry of McLean on the Novice team.
Synchronized skating is an up-and-coming discipline which brings teams of skaters together to perform a synchronized program on ice. For more information about "synchro" or the DC EDGE Synchronized Skating Teams, visit dcedgesynchro.org.