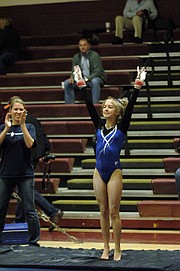 The vault runway at Oakton High School wasn't as long as Julia Hays would have preferred, but the Yorktown freshman didn't let the inconvenience affect her performance.
Hays decided to stay with her tucked Yurchenko vault, rather than throwing one with a lesser degree of difficulty. She started her approach near the gym wall, executed the vault and received a first-place score of 9.3.
"You have to just get used to it," Hays said about the runway situation.
Hays went on to win the all-around competition during the four-team meet on Jan. 9 in Vienna. She finished with a score of 37.3, one-tenth of a point ahead of Hayfield senior Molly Overstreet.
Hays finished first on beam (9.5) and floor (9.5) and took fourth on bars (9).
"She's a cool customer," Yorktown head coach Joanne Price said. "She is a very solid competitor and she is very, very consistent in her routines — and she hits. She hits her routines often. She has hard days, too, but usually when the pressure's on, she rises."
Hays has been one of the top gymnasts on a Yorktown team that is arguably one of the best in the 6A North region. The Patriots won Saturday's team competition, giving them four victories in four meets this season. Yorktown produced a score of 144.2, finishing more than eight points ahead of second-place Oakton (135.6). Hayfield finished third (134.4) and South County was fourth (112.4).
"I think that they're building in momentum and they're getting excited," Price said. "They're learning more about what to put in their routines and when something goes wrong, they're learning how to fix it in the middle of their routine, which is what veteran gymnasts do."
Yorktown's Olivia Zavrel placed third in the all-around with a score of 36.5. She finished second on bars (9.4) and vault (9.1), fourth on floor (9.1) and seventh on beam (8.9).
Juliette Mitrovich took fourth in the all-around for the Patriots with a total of 36.1. She placed second on floor (9.45), third on bars (9.05) and fourth on beam (9.2). She finished 11th on vault (8.4).
Yorktown's Courtney Frisk finished sixth in the all-around (34.3) and placed in the top eight in each event — sixth on vault (8.6) and floor (8.65), seventh on beam (8.9), and eighth on bars (8.15).
Yorktown will host a meet at 6:30 p.m. on Thursday, Jan. 14. The Conference 6 meet is scheduled for Feb. 5 at Washington-Lee High School.