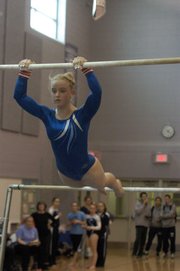 Members of the Yorktown gymnastics team sat and waited for the announcement of the team results following the Barbara Reinwald W-L Gymnastics Invitational on Jan. 25. As it turned out, the Patriots finished less than three one-hundredths of a point behind W-L for first place.
There was one more announcement to be made, however, the results of which likely washed away any frustration felt by Yorktown gymnasts.
While the VHSL's six-class realignment eliminated districts, members of the former National District decided to keep tradition alive by using the W-L Invitational as a de facto district championship meet.
The W-L Invitational used a top-three scoring format. The Generals came out on top. A top-four format was used to determine the district champion. Yorktown finished first, ending W-L's streak of four consecutive district titles.
"It means a lot to them, I think, because they've been so close this whole year," Yorktown head coach Joanne Price said. "Other years, we've known [W-L has] been a clear winner, but this year [the Patriots have] always known that they could. I think it means a whole lot to them and a big boost to their self-confidence to actually do it."
W-L went undefeated in regular-season meets during the previous four seasons, won four district titles, two region championships and twice placed state runner-up. This season, Yorktown handed W-L a regular-season defeat when the Patriots placed first at a home meet on Jan. 8. On Saturday, the Patriots added a district title.
Yorktown finished with a score of 137. W-L finished second with a total of 136.7, followed by Mount Vernon (117.85), Hayfield (98.4), Wakefield (93.1) and Edison (34.925).
"We've had some good teams, but it's been a little while since they've been collectively good like this. We've had a lot of bright spots, but this team's had more depth than I've seen in a long time."

— Yorktown gymnastics coach Joanne Price
The Patriots will graduate just one senior from this year's team. Freshman Juliette Mitrovich placed fifth in the all-around with a total of 34.55. She placed third on floor (8.9), ninth on beam (8.55), 12th on bars (7.8) and tied for third on vault (9.3). Freshman Olivia Zavrel finished first on beam (9.225) and second on bars (8.85). Junior Cecilia Girvin placed sixth on vault (9.25) and seventh on bars (8.3). Junior Sophie Zidlicky finished fifth on bars (8.425).
"We've had some good teams, but it's been a little while since they've been collectively good like this," said Price, who has coached at Yorktown for more than a decade. "We've had a lot of bright spots, but this team's had more depth than I've seen in a long time."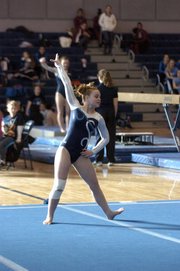 W-L didn't take home the district title, but the Generals did win the W-L Invitational, posting a score of 104.975. Yorktown finished second with a score of 104.95, followed by T.C. Williams (102.95), Mount Vernon (91.225) and West Potomac (90.825).
"The kids really wanted to win the invitational," W-L head coach Joe D'Emidio said. "They worked real hard for it."
W-L freshman Sylvia Shea placed third in the all-around with a score of 35.275. She finished second on floor (9.15), fourth on beam (8.9), eighth on bars (8.225) and 10th on vault (9).
"I think she is really coming along," D'Emidio said. "Her transition from club gymnastics (Arlington Aerials) to high school gymnastics is coming along really fast. … She's an outstanding club gymnast. High school is a little different. It's more of a team type of an atmosphere. She did really well. … She's getting better every meet. She's getting more comfortable with high school gymnastics. As for a freshman, she's becoming a star in the school."
Annie Hatcher placed first on vault, earning a 9.625 for her Pike Tsuk.
"She nailed it tonight," D'Emidio said. "It was a beautiful vault. With that type of vault, she's a state contender."
Hatcher also placed fourth on floor (8.85) and fifth on beam (8.75).
Sophie Hatcher placed second on beam (9.175) and third on bars (8.575) for W-L. Allie Webster finished seventh on vault (9.2). Jennifer Laredo was eighth on beam (8.6).
Wakefield's Leah Corts finished eighth in the all-around with a score of 33.675. She placed fourth on bars (8.55) and sixth on floor (8.8).
Yorktown and Washington-Lee, now members of Conference 6, will compete in the conference championship meet is at 6 p.m. on Feb. 3 at McLean High School.
More like this story