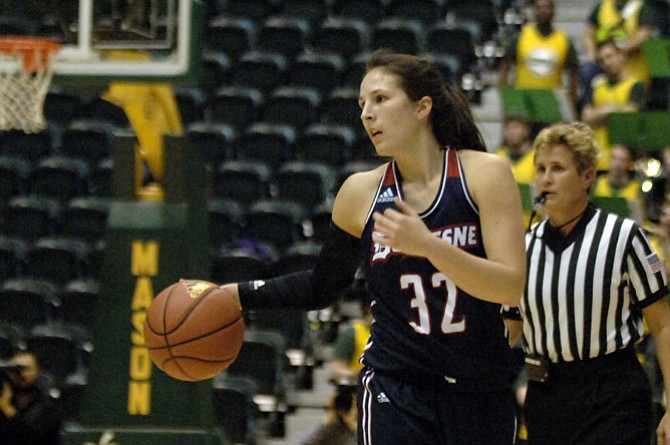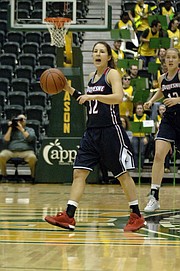 April Robinson began her Duquesne women's basketball career as a quiet freshman playing significant minutes while trying to fit in with a team full of upperclassmen.
Three years later, the 2012 West Springfield graduate has matured into a confident leader who continues building her case to be considered one of the best to ever wear a Dukes uniform.
On Jan. 7, Robinson returned to Fairfax County as Duquesne, located in Pittsburgh, traveled to George Mason for an Atlantic 10 Conference contest. Robinson finished with 11 points, seven assists and three rebounds, helping the Dukes defeat the Patriots 72-56.
ROBINSON, who won three district championships, one region title and made three state playoff appearances during her four years at West Springfield, said she's a different player than she was early in her college career.
"I have a little bit more confidence," she said. "As a team, we have a lot of momentum. Just to play in front of my family and all my friends, it's a great feeling. We ended up coming out with the win. Probably wasn't the prettiest game, but a win is a win. ... The biggest thing I tried to change is my leadership role. We have a young group of girls, a lot of freshmen, just trying to get them on the same page and show them what Duquesne is all about."
With her 11-point performance against George Mason, Robinson moved into 11th place on the program's all-time scoring list with 1,309 points, leaving her three points shy of the top 10 and 136 short of the top five.
"Honestly, stats don't really matter, it's just going out every day and giving it your greatest effort and just playing a good game," Robinson said. "Yeah, it's a good feeling, but we've still got a lot of work to do and my main goal right now is just to win the Atlantic 10 championship and go to the NCAAs [and] make school history."
While Robinson downplayed her statistical accomplishments, it's hard to ignore her numbers. Despite shooting 0-for-8 and going scoreless against Fordham three days later, the 5-foot-8 point guard was still second on the team in scoring through 16 games at 13.7 points per contest. She was also first in assists (8.1) and tied for third in rebounding (6.3).
"She's our catalyst," third-year head coach Dan Burt said. "We go as she goes. She is the person that stirs the drink."
Burt was an assistant under Suzie McConnell-Serio when Robinson was a freshman during the 2012-13 season. Burt took over as Duquesne head coach in 2013 when McConnell-Serio, the 2004 WNBA Coach of the Year with the Minnesota Lynx, took the head coaching job at the University of Pittsburgh.
"[Robinson] was as quiet as a country mouse as a freshman on a team of all upperclassmen that was a very talented team and she started every game and understood her role," Burt said. "At the end of the year, our head coach left and [Robinson] had many opportunities to leave, and I'm sure she had a lot of people behind the scenes that were trying to talk her into that, [but] she was loyal and she stayed. As a sophomore, she really found her voice and began to lead. As a junior, she clearly became our catalyst.
"... She's done everything in a professional manner since the moment she arrived on our campus. I can't think of a practice that she has taken off. I can't think of her ever being disrespectful or taking a play off. April is the consummate professional and I think that's why once she's done with us, she'll be a very good professional player and then after that as a coach."
While Robinson will be remembered for her individual success, No. 32 can cement her legacy by helping lead the Dukes to unprecedented heights as a team. Duquesne's 55-40 victory over Fordham on Jan. 10 in Pittsburgh improved the Dukes' record to 15-1 --- the best start in program history --- and extended their program-record win streak to 14 games.
DUQUESNE was ranked in the USA Today/Coaches Top 25 Poll for the first time in program history this week. The Dukes are ranked No. 25, tied with DePaul.
Robinson and the Dukes have their sights set on what would be another program first: qualifying for the NCAA Tournament.
"I said it [to Robinson] before the beginning of the year: you've already had a hall of fame career," Burt said. "You want to hang your jersey in the rafters --- and we only have two people who have hung their jersey --- you get us to the NCAA Tournament and your jersey goes in the rafters, and she's deserving of that."
Korie Hlede (1995-98), the program's all-time leading scorer with 2,631 points and a the No. 4 pick in the 1998 WNBA draft, and Beth Friday (2000-03), Duquesne's seventh all-time leading scorer with 1,410 points, have their jerseys hanging in the Duquesne rafters.
Duquesne will return to Robinson's home state in late January. The Dukes will take on Richmond at 7 p.m. on Thursday, Jan. 28, and will face VCU at 1 p.m. on Sunday, Jan. 31. The Atlantic 10 tournament is March 2-6 in Richmond.
"A lot of people had their doubts about us, but I think we're making a name for our university," Robinson said, "and we're playing our best basketball right now and hopefully it continues."
After initially downplaying her statistical accomplishments, Robinson said she will have fond memories of her success.
"I can tell my kids one day," she said.