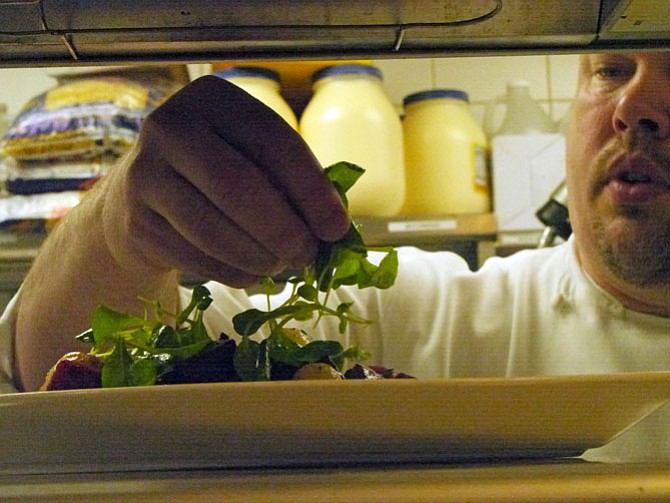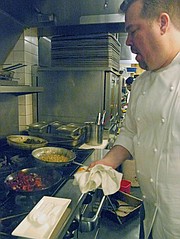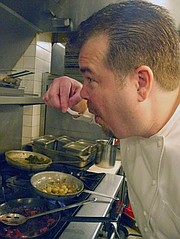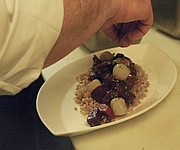 "Corner," Corporate Executive Chef Graham Duncan calls as he heads down the stairs and makes the sharp turn to the kitchen at Virtue Feed & Grain on Union Street. It is a bustling Friday lunchtime, and he squeezes by the line cook grilling Virtue and lamb burgers. A batch of fresh beets has been roasted over a bed of salt to pull out the moisture and concentrate the sweetness. The beets will be large diced and mixed with carrots for the new seasonal vegan special "beet bourguignon." Duncan says, "We have a health conscious clientele." The skillet is hot, and Duncan adds diced Portobello mushrooms and yellow onions to the mixture of beets. "Pour on some vegetable stock and hold it together with arrowroot. You know some people want gluten-free so we use arrowroot instead of flour or cornstarch."
In the adjoining skillet Duncan splashes olive oil to heat up the glistening beads of farro. He explains farro is an Italian wheat berry with a nutty flavor and will substitute for the meat in the traditional beef bourguignon recipe. He sprinkles fresh thyme on the farro and calls for a couple of spoons. Duncan says, "I always taste along the way to correct the seasonings if necessary." It is a 3-4 hour procedure. Duncan adds this dish is one of the customer's favorites along with the shrimp po'boy, the biggest seller at lunch.
His own personal favorite? "Ummmm, that would have to be the duck confit with fresh egg pappardelle and mustard green pesto with shaved sarvecchio parmesan. It takes lots of ducks." The first step is to cure the duck legs in a dry rub for three days and then rinse. The legs are covered in a tank of melted duck fat and then cooked until tender at 180-220 degrees. The legs are allowed to cool inside the fat. "The fat solidifies around them and creates an oxygen-free environment for three weeks to develop flavor. Then I sauté the chunks of duck in the mustard green pesto and toss with the cooked pappardelle."
Duncan's cooking career all started in West Palm Beach, Fla. when he was 13-years-old sweeping up and mopping bathrooms in a restaurant. He said, "I quickly moved up to dishwasher and then prepping because of my initiative. I loved it so much that my buddy (who got me the job) and I talked all the time about becoming chefs. Well, he became a forklift mechanic, and he makes a lot of money but I think he is still a little jealous." Duncan has taught culinary school, and he tells the students on the first day that the difference between an amateur chef and a professional chef is that an amateur can make a good meal and serve it to their friends but a professional chef must know how to make the same meal 500 times exactly the same way.
Duncan spent 19 years in Atlanta and came "up here" almost 8 years ago to open Founding Farmers in D.C. He has been at Virtue Grain & Feed for about 8 months where he explains his style is lighter, fresher preparation, not manipulation of the ingredients. "I only put 4-5 elements on a plate. That used to be unusual, but now it's the norm."
Duncan says somewhere along the way he developed a "memory sense" of what people will like and how many meals of each entree the customers will order. He says at Virtue Grain they serve about 300-350 for lunch and 500 for dinner. However, he does remember a new grilled octopus appetizer "that was so fantastic I knew it would go over great. Well," he turns up his eyebrows, "if people aren't used to it ...." Duncan says he is a voracious cookbook reader with about 500 in his own collection, favoring cookbooks before 1970.
Work for Duncan starts about 9:30 a.m. and he is usually out of the kitchen by 10 pm. He says, "We jokingly call this 12 hours a half day. But Rosa over there, the lead prep cook, comes in at 3 a.m. on Friday and Saturday." Duncan says at this stage of his career he oversees five restaurants, which includes developing the new menus, managing the kitchen, recruitment and training. "I love to teach." Duncan heads back to garnish the beet bourguignon with the traditional roasted onion garnish and finishes it off with a little bit of fresh mache. He sums it up, "I love this work — the energy, camaraderie and the chaos."