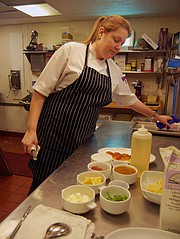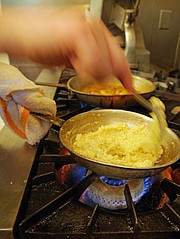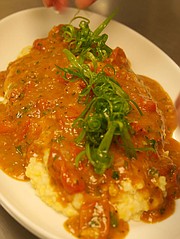 Wedges of lemon, squares of unsalted butter, curly green onion slivers, low country gravy and blackened shrimp sit mise en place in the prep kitchen at The Majestic on King Street. Lisa Marie Frantz, executive chef at The Majestic, is preparing shrimp and grits made to order for each customer. "This is one of the customer favorites," she says, "along with the fried chicken and what goes with it, Martha's buttermilk biscuits. I brine the chicken 24 hours in a mixture of lemon, garlic, peppercorns and the house homemade stone ground mustard."
Frantz turns on the burner under a well-worn pan. "I'll toss in a little olive oil and put in the shrimp for 2-3 minutes to get them a little color." She adds a splash of white wine and flips the shrimp in the air as the flames shoot up around the pan. Frantz takes a pinch of salt and rubs it through her fingers. "I season a little as I go along, but there's already a lot of seasoning in the other ingredients in the recipe."
A tomato compote has been slowly cooking for 30-40 minutes. Frantz adds a couple of spoonfuls to the shrimp. Next comes what she says is "the base of the dish," the low country gravy that has been made with broth from the shrimp shells, mirepoix (celery, onion and carrots), fresh herbs, bay leaves, a touch of sherry and a little flour to make a roux and thicken it up.
Frantz turns on the burner under a second small skillet to get it hot for the grits. "I use Anson Mills heirloom grits. Grits can be different and people have their preferences. These grits have some texture to them, something to bite on. My father growin' up in the South, I know a little somethin' about grits." The grits have already cooked down for 30-40 minutes in cream, salt and butter and a little chicken stock. Frantz slowly heats up the cooked grits, stirring and dribbles on a little cream as she turns back to the shrimp.
The shrimp come off the heat and the rest is done without more cooking. A little parsley "and a nice little squirt from a juicy lemon wedge." She tosses in two cubes of unsalted butter. "I'll finish it off with a little bit of butter to give it a silky sheen." She spoons a little taste in her mouth "just to be sure. "Now I'll plate it up." Carefully she arranges the grits down the center of an oval plate, places the shrimp side by side on top, stands back and surveys her work. "Finally I'll spoon the gravy over the top and let it drizzle down the side and that's it." She garnishes with green onion, long and thin, "kind of funky." In 12 minutes she has shrimp and grits for the waiting lunch customer.
She explained that she cooks locally driven American classics with a Southern accent. "It is straightforward, simple like my lamb chops with rosemary popovers. I want to fill you but not over satiate you." Another dish is her roasted golden beets with whipped goat cheese and horseradish. "We're moving to some vegetarian dishes without advertising it as vegetarian. I like to showcase one ingredient. When the ingredients are the best, we want them to shine." She said, they are about to have a menu change that features seared maitake mushroom with toasted farro and a lobster pot pie with with leeks and roasted pearl onions.
Franz comments that the trend in "farm to market" still seems strong. In addition she sees one thing that pops up a lot is the use of unusual spices, ethnic influences like curries that are very rich and colorful. "The culinary industry is always looking for that next ingredient. Chefs are explorers. My friends travel and bring me back things like rose water from Lebanon." So she invented a combination with chocolate and house made marshmallows for Valentine's Day. "It's my new favorite special ingredient."
Frantz graduated in graphic design but realized it was a hobby. "I was interested in cooking but I'd never worked in a restaurant. I didn't have any confidence." But she said with help of family and friends she went to Le Cordon Bleu in Arizona and, "I found my sweet spot." In 2007 she went to work in a professional kitchen for the first time. When they asked her what she wanted to do, she said, "work the grill. I thought it would be exciting being on the line." He told her she would fail miserably. "In 3-4 months I was a sous chef. I found I have a talent." She has been at Majestic for nine months, coming from Brickside in Bethesda and Founding Fathers previous to that. Frantz said no one in her family ever worked in a restaurant but her father was a butcher. "Maybe somehow in the blood line I got it."