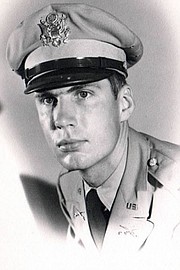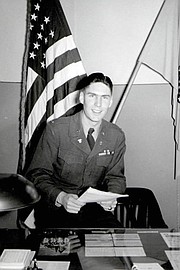 Edward K. Yellman, a retired colonel in the U.S. Army and father of five, died at his home in Alexandria on Monday, Jan. 4, 2016.
According to his daughter, Donna Vasquez, he lived by three principles: "Faith, Family and Country."
Born in Lexington, Ky. in 1925, Yellman began his higher education at the University of Kentucky. He soon enlisted in the U.S. Army and was on his way to a World War II deployment when he was commissioned into West Point based on a competency test. After a short time at Cornell, Yellman began attending West Point in the fall. He graduated as a Second Lieutenant in the Class of 1949.
According to Vasquez, Yellman loved his time at West Point. After graduation, he attained a Master's Degree in Engineering from the University of Massachusetts. Yellman was an active member of Phi Delta Theta while in college. At West Point, he participated in boxing and a variety of sports. His love of sports carried throughout the rest of his life.
Yellman achieved the rank of colonel while in the army and had served many tours overseas until he retired from the army in 1979. Yellman served in Germany, Korea, France and Vietnam. He was highly decorated and received many awards including the Decorated Legion of Merit and the Bronze Star. Over his years in the military, his assignments included commanding a battalion in Vietnam and serving on both the U.S. Army Staff and the staff of the Supreme Allied Commander of Europe.
Vasquez spoke of her time growing up with a father so invested in the military. She and her four siblings spent a few years of their early childhood living in Paris, where their dad was stationed at the time, and attended a French American School. When Vasquez was five, in 1967, the Yellman family moved to Alexandria and has lived in the same house ever since.
Vasquez remembered her father's running joke: "He would always say to us, 'I did two tours of the Pentagon for you kids!' He stayed here for us, so that we would be able to have the consistency of growing up with school and friends."
Throughout the community, Yellman was known for his kindness and integrity. "In today's world people can be very critical and cynical," said Vasquez. "But he took people at face value and had a lot of trust in people, in our government, and believed in what the United States stands for and encouraged that in how he raised his children."
One of Yellman's sons, Jimmy Yellman, agrees that father's military background greatly impacted the way he and his siblings were raised. "He's done a great job," he said, "I see it when I look at my siblings and how successful they are."
Vasquez said her father would always teach her and her siblings the "Five P's" which stood for Prior Planning Prevents Poor Performance. She remembered that when he helped them with their homework, he never gave them the answer but instead encouraged hard work and careful thinking. One of Vasquez's favorite memories of her father is when her and her siblings would do homework at the kitchen table while Yellman would read in the living room.
One of Jimmy Yellman's favorite memories of his father is more recent. He recalls having recently taken his father to a doctor's appointment, "He was feeling better, and he wanted to get his haircut." He spoke of the pleasure of seeing his father so elated by such a simple thing. "He was thrilled by it. He hadn't had one in a couple months so he was really happy about that."
Both siblings remember their father's devotion to old Fort Hunt High School, its sports teams, and the student body after his military career. "He attended every single sporting event you can imagine there, whether my brothers and I played in it or not," said Vasquez. "He knew all the kids, and he knew them by name. Even after we graduated, he continued to go until the high school closed."
Yellman, has clear memories of his father's love of tennis. Jimmy said his father played tennis well into his 80s, and he and his wife were avid participants in their local tennis club.
Edward Yellman met his wife, Eunice Yellman, while he was registering for his Master's Degree, and she had a job at the registrar's desk. He asked her if she would like to get coffee, and they dated for six months. They met in September, and married the summer of that same year. They were married for 60 years.
Charlie Zdebski, neighbor and family friend of the Yellmans for 16 years, believes Edward Yellman typified generosity and kindness. He remembers Yellman as a prominent figure in the community. "You'd walk around, and you'd see Ed," Zdebski said, "That tall guy, with a smile, and a kind of dignified way about him."
Zdebski has many fond memories of long conversations with Yellman about serving in Germany and Korea, as well as his family life. "I always loved to talk to him and hear stories about his kids and how he and Eunice moved through life."
Throughout his life, Yellman was involved in charity work. He was a 4th Degree member of the Knights of Columbus, nominated into the Honorable Order of Kentucky Colonels by the Governor of Kentucky, as well as part of the American Legion and Military Officers Association. He was a supporter of the Special Olympics organization, which he originally became involved with because one of his grandchildren had special needs.
In 1979, Yellman retired from the army and took up a position as a business manager at the Woodbridge Campus of Northern Virginia Community College, where he worked for 12 years. In 1991, Yellman retired from the college at the age of 66.
Yellman will be remembered for his devotion to his family and community. Vasquez said of her father's compassionate nature, "Anything that he believed in and saw good in was something he would put 100 percent of himself into."