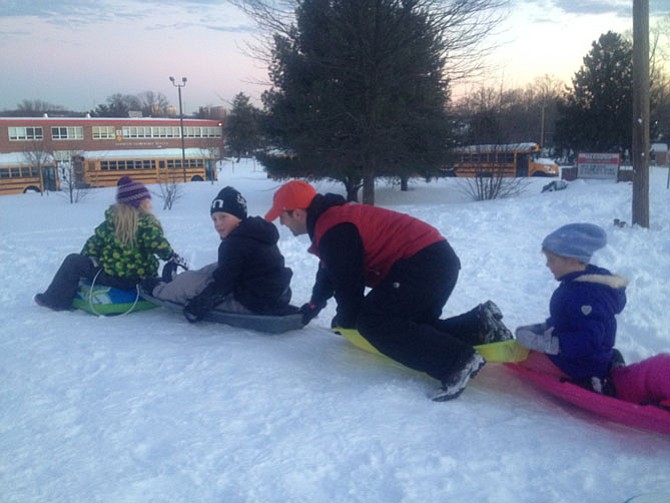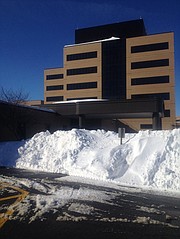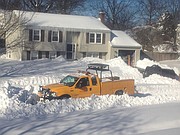 Government, schools and libraries were closed throughout Reston and Herndon as the area continued to shovel out the snow from blizzard Jonas. Reston Association events and meetings were canceled Monday, Jan. 25, as were programs with the Town of Herndon. Herndon Town Council's meeting on Tuesday, Jan. 26 was canceled, the next meeting will be the Feb. 2 work session. Fairfax County Public Schools and offices were closed Monday and Tuesday, Jan. 25 and 26, and school events and presentations have been rescheduled due to the weather.
RESIDENTS stocked up on supplies and groceries as they prepared for the snow. According to reports from meteorologists, the Reston-Herndon area received 28 inches of snow, Leesburg area 28-34 inches, and Ashburn 36 inches. Sunday, Jan. 24, the sky cleared, giving residents the opportunity to get out and begin clearing the roads and driveways. "I am glad there was no loss of electric power," said Herndon resident Susanna Patton. On Sunday, she and neighbor Jeff Sevila brought their children to go sledding down a hill near Herndon Elementary school. Sevila, a graduate of the Herndon High class of 1991, remembered when he went sledding as a child. "It was a lot of snow, yet is has been fun," said Sevila.

Local delegates and officials alerted residents of the approaching snowfall, and provided updates of the snow removal. "Our Department of Public Work (DPW) crews are the heroes of the town," stated Town of Herndon Mayor Lisa Merkel. "They have been working 12 hour shifts, throughout the weekend and are still doing so. Some have slept in their offices at DPW to ensure they could be here for their next shift… When you see our crews arrive in your neighborhoods, please thank them!" Fairfax County Fire and Rescue worked at an incident at Dulles Glen apartments complex in Herndon where a carbon monoxide leak forced an evacuation.

By Monday, Jan. 25, most sidewalks were clear at Reston Town Center, although some stores decided to stay closed for the day. Reston Hospital Center began preparing for Winter Storm Jonas earlier in the week, establishing a command center on Friday to ensure the highest level of care for patients. Reston Hospital thanks the surrounding community members who stepped up as volunteer drivers, allowing critical staff members to get to and from the hospital campus. Reston Hospital also thanks staff members who braved the weather to ensure the patients received the care they needed.
"On behalf of the entire administration, I'd like to thank those amazing staff members whose dedication made surviving Winter Storm Jonas possible. Without them, we couldn't provide the care our patients deserve. I'd also like to thank each of our volunteer drivers. Without their help, our essential staff members would have been delayed in providing necessary patient care. We are very fortunate to have such wonderful staff here and to be based in this great community where people truly care," said John Deardorff, CEO, Reston Hospital Center.
The Washington, D.C. area's Metro trains began providing limited service on Monday, Jan. 25. The Washington Metropolitan Area Transit Authority said fares will not be charged on that day. The Metro, which includes the second busiest U.S. subway system, closed late on Friday ahead of the blizzard. The Silver Line which starts at Wiehle-Reston East was not running Monday as the rail system was recovering from the snowfall. Virginia Railway Express or VRE along with the Capital Bikeshare, the region's bike network were closed on Monday.
MONDAY, FEB. 1, the Fairfax County Department of Transportation (FCDOT) is hosting an information session on a proposed grid of streets within the Reston Transit Station Areas. The session will be at Lake Anne Elementary School, at the cafeteria at 11510 North Shore Drive. All community members are welcome to attend.
The Virginia Department of Transportation (VDOT) hosts a website that allows the public to monitor snow-removal truck locations within six-minute intervals. This tool is available when trucks are plowing residential streets. For additional information, visit http://www.virginiadot.org.