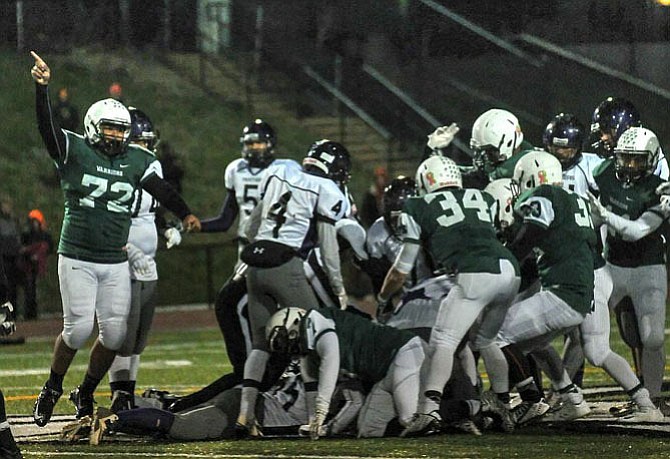 A snowstorm caused Arlington County Public Schools to cancel classes and athletic events for more than a week. Parts of Northern Virginia received more than 20 inches of snow during the weekend, according to the National Weather Service, creating a break from competition for local high school athletes.
Wakefield senior defensive lineman Anthony Tham, a first-team all-region and VHSL second-team all-state selection in, shared his storm experience via email.
Q: How did the amount of snowfall in your neighborhood compare to what you thought would fall?
A: I didn't expect as much snow as we got, at all. There was so much snow that my entire backyard is practically blocked off.
Q: What, if any, preparations did you and your family make for the storm?
A: We bought enough groceries to last about three days. We also had our shovels and salt ready before the snow started to fall.
Q: What did you do to pass the time during the storm?
A: Played video games with my brothers and watched the Michigan State vs. Maryland game and both NFC and AFC championship games.
Q: Did you play in the snow? If so, what did you do?
A: I went sledding with a couple of friends and had a snow ball fight with my siblings.
Q: Do you play a winter sport at Wakefield? If not, are you preparing for a different sport?
A: I'm preparing to play lacrosse for the first time this spring.
Q: Were you able to exercise/practice during the storm? If so, what did you do?
A: I did sit­ups during the commercials to kill the time.
Q: Do you have college plans? Will you be playing a sport?
A: I plan to play football at a [junior college] next year. I'm not sure yet, though. I'm looking at several schools, currently.