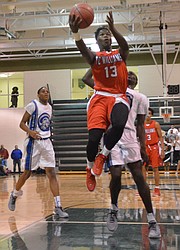 A snowstorm caused Alexandria Public Schools to cancel classes and athletic events for more than a week. Some areas of Northern Virginia received more than 20 inches of snow during the weekend, according to the National Weather Service, creating a break from competition for local high school athletes.
T.C. Williams senior guard Tavaris James shared his storm experience via email.
Q: How did the amount of snowfall in your neighborhood compare to what you thought would fall?
A: I didn't think too much of it really. When I heard about how much it would be I was shocked, but I wasn't expecting it to really be a lot.
Q: What, if any, preparations did you and your family make for the storm?
A: We didn't have any preparations really, just to buy food because we will be snowed in.
Q: What did you do to pass the time during the storm?
A: I shoveled some snow and also played 2K to pass the time. I've also been to a friend's house and hung out with them since there aren't any gyms open.
Q: Did you play in the snow? If so, what did you do?
A: I really didn't play in the snow, but I took my little brother and niece outside to play in and enjoy the snow.
Q: Were you able to exercise/practice during the storm? If so, what did you do?
A Not really practice. I did a little exercise like pushups and sit-ups so I wouldn't get lazy and out of shape.
Q: The T.C. Williams boys' basketball team has won three of its last four games. Are you concerned the storm will disrupt the team's success?
A: No, I don't think it would affect us. We are really focused and determined to win games and be better than before so I believe that we will have our focus when we get back to practice and continue what we have been doing.
Q: Are you interested in playing college basketball? Have you decided on where you're going?
A: Yes, I've very interested in playing in college. I haven't chosen a place to go. Still looking.