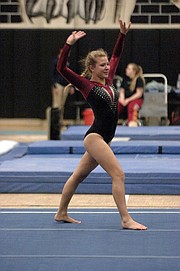 A snowstorm caused Fairfax County Public Schools to cancel classes and athletic events for more than a week. Some areas received more than 20 inches of snow during the weekend, according to the National Weather Service, creating a break from competition for local high school athletes.
Herndon junior Alexa Bradley, the defending Conference 5 all-around gymnastics champion, shared her storm experience via email with The Connection.
Q: Where do you live?
A: I live in Herndon.
Q: How did the amount of snowfall in your neighborhood compare to what you thought would fall?
A: I didn't doubt that we were going to be getting a big snow storm but didn't realize how much snow actually comes from a non-stop snowstorm for more than 24 hours. I've never seen so much snow in my life, so it was hard to imagine what to expect.
Q: What, if any, preparations did you and your family make for the storm?
A: We went grocery shopping before the snow started on Friday. I didn't want to be stuck in the house with my mom and a group of my brother's friends, so I prepared a four­day long suitcase and got snowed in with my best friend.
Q: What did you do to pass the time during the storm?
A: During the storm I watched a bunch of cool documentaries on Netflix, played board games with my friends, cooked and baked many good treats, napped, and did homework.
Q: Did you play in the snow? If so, what did you do?
A: When it started snowing I took a walk up the street. I wanted to build a snowman but didn't have any gloves so I haven't (as of Sunday night) been able to use my hands to make anything, but on my snow days I'm planning on building an igloo and snowman.
Q: Were you able to exercise/practice during the storm? If so, what did you do?
A: We have not been practicing at all since the snowstorm but I've been trying to stay stretched out so my body doesn't hurt too bad after I return to a regular practice schedule.
Q: The Conference 5 gymnastics meet is approaching (Feb. 3). At this point in the season, how do you feel you're performing?
A: I feel like I've had a slow start to this season taking more time to get my body back to the way it was when I ended last season, but trying my best.
Q: As the defending all-around champion, what are your expectations for this season?
A: My expectation for this season is to beat my personal best and to keep moving forward and getting better in my skills.