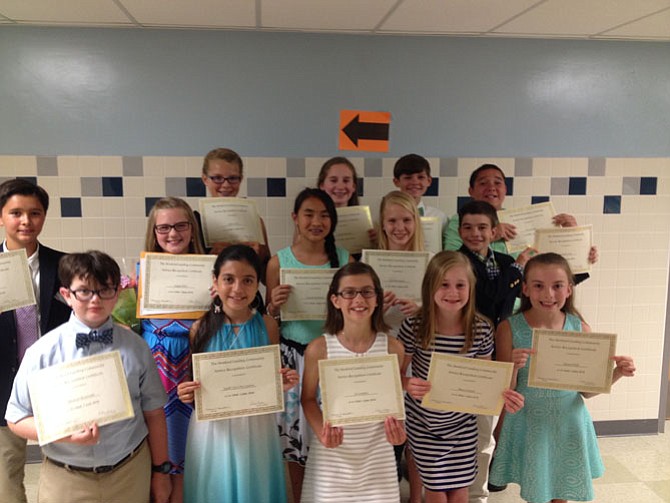 The sixth grade students of Stratford Landing Elementary joined their teachers and families at Sandburg Middle School on June 22 to celebrate the 2016 Promotion Ceremony. Featured at this year's ceremony was the announcement of the first annual Stratford Landing Community Service Recognition Certificate.
The 2015-2016 school year marked the beginning of a lifetime of service for sixth grade students who participated in service learning opportunities, from Boy Scout and Girl Scout service projects to helping out with service at Stratford Landing and in the greater Alexandria area. While all students were required to complete five hours of service, one group of students completed up to 35 hours of service during their sixth grade year. These students completed an essay and were interviewed to be considered for the Stratford Landing Community Service Recognition Certificate. Students' essays shared many stories of service and fun. Sixth-grader Matthew Rusten learned that, "service is more than a word or a task […] it makes a difference for the environment and the community."
Caroline Henry shared that she, "felt like she made a difference" when stocking food in the pantry at United Christian Ministries.
And Logan Price shared a sentiment echoed by all of the nominees when she wrote, "For me, doing service isn't just helping somebody. It is making their life better and at the same time, you are making your own life better." For their work and dedication, all 14 nominees were awarded the Stratford Landing Community Service Recognition Certificate. Recipients received a certificate and will have their names on a plaque at Stratford Landing.