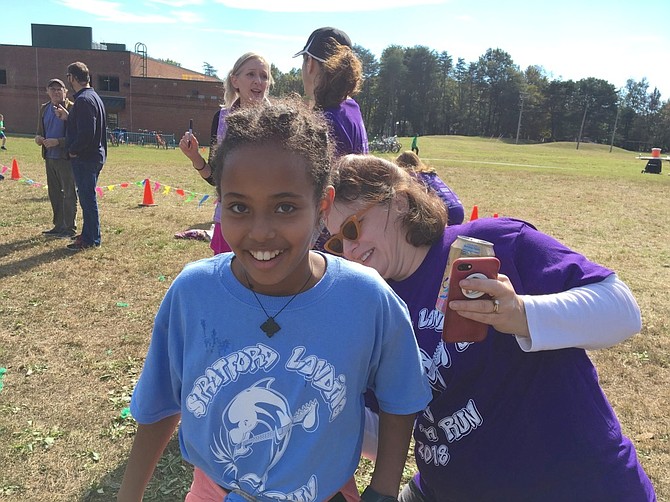 The Stratford Landing Dolphins participated in their 6th Rock 'n Run on Friday, Oct. 19, an annual event the PTA hosts to raise funds for the school.
Students and families donated to boost classes to prize levels that include Reading to Therapy Dogs, a DJ at Recess, and an Inflatable Obstacle Course. Students celebrated by running laps and participating in a pep rally and prize day. Incentives also include prize levels that put money directly back into individual classrooms, such as Book Fair Bucks, Class Choice money and Rainy Day Prize Packs.
To add to the fun, Principal Dr. Maureen Marshall and Assistant Principals Shirley Shannon and Christine Prahl will be "slimed" by all 759 students on prize day for beating their school-wide goal. This year, the run raised $90,000 which will be used to pay for two field trips per grade, technology, books for classroom libraries, Discovery Garden and STEAM class materials, among other items.
Robyn Jones, one of the sponsor chairs for the event, said, "We were blown away by the willingness of our local community sponsors to not only contribute donations at the different sponsor levels, but also their eagerness to join in the fun of Rock 'n Run and be there in person to see all of the excitement first hand." The event attracted nearly 40 community sponsors who donated between $100 and $5,000.
Speaking to the community aspect of the event, Stephanie Fultz, Rock 'n Run chair said, "Rock 'n Run is our first big school event of the year. Speaking with one of the new parents, they were overwhelmed at this event and it really allowed them to feel connected to the school early on in the year and see how much support is given to the students at this school. The students also learn about a community mindset since they raise funds as a class to earn group prizes. The students have to learn to rely on each other and their community to help them reach goals, and as a class they are excited at each new level."
Sara Jefferies, SLES PTA Board member, said, "We are so very fortunate to have a school community and a network of volunteers who feel so passionately about putting resources into the school. Over the past 6 years, we've been able to use Rock 'n Run money for paving a running track, buying a library of iPads and Kindles for student use, providing our less fortunate students with snacks and other necessities, and hosting events like our Talent Show, STEAM nights, and multicultural nights. Putting a nice chunk of money into the school, at the beginning of the school year, every year, for 6 years means that we have met many needs that seemed unattainable before."