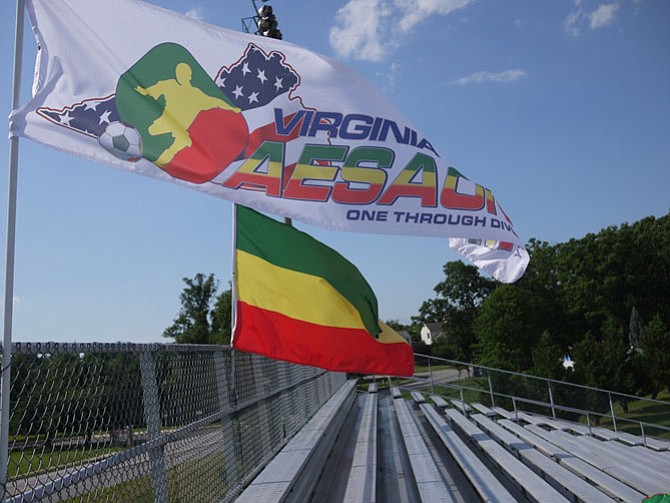 It was graduation day at Mount Vernon High School on June 16 and some parents were annoyed. A group of protesters had gathered outside the school. "It's graduation day for our kids," the parents complained to the protesters. "Can't you go somewhere else?" The protesters responded that they were there because children in Ethiopia can't always get to high school, or graduate, without dying of hunger, or being arrested or killed for their political beliefs.
Metro Washington, D.C. is sometimes called the second largest Ethiopian city because it has the largest concentration of Ethiopian-Americans in the U.S. — over 200,000 according to the U.S. Census. Many of those who are here continue to dispute the authority of Ethiopia's ruling party, or conversely, dispute the opposition. The "DC Area Ethiopian Joint Task Force," many of whose members sought political asylum in the U.S. because of their opposition to the ruling party, seeks to highlight the plight of the Ethiopians who remain in their country.
The DC Area Ethiopian Community Joint Task Force sent a letter to Superintendent of Schools Dr. Karen Garza on June 1 in which they asked her to cancel the AESAONE (All Ethiopian Sports Association) sporting event at Mount Vernon High School because of the association the event has with the Ethiopian ruling party. They said that AESAONE was established and financed by Mohammed Hussein al-Amoudi, a Saudi-Ethiopian billionaire who supports the regime.
The task force cited the 2014 U.S. State Department's Country Report on Human Rights Practices in Ethiopia, which states concern about "freedom of expression, including continued restrictions on print media and on the internet, and restrictions on freedom of association, including through arrests; politically motivated trials; and harassment and intimidation of opposition members and journalists." The report goes on to cite other human rights problems, including "alleged arbitrary killings; alleged torture, beating, abuse, and mistreatment of detainees by security forces; reports of harsh and at times life-threatening prison conditions; arbitrary arrest and detention; detention without charge and lengthy pretrial detention ….."
One of the protesters, Tassaw Erimas, a resident of Alexandria, said most of the money in Ethiopia, and most of the companies there, are run by the minority TPLF (Tigray Peoples Liberation Front) regime. According to Erimas, the players and participants in this AESAONE are all TPLF-sponsored or supporters of the TPLF political minority. TPLF is sometimes known by the name "Ethiopian People's Revolutionary Democratic Front" (EPRDF).
DC Task Force members stated that in the 2005 elections only one region voted for the the TPLF/EPRDF: the rest of the country voted against them. They note that European Union observers of the election agreed the other party (KINJET) should have gotten more votes. DC Task Force also claims the TPLF put KINJET leaders into prison, killing some, in order to run the country unopposed. They point to remarks by U.S. National Security Advisor Susan Rice in July 2015 when the Ethiopian prime minister claimed to have won 100 percent of the vote for his party: "Some aspect of the democratic process was not working," she had said.
The Ethiopian protesters claim that al-Amoudi is one of the people behind a major land grab in Ethiopia causing displacements of poor farmers and their family members from their land with full collaboration of the regime.
In their letter to Garza, the protesters accused the EPRDF for being responsible for the killing of over 140 students, teachers and farmers since November 2015.
Bisrat Meskel, CEO of AESAONE, disagreed. He explained AESAONE was established five years ago as a 501(c) non profit with no political or religious affiliation. He noted that if only 20 or so demonstrators showed up at Mount Vernon High on June 16, out of a population of over 200,000 Ethiopians, it should indicate how minor the opposition is. He underlined he is a retired postmaster with no interests in Ethiopia; he settled in the U.S. along with his fellow officers on the AESAONE leadership board, and is simply trying to sponsor a soccer tournament. Meskel acknowledged that one of AESAONE's donors is al-Amoudi, but he noted that al Amoudi had supported the original Ethiopian sports federation, the ESFNA (Ethiopian Sport Federation of North America) for 25 years before the ESFNA split into two factions.
Meskel said ESFNA is now quite political and he complained that it, and the DC Area Task Force are the "political" players, not AESAONE. The other group is supported by a foreign government (Eritrea) and by anti-government media called "ESAT." AESAONE, in contrast, has no political booth at the event, he said.
As for al-Amoudi and the charges of the DC Area Task Force that he engages in unfair land grabs, Meskel said al-Amoudi has a lot of business interests in Ethiopia. He supported ESFNA until they became politicized. While many point to al-Amoudi's wearing of an EPRDF T-shirt in 2004 as an indication of his political leanings, Meskel disagrees that he is "the right hand man" of Zenawi. "He was all about support of the ESFNA for 25 years," Meskel said of al-Amoudi. "In addition, what businessman doesn't want to maintain good relations with the government in order to do business?" And yes, Meskel said, al-Amoudi did lease land from the Ethiopian government along with a lot of others — Chinese businessmen as well. "Even my parents had their land taken," Meskel said. In Ethiopia, all the land belongs to the government. They take your land and relocate you, but they don't compensate you. Your land might be very valuable and the new land may not be."
Again, Meskel said, "These groups of oppositionists keep coming to AESAONE events to protest — this is not the first time. They did it this year in Denver and Minneapolis, but they never get more than 12 or 14 people to demonstrate." AESAONE took place on the premises of Mount Vernon High School from July 3- 9.
At the final games, on Saturday, July 9, about 200 people watched Ethiopian youth play soccer in the bright colors of their flag. Ethiopian coffee and food were served in tents around the event. One of the attendees, Mekdes Ymesel, said, "Ruling party or opposition party? Oh, no: the opposition event is in Toronto. This is an Ethiopian government event, and supports Ethiopian Prime Minister Zenawi."
Fairfax County Public Schools public information officer, John Torres, pointed out that this is not a school-sponsored or FCPS-sponsored event. AESAOne is using FCPS property for their activity under the FCPS "Community Use of School Facilities" regulation (Regulation 8420). The group has complied with all of the provisions required of them, under the policy. FCPS schools are public facilities and, as such, the buildings and properties are available to the public — including community groups — regardless of political, religious or any other affiliation or message.