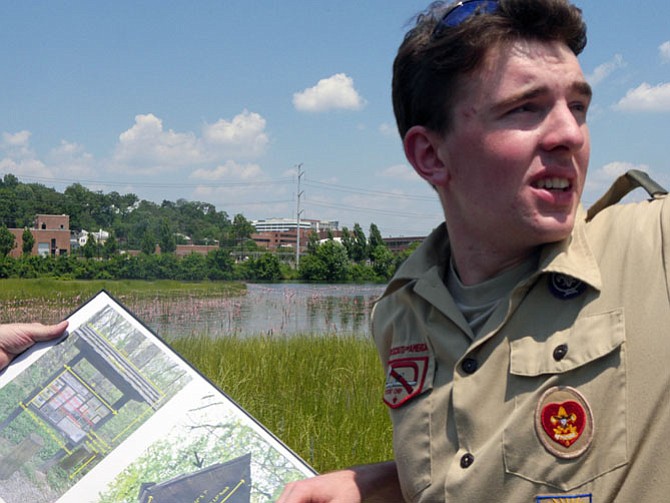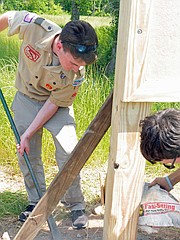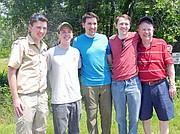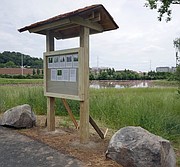 It was 92 degrees and Thomas Pollack stood on the spot where the new Four Mile Run Wetlands Trail and Bike Trail meet in Four Mile Run Park. On May 14, Alexandria had celebrated the reopening of its section of the newly restored Four Mile Run at a cost of $1.8 million. Arlington awaits County Board approval before moving forward on its portion of the joint project.
Pollack surveyed the partially built information kiosk that Troop 135 was constructing for his Eagle Scout project. "First thing this morning we spent 3-4 hours digging two 3-foot deep holes for the 6x6 posts. The city was going to do it with one of those heavy duty machines but something happened so we're behind where we thought we would be."
But as Pollack looked around at the assembled kiosk he said he felt very lucky with the progress. "I hope to get everything done today, cleaned up and leave a nice new kiosk."
About 20 workers including Scouts, friends and leaders had been working since 8 a.m. "Yesterday my dad and my 24-year-old brother and I did the shopping for the materials. My dad was up cutting pressure-treated lumber until 2 a.m. You could hear the zzzzzzzzzzz." Pollack said they had designed the kiosk and it was sort of like Legos, putting it all together.
In addition to Scout participation, the Eagle Scout project was a family affair with two cousins, Pollack's brother and grandfather helping with wrenches, shovels and advice. His mother Susan had ordered donuts to start the day as well as their favorite subs and filled three ice chests with drinks for the hot day. Two tents stood across the trail offering a little shade during the breaks.
Bags of concrete were being mixed with water from the nearby Mom's Market on Mt. Vernon in Alexandria. The market manager had agreed to let the Scouts use their water, restrooms and dumpster for the project. Pebbles were shoveled into the hole first to stabilize the concrete. "It won't take long to dry in this heat," Pollack said. The kiosk board would be covered with six pages of materials they received from the City of Alexandria as well as pictures of shorebirds that trail hikers were likely to see. The pictures had been taken by his father, Mike, with his 400 mm lens. The board would be laminated and the information attached with piano hinges. "In addition, we'll have a section for local groups who want to put up a notice," Pollack said.
Pollack recalled they had started planning the project about two months ago. "We thought it would be a good project because the old kiosk was rotting away and this was something that could contribute to the new wetlands restoration project." He said they talked to Rod Simmons, natural resource specialist for the City of Alexandria, and "he came over so we could decide where the sign should go." Pollack said they had made the decision to move a large rock and put the kiosk close to Trail 6 so it was wheelchair accessible. "That's something I didn't think about."
The last step would be the roof. "We'll have to use ladders for that." But Assistant Scout Master Jim Lovo commented when it was finished, they would have "constructed something that could withstand a nuclear blast." Upon completion later in the day, Pollack said," It truly was a team effort to complete the information kiosk. I am appreciative of everyone who helped."