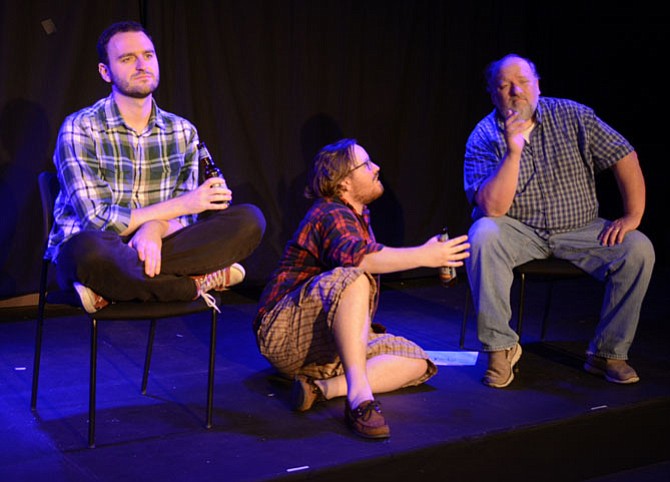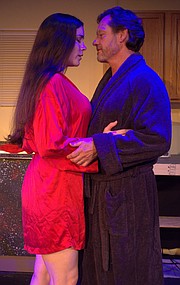 The Port City Playhouse is presenting "Stupid F#@*ing Bird" by Aaron Posner June 10-25 in Alexandria. Anton Chekhov's "The Seagull" gets an irreverent update in this comedy about the battles between the sexes and the generations, and the disappointments to be found in love, art and aging. Original songs are composed by James Sugg with lyrics by the award-winning playwright enhance the meanings and the mood.
Director Jeffrey Davis had seen another production of "Stupid Bird" and fell in love with the show. "The acting was so real and the emotions were so raw. When presented with the opportunity to direct this show, I was more than excited to jump in," he said. "The opportunity to explore the various emotions and create a piece of art that genuinely reflects life with such a high level of realism reflected in the acting thrills me, excites me and challenges me. I love a good challenge."
As far as challenges, he said he tried to encourage the actors not to act. "The cast is very talented and I love them all, but often actors in an effort to find the realism in a scene and a character will incorporate dramatic pauses to let the character emote or reflect. In real life people don't often take pause; they are quick to blurt out their emotions. Keeping the realism and the rawness of the scenes has been a great challenge," he said.
He added: "This is one of those shows that will really suck you in as an audience member … As the show progresses, you begin to really care for each of the characters and their unique places in life. The emotions are so real and so raw you will leave the theatre identifying with the uncertainties of life and love."
Producer Alan Wray decided to stage the play because he was intrigued with how it took ideas from "The Seagull" and tried to work with the questions individuals have about the characters from Chekov. "I wanted to enjoy where the take-off could go having done sound for the Christopher Hampton translation of 'The Seagull,'" he said.
What he was trying to accomplish was to allow the audience to have something that made fun of the theatre even as Chekov was trying to make new ideas.
Bill Fleming plays the role of Sorn, a doctor who is also related to two of the other characters in the play. "I am the oldest character in the play and end up dying at the age of 60 by the end of Act 3. I often wax philosophical about my earlier life, and wonder where all the years have gone, and why I feel so disconnected from everyone now that I have reached the end," he said.
He said his challenge has been figuring out how the character is different from him as a person. "I feel so close to this character in so many ways that it is easy to just fall into a sort of naturalness with him," he said. "Appearing natural on stage is good, but there has to be more going on below the surface. Figuring out what Sorn is passionate about and how he is different from me has definitely been my biggest challenge."
He added: "It does have a lot of funny bits, and is very clever as well, so I hope people pick up on that and don't get bogged down too much in the darker aspects of the show."

Jason Krage plays the role of Conrad (Con), who is just like a box of chocolates — you never know which one you are going to get. "Throughout the play he somehow seems to emote almost every emotion known to man," he said. "Much of the time he knows what he wants, but either has a hard time explaining it or is just too stern in trying to get his way. He is very misunderstood and just wants to make the rest of the characters appreciate him for who he truly is."
He said the challenge was finding all of the different emotional levels of the character and how to differentiate them as the scenes roll along. "Con is incredibly complicated; finding all of the subtleties was probably the largest struggle throughout the rehearsal," he said. "The way the script is written, with certain pauses and or overlapping lines helped a bit, however, trying to find all of the other necessary spots really help to evolve all of the monologues and scenes."
He added: "It is incredibly heavy material and may hit home with some viewers more so than others. It has been such a joy to work on, I simply hope (the audience) can appreciate the product."
Daniel Boos plays the role of Dev, who is Conrad's close friend who provides support and perspective when Conrad needs it. "While he may be the oddest character in the bunch, he is also one of the more stable and observant members, trying to keep some hope and optimism when all goes awry," he said. "He lives a poor humble life as a teacher while longing to be with someone who doesn't feel the same way but tries to make the best of it every day."
He said, "As excited as I am to do this show, it does indeed demand from the cast to preserve naturalness amidst these emotionally charged situations. Luckily I see a lot of myself in my character but at the same time it's difficult to then go through self-examination and control that behavior to various levels."
He added: "Though each of the characters are flawed in their own little ways, each provides a perspective and message that are defended and justified to a certain degree, showing in the end, as Trigorin's character shows, how beautiful and complicated life is for better or worse."
Jeff Smith plays the role of Doyle Trigorin, a successful and famous writer. "He is a bit of an outsider, observer to life, and enjoys this position as his observations become the source of his writing. As much as he is an active artist/author, he is skeptical about art and the human need to create," he said.
He added: "Trigorin is immediately infatuated by the young, beautiful Nina and tries to seduce her, and as such becomes an active participant in this episode of life. All this despite the fact that his lover, Emma, is on hand for his overtures to Nina. Trigorin is disliked by the other males in the play."
He said the biggest challenge has been the balancing act of Trigorin. "He is an outsider that enjoys looking inside. Trigorin is an active, successful artist/author and is dubious about the value of the need to create and any fame that may be acquired because of his ability to create," he said. "He is cognizant of people's frailties, but he relishes these frailties that become a source for his writing. Trigorin's infatuation and romantic involvement with Nina puts his own frailties on display. Capturing Trigorin's genius and his frailties has been my biggest challenges."
The Port City Playhouse is presenting "Stupid F#@*ing Bird" by Aaron Posner June 10-25. Tickets are $18 and $20. Show times are Fridays at 8 p.m., Saturdays at 2 p.m. and 8 p.m., and Thursday, June 23 at 8 p.m. The Port City Playhouse is located at the corner of Quaker and Crestwood Lanes in Alexandria; the address for the Lab at Convergence is 1819 N. Quaker Lane, Alexandria. Visit www.portcityplayhouse.org or call 703-838-2880.