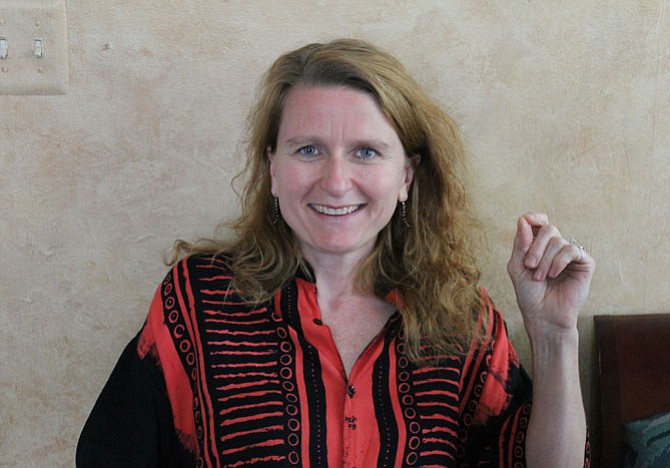 Securing a job, renting an apartment, voting in an election: things people without a felony conviction do with relative ease.
Many formerly incarcerated people argue that returning to their community after serving a felony sentence is more difficult than the sentence itself. They often re-enter their communities with histories of severe trauma, addiction, sexual/emotional/physical abuse, minimal resources, and bills that have accumulated during their time in prison — unstable building ground for a new life and second chance.
Men and women trying to get back on their feet outside of the criminal justice system are essentially asked to do the impossible. Between negotiating the logistics of living to navigating lives with little support and high demands, formerly incarcerated people are tested in perseverance every day. Terry Garrett, a long time resident of Alexandria, was released from her final incarceration in 2006, entered transitional housing at Friends of Guest House and got a minimum wage job an hour-plus bus ride away from her home. Meanwhile, she was required to give all but $40 of her monthly income to pay fines, child support, and restitution.
Try living a month on $40. This is the reality for many individuals returning from incarceration. Within six months of being out of jail she was summoned to court for child support arrears, which she had only recently begun to repay. "To save money, the judge told me to give up my lease and go to a shelter. It was enough to push me back into addiction." (But she didn't "let" herself be pushed back; she'd developed strong community supports.) He also asked Terry why, years ago, she hadn't petitioned the court to have her child support costs reduced. "You think you're going to have someone smoking crack petition to the court?" she said, "We're talking full blown addiction here."
Terry was born and raised in Alexandria. Most of her children went to school here, much of her family lives here, she pays taxes here — yet in terms of basic civil rights, until this April, she remained an unrecognized member of the community. Her time at Friends of Guest House, an organization in Alexandria providing support to women transitioning from prison, helped her access the help she needed to get herself back on her feet. Now, she lives in a two-bedroom, two-bathroom apartment in Alexandria, is self-reliant, and feels good about it.
So where is the perspective? When is "former inmate" going to become "citizen"?
Terry has often asked herself, "What is all of this for? Because in the eyes of the law, they're still looking at what I did, not what I am doing today. I'm not living what I was 11 years ago. I'm out there helping others, volunteering, and advocating. I am a grandmother. I am a mom. It just doesn't seem like it will ever be enough." As we saw most dramatically on April 22, "all of this" certainly has been for something. With the help of advocates like Terry, the tide has been turning. On April 22, Virginia Gov. Terry McAuliffe signed an executive order restoring voting rights and other civil rights to more than 200,000 individuals who have served their time for felony convictions. Terry Garrett is one of those and will be casting her vote in the next election. In addition, Terry has traveled to Richmond to advocate for different issues pertaining to the criminal justice system. She knows that she may not reap all of the benefits of her advocacy work, but feels good that women with similar stories will benefit down the road.
"It makes me feel good to have a part in this change. It feels like someone listened. Someone else believes in us — and they are willing to stick their necks out to prove that we're not the same people that we are on a piece of paper."
We need residents like Terry Garrett in Alexandria. She is informed, inquisitive, passionate and caring. She has witnessed the evolution of the community and she wants to be a part of it's future. As an employer, a landlord, a neighbor, a voter — what will you do to help formerly incarcerated people like Terry?
Terry Garrett is an active public speaker and can be reached through Friends of Guest House.