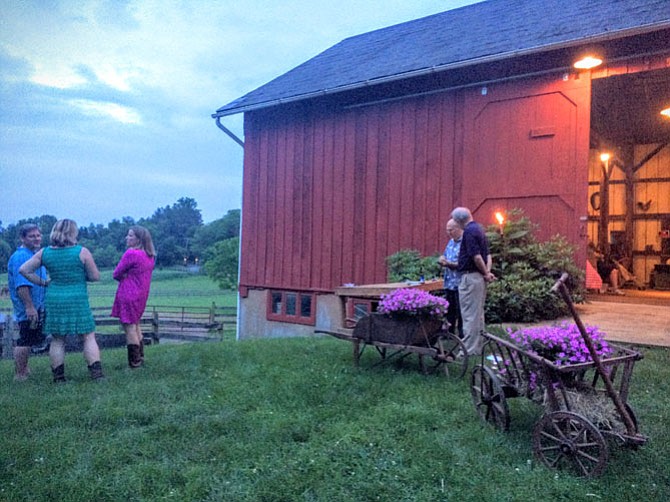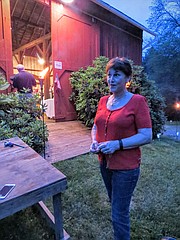 The seven horses that live on Linda Thompson's White Pines Farm property on Walker Road have shared their barn with the Great Falls Optimist Club for about once a year for the past 10 years.
"It's amazing. It's one of my favorite things about the place," said Thompson. "I fell in love with this barn before I fell in love with the property."
Thompson describes how she made renovations to her barn to be able to turn it into a dance floor, bar, auction house, barbecue restaurant, concert and picturesque location for the annual Barn Dance.
"I've put a lot of heart and soul into it," she said on Saturday night, June 4, describing efforts to keep to it airtight, white washing the interior, treating the elegant wood, putting electricity and installing lighting and heat.
The dance benefits the Great Falls Optimist Club Children's Fund.
"We're small but mighty," said Thompson, this year's president. "We've been part of the community for a long time."
Some of the programs provided by the Optimist Club include the Great Falls Children's Festival, youth awards of excellence, essay contests, the Christmas Tree lighting, a winter shoes program, and family food programs. The club also supports Special Olympics, local scouts, local Little League teams, and has partnered in developing the children's playground near the Grange.
This will be the Optimist Club's last Barn Dance.
She's hoping to break down the barn and move it to her son's farm this year. "I'm sad to see it go, but the time is right for me to break away," said Thompson.
The purpose of an Optimist Club is to develop optimism as a philosophy of life, to promote an active interest in good government and civic affairs, to promote patriotism and work for international accord and friendship among all people, and to aid and encourage the development of youth.
Contact TR Cook, past president of the Optimist Club, at trcookphoto@aol.com or at 703-938-1609.