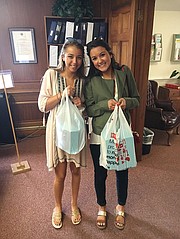 During the last three weeks of our high school career, we had the opportunity as T.C. Williams seniors to do an unpaid internship of our choosing. We chose to work with Senior Services of Alexandria (SSA), a non-profit organization that provides assistive services for senior citizens aiming to help maintain their independence. These programs include Meals on Wheels, Groceries to Go, and the Friendly Visitor Program. Each of these programs has been successful in improving the lives of local seniors.
We had the privilege to get to work with all the programs including delivering Meals on Wheels to homebound seniors a few times each week, going on delivery routes all throughout the city. Hardworking volunteers deliver one hot and one cold meal to seniors who have trouble or are unable to leave their homes. Their volunteers deliver seven days a week, rain or shine, and even on holidays. The Groceries to Go program, a very convenient grocery shopping and delivery service, works with Harris Teeter and Giant Foods to shop for and deliver food to seniors who participate. We shopped and delivered groceries for two clients.
Senior Services provides outreach to the community through its Speaker Series and Senior Information Corners. We were part of the Annual Senior Health and Fitness Fair held at the Lee Center. This event sponsored by the city's Successful Aging Committee, of which Senior Services is a member, is a fun event. After the formal program around different health topics, participants get to visit several breakout sessions including health screening, hearing tests, cooking demonstrations, tai chi and shoulder massages. One afternoon we spent restocking the 14 Senior Information Corners around town in libraries and recreation centers with relevant literature for seniors on a variety of topics.
We also helped spread the word about the new Silver Service Card program. The Silver Service Card program aims to connect Senior Citizens and local businesses by offering various discounts to seniors who present the Silver Service Card at participating locations, encouraging seniors to stay active in the community.
It was a great three-week experience learning all that Senior Services of Alexandria has to offer the senior population in Alexandria. It is a great place to grow old.