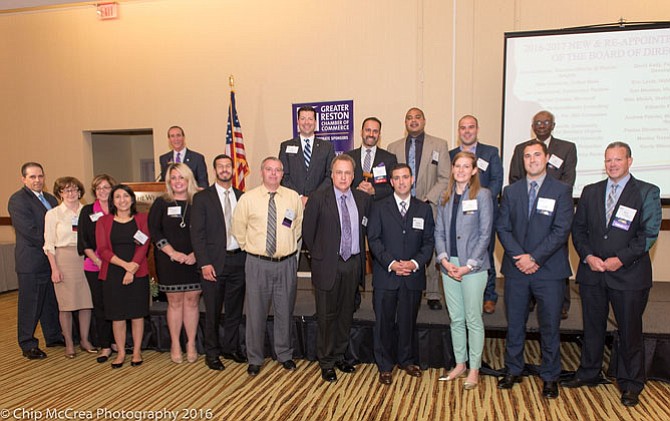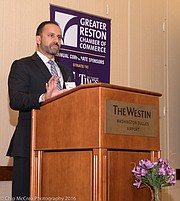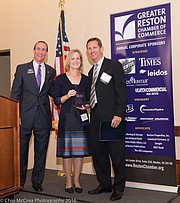 On Thursday, June 23, the Greater Reston Chamber of Commerce hosted its Awards for Chamber Excellence (ACE) Luncheon. During the Luncheon the Chamber recognized companies and individuals who demonstrated excellence as Chamber and community members throughout the year. The Chamber also recognized member milestone anniversaries and installed its new officers and board members. Each year, through the ACE Awards, the Chamber acknowledges outstanding businesses, volunteers and committees that make the Greater Reston Chamber of Commerce a successful place to do business. The Greater Reston Chamber of Commerce presented the winners of this year's Awards for Chamber Excellence:
Committee of the Year: GovCon Committee

Small Business of the Year: Around Reston Magazine


Medium Business of the Year: Hidden Creek Country Club

Large Business of the Year: Bechtel


Member of the Year: Iris Britt, Iris Britt Consulting

New Member of the Year: Intelice Solutions

Volunteer of the Year: Roman Blazauskas, SpeedPro Imaging

President's Award: Charles Kapur, Access National Bank

Pinnacle Award: Cynthia Hyland
Outgoing chairman Michael Bradshaw, director of Cloud Platform of the East Region, Google passed the gavel to Incoming Chairman, Charles Kapur, vice president, Access National Bank. Michael Bradshaw led the Chamber through a successful year. Under Bradshaw's leadership several initiatives were enhanced to drive membership value: Increased focus on advocacy; re-launching of INCspire Education Foundation; expanded community engagement, and adding networking opportunities.
The attendees were inspired by the keynote address from decorated Gunnery Sergeant (Ret.) of Marines and Fox TV reality star, Tee Marie Hanible, regarding her "leadership nuggets." She is also the founder of Operation Heroes Connect, an organization that not only partners servicemembers and veterans as mentors for at risk youth but also provides community outreach services in the D.C., Maryland and Virginia areas.
Charlene Wheeless, Bechtel was elected by the membership as the chair-elect. Dee Kakar, vice president of Business Banking and Team Leader, M&T Bank was elected to serve as the treasurer for 2016-2017. Matt Clary, Law Office of Matt Clary, was selected to serve as general counsel for 2016-2017.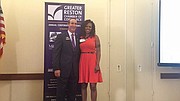 Supervisor Pat Herrity administered the oath of office to our incoming and second term board members, who included: Don Anderson, Sheraton/Westin at Reston Heights, Alex Converse, United Bank, Ian Copenhaver, Conversion Pipeline, Bailey Edelson, JBG Properties, JP Gregory, Marymount University, Dustin Imbesi, Hyatt Regency Reston, David Kelley, Fairfax County Economic Development Authority, Eric Levin, Hidden Creek Country Club, Tom Madden, Visual Impact Productions, Mike Misleh, Veatch Commercial Real Estate, Andrew Painter, Walch, Colucci, Lubeley & Walsh, P.C., Pantea Stevenson, Bean Kinney & Korman, Monica Tressler, Cardinal Bank, Kerrie Wilson, Cornerstones, Rick Marrero,Northrop Grumman, Jim Dyke, McGuireWoods Consulting, Eduardo Pagan, Il Fornaio, Eileen Ellsworth, Community Foundation for NOVA, Michael Donlan, Microsoft, Denise Hogan, Boston Properties.
For more information, visit www.RestonChamber.org .