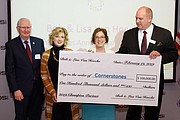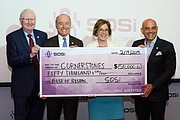 Cornerstones and the Greater Reston Chamber of Commerce, along with SOS International LLC (SOSi), hosted a Celebration Reception where eight 2019 Cornerstones of Our Community – Best of Reston Award Honorees were revealed. The selected Honorees will be celebrated at the 2019 Cornerstones of Our Community – Best of Reston Awards Gala on April 4 for giving selflessly of their time, for the causes about which they are passionate, and in so doing, making the community stronger.
The 2019 Honorees are:
A Simple Gesture (Bob Schnapp)

BEI (Ellen and Mike Jennings)

Omicron Kappa Kappa Chapter of Omega Psi Phi Fraternity/OKK Foundation, Inc.

Synergy Design & Construction (Mina and Mark Fies)

Touching Heart (Helen and Taylor Yi)

Maggie Parker

Roz Rakoff

Kurt Rose
Mark Ingrao, President and CEO of the Greater Reston Chamber of Commerce said at the reception, "Partnering to produce this event reaffirms our commitment to recognizing those who go above and beyond to build, sustain and enrich this community. The Chamber is dedicated to collaborations that offer a business environment that is planned, proven and connected."
Julian M. Setian, President and CEO of SOSi serves as the 2019 Gala Chair and hosted the Celebration Reception. Setian announced an ambitious fundraising goal for the Best of Reston Gala and pledged SOSi's commitment to Cornerstones by presenting Cornerstones with a $50,000 donation.
Best of Reston sponsorships, seat and table reservations for the April 4t Awards Gala can be made online at www.cornerstonesva.org/BOR.
Bob and Lisa Van Hoecke were also recognized for their support of Cornerstones for more than ten years, and for committing $100,000 as Cornerstones' Champion Annual Partner. Bob Van Hoecke recently chaired the 36th Annual Capitol Steps Benefit, which raised over $400,000 this year.
"SOSi, Bob and Lisa, Reston Community Center and Bechtel and others here tonight are among a very special group of organizations who have made a commitment to Cornerstones as Annual Partners – whose sustaining support helps us meet challenges in the community year-round," said Kerrie Wilson, CEO of Cornerstones.
For more information, visit www.cornerstonesva.org or call 571.323.9555.