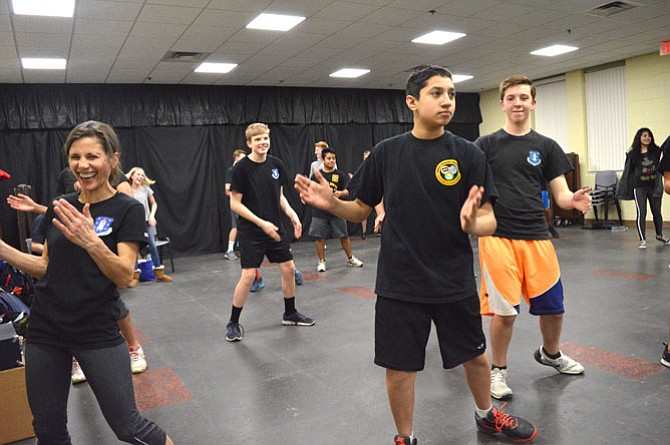 See more cadet training photos on Facebook.
The hour is 1900 on Wednesday, June 24, at the Nannie J. Lee Recreation Center. Nearly 20 cadets, ages 12 to 17, step in opening formation. All are in uniform save one teenager, who awaits his gear after recently joining the Challenger 1 Cadet Squadron in Alexandria.
At 1910, drill practice starts and then testing. By 1930 hours, Squadron Commander 1st Lt. Bebe Finkenstaedt announces cadet and senior promotions.
Since March 2014, Finkenstaedt has grown her urban squadron membership from a handful to 39 cadets and 15 senior members. Most live within walking distance of the Lee Center. And all seem to have no regrets except not joining sooner.
"I wish I joined earlier," said Sarah Himes, cadet chief master sergeant, 17, who is home schooled, born and raised in Alexandria. "I joined at 16. I was looking for a challenge and jobs exposed to the military."
"Cadets are very egalitarian," Himes said. "All start as airman. I wish more kids would know about this structured environment. We develop as individuals. We live by an oath and higher ethics, the Air Force ethics."
The local squadron is a diverse group, representing civilian and military, men, women, seniors and youth. Members come from many backgrounds, religions and economics. They share an interest in aerospace and volunteer service. Seven are from T.C. Williams High School.
Mentorship is key. "Senior members take vows of cadet responsibilities. Cadet protection is part of the process for seniors," said Paul Cianciolo, Lt. Col., Volunteer Public Affairs Officer for the Civil Air Patrol.
Finkenstaedt says there are lots of opportunities for adults. They are guided to develop on a track of their choice: finance, leadership, emergency services, character development instructor, public affairs and this is just squadron management duties. "Parents must really be thanked, especially the ones who can give a little more as CAP members. They drive a program like ours," said Finkenstaedt.
Cadets' duties parallel the senior member staff. Cadets are photographers, logistics coordinators and command staff. They also perform research and rescue operations, and they are trained to look for missing people.
While not first responders, they perform Air Force missions. Alexandria's squadron, one of 40 in Virginia, is part of Civil Air Patrol, the all-volunteer civilian auxiliary of the U.S. Air Force in active service for the country since 1942.
Everyone works closely with its five sister squadrons from the National Capital Wing and collaborate on activities ranging from color guard to wilderness first aid survival training. They participate in orientation flights, hands-on science and technology, including robotics and building a blimp, fitness and nutrition activities.
Cameron Ellis Sellers, cadet chief master sergeant, 16, from Hayfield Secondary School in Fairfax County, has been with the cadets for over two years. He enjoys solo gliding and hopes to attend Georgetown University's diplomatic school. "The cadet program has helped me with discipline, aerospace and public speaking."
"This is a real job that is different than the Boy and Girl Scouts whose focus is on leadership," said Col. Jayson A. Altieri, U.S. Army, National War College.
Cadet work is a career path for air pilots, computer scientists and engineers.

"Ultimately, we aim to be of use in missions," said Cianciolo.
This includes being of use at the Lee Recreational Center. Says Jackie Person, therapeutic manager, of the Department of Recreation, Parks and Cultural Activities, "They teach our kids about airplanes and assist us with projects."
For more information, see www.DC060.NatCapWing.org.