The two murders were unrelated, happening a month apart, but they share similarities. All involved members are Salvadoran immigrants living illegally in the United States, many involved in some way with MS-13. The murders took place one mile apart, one in Beverley Park and another in Four Mile Run, both with repeated stabbings. Both occurred in November of 2015 and both went to trial June 23, two unrelated defendants named Castro pleading guilty to murder. But while the Beverley Park homicide was the violent end to a love triangle, the other was a planned hit against a witness in a previous case.
GANG-RELATED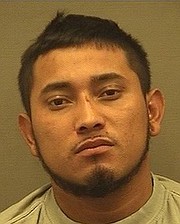 Alvaro Enrique Saenz Castro, 21, is a member of MS-13, but according to his plea that's not why he murdered 24-year-old Jose Luis Perez Ferman. Saenz Castro murdered Perez Ferman because the latter had been making sexual advances towards Saenz Castro's girlfriend over social media.
According to Assistant Commonwealth Attorney David Lord, Perez Ferman was in National Harbor earlier on Nov. 8 with friends when he got on the phone, after which his friends said he began to act withdrawn and wanted to go home, saying he was feeling ill. When he arrived home, Perez Ferman told his girlfriend that he was going out for a smoke and left the house. According to police, Perez Ferman had been communicating with Leidi Granados Gutierrez, Saenz Castro's 16-year-old girlfriend.. When Saenz Castro discovered their communications, Lord says Saenz Castro had Gutierrez set up a meeting with Perez Ferman in Beverley Park under sexual pretenses. In the plea, Saenz Castro says he only intended to meet Perez Ferman with other members of the gang and intimidate him, to get him to stop messaging Gutierrez, but that when he saw Perez Ferman he lost control. Perez Ferman tried to run, but prosecutors say Saenz Castro and Mauricio Membreno Portillo, 17, chased him down and began to attack him near the playground. According to Lord, there were 21 chop and stab wounds across Perez Ferman's body, all from a knife and a machete, and Perez Ferman was left nearly decapitated.
Saenz Castro will face sentencing on Oct. 20. In April, a grand jury indicted Portillo on charges of first degree murder and conspiracy to commit murder. Portillo is being tried as an adult. Gutierrez pled guilty to destroying evidence in April in a case that detailed Gutierrez's long history of abuses in El Salvador and in the United States at the hands of MS-13. Gutierrez was committed to the Department of Juvenile Justice.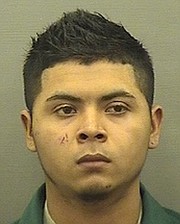 GANG-AFFILIATED
Later that day in the same courtroom, Boris Elias Rosa Castro, a 19-year-old Fairfax City resident with no relation to Alvaro Saenz Castro, pled guilty to the murder of Eduardo David Chandias Almendarez. Unlike the murder of Perez Ferman, the Almendarez case entirely centers around MS-13.
Almendarez was a witness in a July 2015 malicious wounding case related to MS-13. After Almendarez testified, Commonwealth Attorney David Lord said the gang planned retribution. On Nov. 28, Boris Castro and Edwin Alexander Guerrero Umana, 18, lured Almendarez to a McDonalds near Four Mile Run under the guise of buying marijuana from the victim. After the deal, the two suspects invited Almendarez to smoke with them behind the Cora Kelly School nearby. When they were secluded, prosecutors say Umana began to stab the victim. Boris Castro took the knife afterwards and stabbed Almendarez as well. In total, Almendarez suffered 96 stab wounds, including 45 to the head and neck. While the cause of death was the stabbing, Almendarez also suffered blunt force trauma and drowning, which indicated Almendarez was still alive after the stabbing. Prosecutors said Boris Castro and Umana then hid Almendarez's body in a nearby drainage pipe, stripped out of their bloody clothes, and threw them into the creek tied to a rock.
Almendarez was reported missing on Nov. 30, and his body was discovered on Dec. 4.
In January, Boris Castro was spotted by an off-duty police officer in Fairfax and recalled that he was wanted in connection with the homicide.
Boris Castro will face sentencing on Oct. 27. Down the hall, Umana waived the right to a speedy trial, with a status hearing set for July 14.