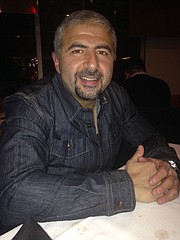 Probably the most delightful gift comes wrapped in sugar, or chocolate or a sweet glaze. Or maybe it's wrapped in foil or boxed handsomely, hiding a French baguette or assorted scones. Such elegant temptations are whipped up and assembled at Vienna's remarkable European-inspired pastry shop, Silva's Patisserie.
Managed by Silva Sarkees, it features her son, Harry Sarkees, who is the imaginative, hardworking and inspired baker who keeps the glass case shelves stocked with a rotating array of baked treats. Just examining each shelf could give a sugar high, so colorful and tempting are the scones and cakes, baguettes and croissants.
How did Sarkees get so engrossed in a baking career? As it turns out, he is a fourth-generation descendant of French-Armenian bakers. "I grew up in the business," he said, adding that his mother's uncles have a baking business in France. "I am self taught. I learned from my grandfather and mother. I worked in a restaurant, which was a good base, but all else I learned on my own." (Note: His restaurant experiences include working for Michel Richard at his now-closed Citronelle, the executive pastry chef for Sam & Harry's in D.C., and at the Kennedy Center.)
His techniques and skills are excellent, but what makes his work stand out is his creative imagination. Take, for example, the sweet treat that he created years ago for St. Patrick's Day, the Irish potato. For this, he shaped a "potato" out of cream cheese, cinnamon, sugar and shredded coconut, then dusted it with chocolate to give it an earthy look. But instead of a savory mouthful, the potato is sugary and crunchy, and has become so popular that Sarkees has kept it as a regular in the patisserie. "This 'potato' is great with French-roast espresso," he said, but honestly, it is fabulous just on its own.
For those who look for other St. Paddy's Day goodies, Sarkees also bakes an Irish soda bread, which he describes as a cross between regular bread and a quick bread lightened with yeast. Other special Irish treats include shortbread cookies in the shape of clover and of Irish hats. He also bakes a Bailey's Irish Cream cake, which he describes as his take on the Latino favorite, the tres leches cake.
At any given time, he said, he stocks the glass cases with between 100 and 130 different kinds of pastries and baked goods. He added that he likes to challenge himself in creating unusual and delicious treats. To that end, he will even travel to sample the competition. Take his coffee crumb cake, for example. "These are popular up north," he said, "so I drove up to New Jersey to taste samples. I went to three or four bakeries, but tasted nothing special. So I created my own with all butter to make a moister, softer cake."
Perhaps the most popular baked goods here are Sarkees' genuine macarons, made with almond flour. But because of his baking skills, nothing on display and from his kitchen disappoints, and the reason is this: "I try to stay true to the character of the pastry," he said, adding that his basic ingredients are European butter and heavy cream.
Silva's Patisserie, 167 Glyndon St SE, Vienna. 703-255-6880. Hours: 7:30 a.m. to 6:30 p.m. daily, closed Mondays.