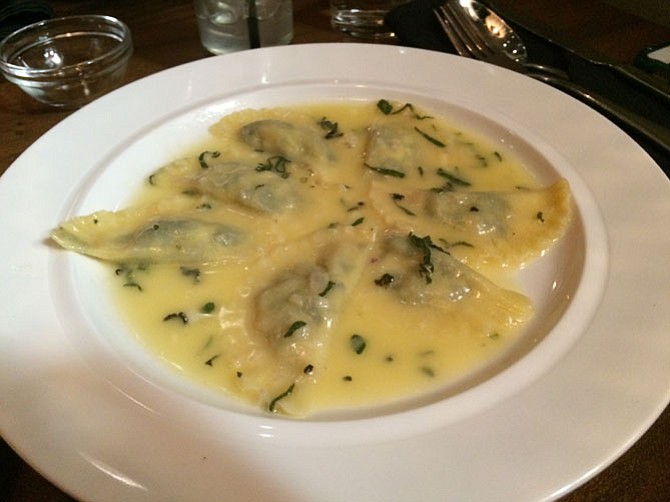 North Old Town has a new hotspot in the neighborhood. Hank's Pasta Bar, the kid sister to the venerable Hank's Oyster Bar on King Street, has taken the area by storm since opening about five weeks ago. And the newness hasn't worn off yet. From the two fully booked soft openings to a recent Monday night that found the dining room out of space for the evening by 7 p.m., it's clear that residents have a hankering for pasta. And Hank's stands at the ready to accommodate.
Hank's offers 13 varieties of pasta in-house, says Hank's Sabrina Zahid. "There's a pasta machine, but a big majority of them are hand-cut," including the lasagna and the ravioli, Zahid added.
A good deal of the work is done by "our in-house pasta mama," Mirabella Salamanca, Zahid said. "She comes in early, she has a break in the evening, but we're pretty much cranking out fresh pasta all day."
And a quick survey of the menu proves that Salamanca and the rest of the team — helmed by Chef Jamie Leeds — are indeed hard at work. A perusal of the pasta dishes turns into a mini-Italian lesson that is apt to send some diners dashing for their iPhones to look up unfamiliar names while the waiter's back is turned. Paccheri. Malfalde. Bucatini. Mezzalune. There's an option for you, no matter what you're looking for.
If you'd like to get a taste of where it all started, be sure to try Jamie's Favorite Linguine With White Clam Sauce. A top seller, it harkens back to before the pasta bar had come into being and Leeds found herself at an Italian restaurant in Dupont Circle with pasta on the brain. Spying linguine with white clam sauce on the menu and reminiscing about enjoying that same meal with her father, Hank, she ordered it only to learn it was sold out for the evening. The restaurant's chef, Nicolas Flores, learned of Leeds' plight and went out to purchase fresh clams to make for her that evening, saving the day — and cementing a partnership.
"They met over a bowl of linguine with white clam sauce," Zahid said, and the rest was history.
Among other must-try dishes: The mezzalune, a thin, airy pillow-like pasta stuffed with winter greens and ricotta and nestled in a creamy sauce. Or enjoy a plate of simple elegance with the spaghetti all'olio, a hearty helping of spaghetti tossed in olive oil, garlic, and shaved bottarga.
Oftentimes, restaurant desserts are better left untouched; the sweet treat is often overshadowed by the meal itself. But Hank's panna cotta is a thing of beauty. Creamy, custardy and rich, it's not so overwhelming that you and a partner couldn't polish one off with aplomb (and wish you had just one spoonful extra to grow on). Pair it with an espresso or an after-dinner libation and you've got the perfect end to a wonderful evening.
While dinner is proving a popular occasion at Hank's, the restaurant isn't prepared to stay dark during the day for much longer. Weekday lunches will begin March 14, Zahid says, and weekend brunch will be soon to follow that.
"We're definitely going to keep a good number of the pastas on the menu for lunch," Zahid said, adding that the kitchen has some "fun stuff" in the works for brunch as well, including some new bloody Mary recipes for the cocktail menu.
Details
HANK'S PASTA BAR
Address: 600 Montgomery St., Alexandria
Hours: 4-11 p.m. Monday-Thursday; 4 p.m.-1 a.m. Friday-Saturday; 4-10 p.m. Sunday.
Hidden gem: The lamb chops. "Those are really, really delicious. I think people are definitely more apt to order pasta, but I've gotta tell you, those are some of the best lamb chops I've ever had," says Hank's Sabrina Zahid.
Hope Nelson owns and operates the Kitchen Recessionista blog, located at www.kitchenrecessionista.com. Email her any time at hope@kitchenrecessionista.com.