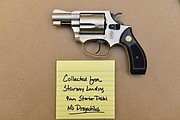 Alexandria resident Sayed Robbie Javid was charged with assaulting a police officer and falsely summoning police after an incident at his home on Larkspur Drive escalated into a barricade situation.
The 19-year-old first called 9-1-1 a few minutes before 5 p.m. on March 2, claiming there was an unwanted person in his home. When officers approached the house, Fairfax County Police said in a news release, someone from inside the home fired a weapon in their direction. Neither officers nor any area residents were hit, and a barricade was declared.
Detectives later determined Javid had initially fired rounds from a starter revolver that emits a flash and smoke from the muzzle, as well as a repeating explosion sound that is identical to firing a real bullet.
"Based on these elements," a release from Fairfax County Police said, "officers' instincts were to find immediate cover and safety, as they believed the pistol they saw and sounds they heard were from a real firearm."
Police set up a perimeter around the house, summoned a SWAT team, crisis negotiators, the police helicopter Fairfax 1 and the K9 dog unit.
The department's public information bureau began spreading information about the event through social media, letting people know Franconia Road was shutting down in both directions from South Van Dorn Street to Beulah street, and that residents should stay inside their homes while the situation was being resolved.
Javid came out of his home around 6:15 p.m., police said, armed with at least one weapon. When he initially refused commands to surrender, police brought him down with a round from a beanbag shotgun and apprehended him with the K9 unit. Police referred to this method as "less-lethal force."
The young man sustained minor injuries, police said, and was taken to a local hospital before continuing on the the Adult Detention Center.
A search of the house resulted in several other, larger pellet guns police are saying were in Javid's possession.
At 9 a.m. that morning, police responded to the house because of an argument between a father and son that turned physical. The father was charged with assaulting a family member. Detectives believe the evening's incident may have been related to the earlier altercation.
Javid is being held on no bond at the Fairfax County jail.