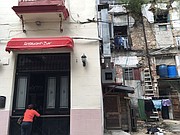 Elected American officials have been making news recently on trips to Cuba, with Gov. Terry McAuliffe and District of Columbia Mayor Muriel Bowser leading the way in January and February. And President Barack Obama will gain more attention with his two-day visit, March 21-22.
But several Mount Vernon residents also have toured Cuba the last two months. While their goals were not trade deals or diplomacy, their observations of America's former Cold War antagonist are likely more telling than those from carefully shepherded political entourages.
"We wanted to see what Cuba was like before McDonald's got there," said Geri Roden, who enjoyed a four-day visit in late January with her husband Ed and daughter Sylvia. Once there, the extraordinary range of sights and sounds astonished her. "My jaw was open the whole time. I was struck by the colonial-era buildings — the architecture was beautiful, but their dilapidated condition was sad."
The longstanding U.S. trade and financial embargo on Cuba, which the Rodens' guide called el bloqueo (the blockade), presents a bit of a challenge to American tourists. But the Rodens discovered a fairly simple way around the travel restrictions imposed by the U.S. State Department by engaging a tour operator, Just 90 Miles. The company obtained their visas, using the "people-to-people" and "educational" categories of authorized travel, and booked hotels, guides, and airline tickets. On Jan. 28, the Rodens flew from Miami to Havana on the reborn Eastern Airlines, and their flight was technically a charter.
Joe Viar and Bonnie Christ used Avalon Cuban Fishing Centers to arrange a seven-day fly-fishing trip in the shallow flats off Jucaro on the southern coast of central Cuba. Avalon made all of the arrangements, including travel. Viar and Christ flew on Copa Airlines from Dulles on Jan. 21 to Panama City, Panama, and then on to Havana.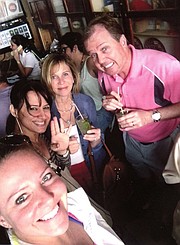 Glenda Booth traveled as part of a tour under the people-to-people category packaged by National Geographic. On Jan. 24, she flew from Miami to Havana on an American Airlines charter that operated much like a regularly scheduled flight. The U.S. Department of Transportation is currently processing applications from eight airlines for normal scheduled air service between the United States and Cuba.
Everyone took substantial amounts of cash because the embargo prohibits credit card transfers. Booth changed her dollars to Cuban Convertible Pesos — "CUCs," pronounced kooks — in Havana. Joe and Bonnie exchanged dollars for Euros in Panama, then CUCs in Havana. The Rodens traded for Euros in Miami, and then CUCs in Cuba. Foreigners are not allowed to use the common Cuban peso.
Viar and Christ spent the first night in the Parque Central Hotel in La Habana Vieja (Old Havana). "It was a lovely place, a five-star hotel," Christ said. The next morning, the hotel's concierge booked a taxi for them, one with an experienced, English-speaking guide/driver. "It was a new vehicle, not one of those old 1950s American cars," she said. "I guessed that 80 percent of the cars in Havana were those old Chevys and Fords."
They then rode a bus with six fishing friends to Jucaro, where they stayed on a "live-aboard" boat, the Avalon I. Every day, Viar and Christ motored about the coastal bays and inlets, transferring to small, shallow-draft boats to fish for tarpon, bonefish, snapper, and grouper. They returned home on Jan. 30.
Booth's tour group spent the first three days in Havana, also in the Parque Central. True to the nature of their travel category, they talked with the Cuban people wherever their bus took them. Booth also was struck by the deterioration of so many buildings. "Another member of my tour group remarked about the 'beauty of decay.'"
Booth said she was awed by the inventiveness of the Cuban people. "They are so short of resources, they have to make do somehow. Their spirit of persistence is quite strong, and keeping those old cars running is a great example. One Cuban explained the process of making do: 'We 'Cubanize' everything.'"
Both the Rodens and Booth's group most often ate lunch and dinner at a paladar (palate or taste), a privately-run restaurant. The Cuban government partners with foreign investors to operate more upscale restaurants. Those places reflect the chasm between foodstuffs available to government officials and employees, and what the people have to make do with. The Rodens' guide said the elite enjoy fresh milk, but regular citizens get rationed powdered milk.
"I saw very little fresh food," Geri Roden said, "and our guide told us that most food for the common folk is imported from either China or Mexico." Viar and Christ remarked about the good food aboard the Avalon, and especially the fresh fish caught daily.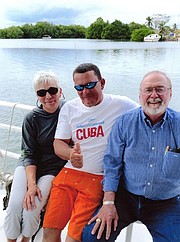 Booth's tour group left Havana by bus on the fourth day and traveled to the city of Cienfuegos, which is located 140 miles southwest of Havana on the southern coast. "I really loved the varied topography — the mountains and the white sandy beaches," she said a month later. "Once outside Havana, nothing seemed to have been 'Americanized' — no big signage or neon lights."
After three nights at the Hotel Jagua, complete with American-plan meals, the group stopped at the Museo de Playa Girón, the Bay of Pigs war museum. The facility honors the 1961 Cuban defeat of American-backed invasion force of Cuban exiles. Booth described a quotation from Fidel Castro inscribed on a plaque: "We have made a socialist revolution in their noses."
The Rodens' stayed in a nicely furnished condominium owned by a Swiss family. It was located near the Malecón, a broad esplanade that runs west from the entrance to Havana harbor. They toured the Havana area by car with a government-controlled guide named Raiza, who Geri Roden described as a "Penelope Cruz look-alike." She was friendly and well-informed, but a little too smooth. "Everything she said seemed scripted," the Rodens said. "But occasionally, she lowered her voice when describing a politically sensitive subject and warned that the secret police might be close by and listening."
The family toured Ernest Hemingway's former home, Finca Vigia (lookout house) just east of Havana, and sipped a mojito at the El Floridita Bar, the writer's favorite. They also toured a cigar factory, sacred ground to a world of cigar aficionados. "The police watched us carefully," Geri Roden said later, "and wouldn't let us take photos."
As they toured Havana for three days, the Rodens were struck by the poor state of the transportation infrastructure. "I don't see how Cuba can support more tourists with all those bad roads," Geri Roden said. "But the road between the airport and downtown Havana was in great shape, and I'm sure that was because Pope Francis had just visited Cuba."
Many of the Cubans that Booth and the Rodens spoke with talked of the "special period," a time of a severe economic downturn in Cuba in the 1990s. Economic analyses showed the hard times resulted from the precipitous drop in Russian support, especially petroleum products, after the 1991 breakup of the Soviet Union. Famine and illness presented serious problems through the end of the century, and the Cuban GDP fell by a third. The time prompted the make-do attitude that amazed Booth.
"I came away very impressed with the Cuban people and what I call the 'Cuban spirit.' I was taken with their survival instincts and resourcefulness, as well as their warm and friendly attitude." Booth added another comment, one reflecting the recent warm-up in American-Cuban relations. "I saw one man wearing a Barack Obama t-shirt."
On the other hand, Viar doesn't recommend Cuba to casual tourists. "The elite live well, but the rest of the country is falling apart."