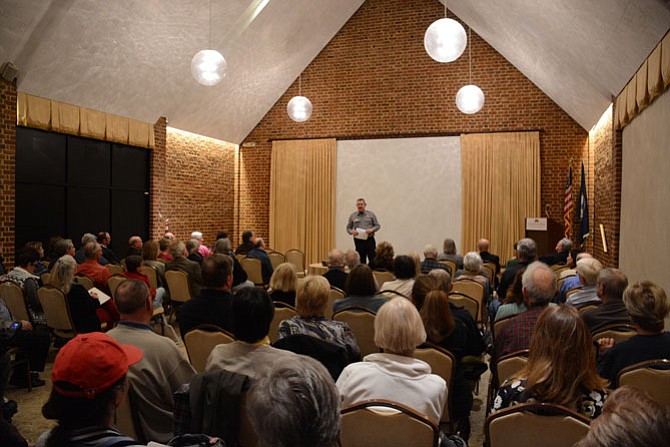 Mason Neck Citizens Association president Hillary Clawson began the group's March 16 meeting at Gunston Hall with a moment of silence.
First on the agenda was a report from Fairfax County Police on the shooting death of resident Johan de Leede that occurred the previous Friday, early in the morning.
The death, Clawson said, "has shaken this community."
The initial report from police said de Leede, 83, was shot several times in a home on the 6000 block of River Drive in the Mason Neck area. He died after being taken to an area hospital.
Police responded to the house around 1 a.m. the morning of the 11th, after receiving a report that he was unresponsive, possibly from a fall.
After finding him in the house, officers began CPR and dressed de Leede's wounds. From their preliminary investigation, police said he was shot inside the house.
DETECTIVES from the Major Crimes Division have been working the case since the call about de Leede first came in, but have yet to announce that they have determined any suspects.
Several police leaders attended and spoke at the Citizens Association meeting, asking community members for help.
"You know what belongs here, what doesn't belong," said Captain David M. Smith, commander of the Major Crimes Division. "We can't solve these cases without you."
Police handed out a neighborhood crime canvas flyer with photos of de Leede and the residence where he was killed, hoping the visuals might trigger someone's memory.
Community members in the packed meeting room, adjacent to the main Gunston Hall mansion, asked Captain Smith several questions about the shooting. For most he either did not have an answer for or declined to respond because he said it would threaten the integrity of the investigation.
One neighbor said he heard two distinct sets of gunshots at the time of the incident; another said she's seen a burgundy open-bed truck circling the area and continually passing by the house in the days following the shooting.
Someone else asked if detectives knew which type of gun was used. Smith said little in the way of response, other than he and the other Captain Jeff Powell told people to call in anything suspicious, no matter how small.
"Let us decide what's important," Smith said. "Take that filter off."
Smith did confirm that while de Leede was found inside the residence, their investigation supports the shots being fired from outside the home.
Captain Smith encouraged all community members to feel as safe as possible inside their homes, and consider adding motion-sensor lights.
"There's more unanswered questions than there are answers," he said. "Is there a concern here for public safety? Absolutely."
Though police have cleared the residence where they found de Leede as a crime scene, Major John R. Piper, Commander of Patrol Bureau -- Division III which includes the Franconia District station, said a more robust law enforcement presence will be in place while the case is being investigated.
K-9 units and bloodhounds were initially brought out to try to pick up a trail right after the first call to police. Now, Major Piper said, there will be more marked patrol cruisers, the marine unit on the river and helicopter on aerial patrol, "to show the community we're here as another set of eyes."
"We're not going to pull out of here," Piper added. "We're committed to solving this case."
State Sen. Scott Surovell (D-36) responded rapidly to the police release on March 11, commenting that he remembered the Dutch constituent de Leede and the street well from canvassing and knocking on doors for the election.
"He was a nice man and this incident is a shock to the neighborhood," Surovell said in the post. "Please keep his wife and family in your thoughts."
Clawson said she really wasn't surprised to see so many people turn out on a Tuesday evening for the citizens association meeting.
"There are distinct neighborhoods," Clawson said, with independent homeowners' associations. But, "whenever there's a major issue facing Mason Neck, they really come together."
"It touches everybody out here," she continued. "It's shaken everybody."
The Major Crimes Division detectives encourage anyone with more information about the incident to contact them through www.fairfaxcrimesolvers.org, by texting "TIP187" plus the message to CRIMES(274637), calling 1-866-411-TIPS(8477), or calling the Fairfax County Police non-emergency line at 703-691-2131.