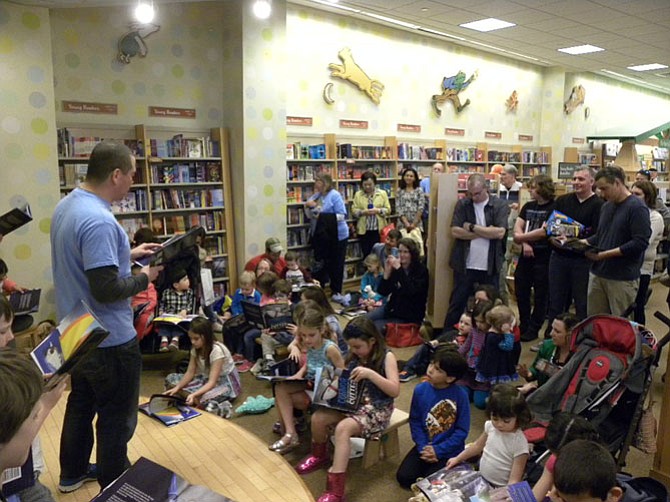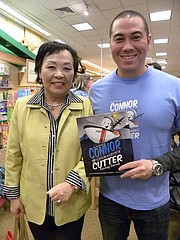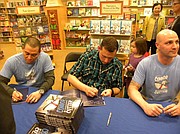 Scott McBride, a Langley High School alumnus, co-author Rod Thompson and illustrator Brian Martin, read from their book "The Adventures of Connor the Courageous Cutter: Saving Sarah" on Saturday, March 12 at Barnes and Noble in Tysons Corner.
McBride's first job was at The Connection Newspapers, as a paperboy when he was in the seventh grade. His mother Cha drove him and his sister Jackie around as they delivered the McLean Connection door-to-door. She saw how hardworking her son really was.
"I don't know what they did with the money, I don't think they did anything with it. They just wanted to tell people 'I work,'" said Cha, who lives in Tysons Corner.
McBride's hard work paid off. He was accepted at West Point and the Naval Academy. He chose to go to Annapolis. His mom believes he went there, even though his father was in the Army, because it was close enough to home that his mother can drive and bring home-cooked foods, which she did every other week.
He went to graduate school at the University of North Carolina at Chapel Hill to study strategic communications. Out of the blue his advisor asked him if he ever thought about writing children's books. McBride wondered why he asked that. "Was my writing so elementary?" But his advisor must have seen something, and the question stuck with him.
McBride approached Thompson, who went to the same church, to pick his brain about writing for children. Thompson did puppet ministry and he was good with children. McBride was in the Coast Guard; Thompson was in the Navy. Both love boats and ships. Both have sons named Connor.
They met at a Panera to do some character outlines but ended up with the entire book outline in an hour and a half. They wrote "The Adventures of Connor the Courageous Cutter: Saving Sarah" in a week and a half.
A cutter is what the U.S. Coast Guard, where McBride works as a public affairs officer, calls its boats. Perusing Brian Martin's illustration, it becomes clear very quickly what McBride and Thompson mean by cutter.
The reading was a reunion of sorts for McBride, as family, friends and former Langley High School classmates attended.
"For me it's about empowerment. People should know, especially children who read this, that you can do anything you want with your life...Go out and do things that require courage. Live a courageous life," said Thompson.
McBride knows from experience, "I think if kids realize that they have a dream and they work hard toward it, with a little bit of help and faith, you can accomplish anything."