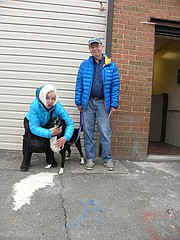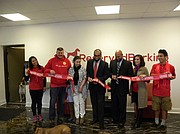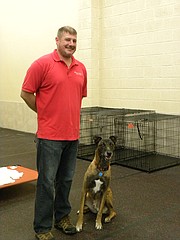 Doggy daycare Reserved Barking opened its second location in Springfield on Saturday, March 19. But for owners Ahsan Saeed and Bilal Malik it is more than that.
"Dogs have become family members. This is not doggy daycare, this is a child care for dogs," said Saeed.
Saeed has a background in childcare centers. Malik, on the other hand, has a background in pet behavior and have been rescuing dogs since he was a child.
Reserved Barking in Springfield have separate sections for large and small dogs. Each section has introductory doors--half-doors that open into double-gated crates used to introduce a dog into the daycare area.
"We put the dog inside [the crate], let the energy calm down. Let the other dogs sniff and lose a bit of interest and then release the door and the dog goes into the pack," said Saeed. The introductory door is Malik's suggestion gained from his background with animals.
Small and large dogs also have outdoor play areas, where dogs can play and relieve themselves.
Having an outdoor play area was very important for Malik and Saeed. They did not want to open a facility that did not allow for an outdoor space.
"Having an outdoor area, it's [the dog's] natural habitat," said Malik, who has seen dogs regress on their potty training from spending time in daycares that have no outdoor capabilities.
Nancy-jo Manney, of the Greater Springfield Chamber of Commerce, said that people have a bigger and bigger love of pets. There are "lots of businesses that are pet friendly. There are banks in the area that are pet friendly. A lot more pet-related businesses are popping up."
Opening in the Springfield location has been quite a journey. They learned a lot from doing the grunt work of opening in the new location.
Saeed and Malik said that Fairfax County's zoning ordinances are very strict and behind the times when it comes to businesses such as doggy daycares.
The county, said Malik, has not had the time or the foresight to add doggy day care in its zoning ordinance and thus applies rules of kennels to the facility.
"We are not a kennel," said Malik. "It's going to take a few years before doggy daycare becomes a household reality."
The Springfield location is at 7500 Fullerton Road. For more information about Reserved Barking and its services, go to http://www.reservedbarking.com/.