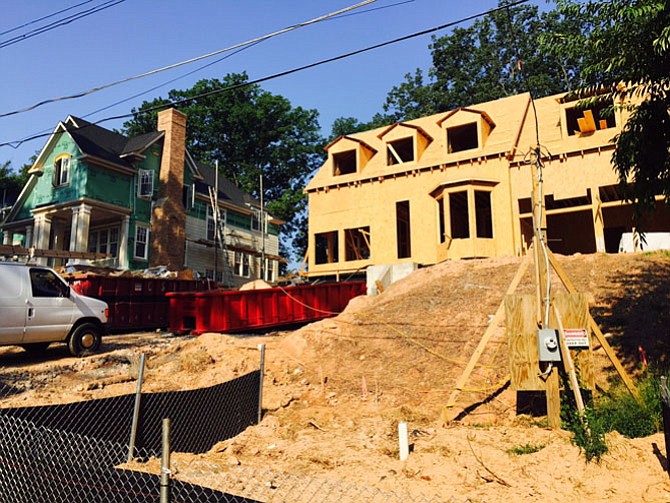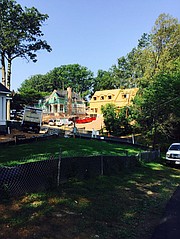 Great Falls was called Forestville until 1953, said Bill Canis, vice president of the Great Falls Citizens Association.
"Residents cherished those forests," said Canis. "It's one of the reasons most of us moved here."
"When things come up, whether it be highways or development, that seem to cause a question mark in terms of the future," he said, "residents become very concerned."
Infill development, and by-right development, where applicants don't have to get county permission to build new houses because there is no change in zoning, has caused concern the last few years, both in McLean and Great Falls.
Great Falls Citizens Association held a forum March 8 at the Great Falls Grange focusing on preserving trees, co-sponsored by Supervisor John Foust, Bob Vickers, president of the Tree Commission, and the county's Forest Conservation Branch, Urban Forest Management Division.
McLean Citizens Association and the McLean Trees Foundation is scheduled to hold its own event on preservation of the tree canopy and the issue of infill development on Wednesday, April 20, at 7:30 p.m. at the McLean Community Center. Planners hope to have developers as part of the panel discussion in McLean.
The Great Falls forum prompted hope, even suggestion, for citizens to become involved in protecting the tree canopy in Great Falls and the county.
"In a rezoning case, it's our best opportunity to negotiate tree preservation," said Craig Herwig, branch chief from the Forest Conservation Branch of the Urban Forest Management Division. "We can often get more than 30 percent in the rezoning process through proffers, which are obligations or negotiated agreements between the developer and the county. Often times, tree preservation is part of those proffers."
For example, GFCA, citizens and the developer have been in negotiations and discussions over Brooks Farm in Great Falls for more than a year. The Planning Commission is currently scheduled to make a recommendation on April 14, although two previously scheduled hearings were deferred.
"Brooks, it's a beautiful piece of property," said Herwig.
"Tree loss from infill development in our older McLean neighborhoods, especially Chesterbrook Woods, Langley Broyhill Estates, Turkey Run Road, and Franklin Park will continue as an issue as long as developers tear down older homes, clear cut lots, and build larger homes," asserts the McLean Citizens Association in minutes from its February board meeting.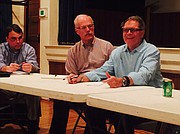 COUNTY STAFF COUNT on residents to alert them to areas of particular concern, they said.
"We don't have the staff to look at the over 800 plans that come in front of the county every year," said Keith Cline, Urban Forest Management Division director. "But we work at a number of them, especially if the application is asking for some type of a variance asking to have less trees targeted or required by the ordinance."
Citizens can get involved.
Herwig and Cline passed numbers to call at the Urban Forest Management Division (703-324-1770), the site development and inspections division which plans review and site inspections (703-324-1770).
"If a citizen says, 'I'm really concerned about this house coming in next to me, would you please take a look at this plan,' then we'll look very closely."

--Keith Cline, Director, Urban Forest Management Division
"If a citizen says, 'I'm really concerned about this house coming in next to me, would you please take a look at this plan,' then we'll look very closely," said Cline.
The Tree Ordinance is enforced even on the smallest lot by a site engineer, he said.
Other resources include the Department of Planning and Zoning website to learn "what's going on in my neighborhood": http.www.fairfaxcounty.gov/dpz/faqs/myneighborhood.htm and the LDSnet which shows site plans, grading plans, waivers and zoning records: http://ldsnet.fairfaxcounty.gov/ldsnet.
"I have to remind myself that development is not bad. If done properly, in fact, it can be very beneficial," said Vickers, Dranesville's Tree Commissioner. "Certainly, the purpose of the Tree Ordinance is to preserve the trees."
VICKERS REMINDED the audience at the Great Falls Grange that Virginia is a Dillon Rule State.
"This comes up in McLean," he said.
"People in McLean say, 'Why doesn't the county pass a stricter tree ordinance and have tougher penalties, et cetera, et cetera?'" he said. "The fact of the matter is, we are what is called a Dillon Rule State. It gives property owners a lot of authority to do what they want with their property," said Vickers. "The county cannot pass an ordinance that exceeds what the state allows. Just to get that ordinance passed, we basically had to go down to the state legislature and virtually beg them to give us some authority to be able to protect the tree canopy."
While there was talk of getting stronger tools for the county to use in regulating infill development, in fact this year's session of the General Assembly resulted in rolling back the county's power to use proffers. A new law greatly restricting local governments in asking developers for proffers in the rezoning process goes into effect this summer.