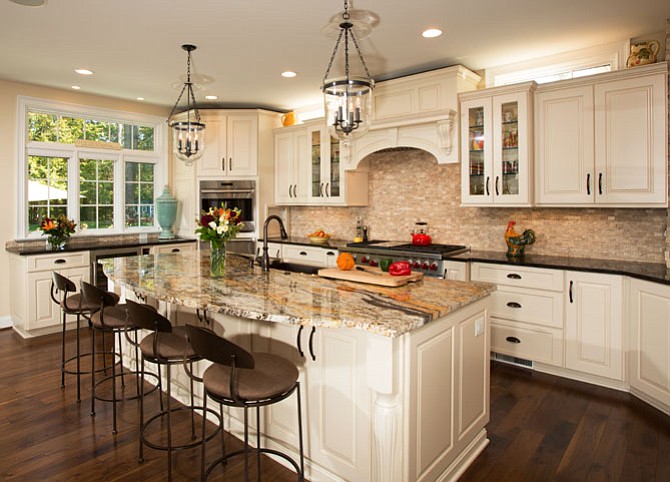 An expansive Clifton kitchen recently named the Washington area's "Best for over $150,000" will be opened to the public Saturday April 9 from 12-4 p.m.
The makeover won a "Contractor of the Year" (COTY) merit award for Sun Design Remodeling. The COTY award, which judges metro-area home improvements by category and budget range, is conferred annually by the National Association of the Remodeling Industry's (NARI) metro DC chapter.
The winning kitchen solution is in the Clifton home of Tom and Mary Healy, 7521 Cannon Fort Drive.
The honor is particularly gratifying for Craig Durosko, Sun Design's founder and chairman: "This is a very competitive category. Kitchens are the most frequently renovated part of the house, and a real frontier for remodelers these days."
Durosko notes that there's an ongoing homeowner preference for open floor plans, uncluttered sight lines and interactive spaces, "yet a kitchen still must function as a place where meals are prepared and dirty dishes can accumulate."
"For those of us who are concerned with the aesthetics of the big picture, the burden is on us to design-in masterful efficiencies: work triangles, invisible routes for wiring and plumbing, custom storage that brings everything to your fingertips. In the end, it's all about perpetuating a beautiful illusion in an everyday working environment. Walls and surfaces must give the eye something to enjoy — so that there's a peaceful, festive atmosphere in all directions."
Visitors in search of remodeling ideas will also find a trip to the Healy home enlightening.
"This is really an exceptional transformation," says Roger Lataille, the design consultant who guided the 4,700-square-foot residence from a vague set of options to a crisply defined interior plan now on display.
"Our revisions and renovations really shows what you can do with an open floor plan in a larger home surrounded by beautiful views."
Looking back, the 22-foot-by-20-foot kitchen that homeowner Tom Healy had a hand in designing in 1997 certainly had its charms. Surrounded by a course of divided light windows on two sides, the breakfast room offered a glimpse of backyard landscaping. Morning light was usually available, if not as abundantly so. The pine-facing cabinets, while dark, exuded a kind of rustic American ambiance.
On the other hand, the cook top island and dining counter didn't work well. There was a range oven on one side; stools and place settings on two opposite corners. With the children now away at school, this was layout that could be improved upon.
Ditto the L-shaped counter configuration separating the kitchen from the large family room. The family room was a "step down" — a sunken affair set off by an interior colonnade and a coffered ceiling. But sequestering the space only closed it off visually from the kitchen, a plan which no longer held much allure to the Healys as they looked ahead.
"What really made sense was stronger unity between a re-designed gourmet kitchen and the family room," Lataille said. "To do this, needed to raise the family room floor eight inches to level with the kitchen, and delete an interior kitchen elevation, which was also a bearing wall."
To hold up the home's second floor, Sun Design employed an I-beam bolstered by three vertical supports which would be wrapped in wooden facings that match the existing colonnade. Installing a subfloor, in turn, raises the family room floor to level with the kitchen. With existing kitchen tile removed, both rooms have been re-floored in fine hickory stained to suit the Healy's aesthetic preferences.
To augment natural light availability, the original slider was replaced with a divided light door bordered by sidelights and transom. "The light effects are pretty impressive throughout," Lataille said.
In all, the nearly 800-square-foot expanse from kitchen to family room opens up vigorous sight lines in all directions. From the cook's station behind the new granite-surfaced food preparation island one gazes forward into the living room with its blazing hearth, or outside to the lushly landscaped surroundings.
To better rationalize nearby amenities, Sun Design enlarged and reorganized the pantry, re-tiled the mudroom, powder room and laundry, and upgraded powder room fixtures and cabinet facings.
Better yet, the interior finish work scheme by Sun Design's Katie Coram is a study in soft textural contrasts. The corner gas-powered fireplace in the former breakfast zone is now set off by a stacked stone hearth; smaller format stones of the same type were used to build the backsplash behind the range oven.
The African granite food prep island surface, a rare strain known as Namibia, was cut to emphasize the natural veins that run through the middle of a slab. The slab was selected to complement the custom-designed base. The base itself is equipped with an antique copper farm sink, a microwave and a dishwasher.
The island parallels the gas-powered cooktop and convenient roll-out spice racks, warming drawers and wine cooler. The gracefully-arching slope extending past the base is perfectly situated for service to a new breakfast table aligned for a direct view to pool and gardens.
John Byrd (byrdmatx@gmail.com, www.homefrontsnews.com ) has been writing about home improvement topics for 30 years.