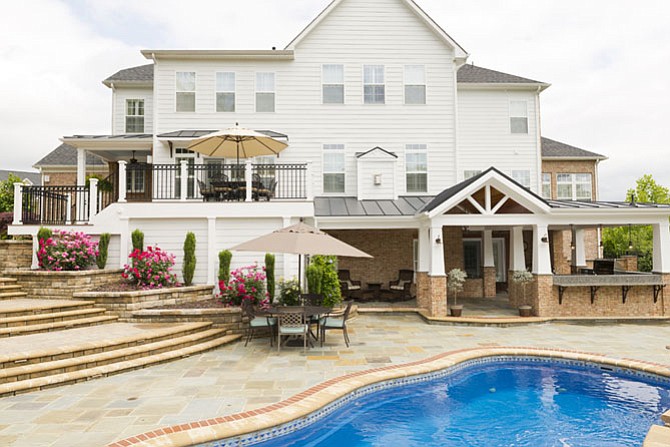 It's been a good year for Sun Design Remodeling.
In January, the full-service design/build remodeler won four "Contractor of the Year" awards from the Washington, D.C. chapter of the National Association of the Remodeling Industry (NARI). Then, in February, an already locally-honored gourmet kitchen was named category best ("kitchen above $150k") in the 10-state southeastern region.
Winning projects include: a rear elevation poolside recreation solution; a French Country gourmet kitchen (the southeastern regional winner); an open kitchen plan in a traditional interior style; and a lower-level build-out to designed for use by three generations.
A look at the firm's tops-in-category prizes reveals much about homeowner needs and prevailing trends.

French Country Kitchen Is Local and Regional COTY winner: Residential Kitchen Over $120,000
For Dr. Rick Layfield and his wife Kelly Layfield, the search for their dream kitchen started shortly after they purchased their 3,700-square-foot, four-bedroom home in Clifton eight years ago.
"The kitchen suite was a primary selling point," Kelly Layfield said of the 400-square-foot room.
But she found the rear of the house dark and dated. Sightlines to the children's backyard play areas were not well-aligned. And there was a visually obstructive bulkhead over the primary food preparation zone.
Also, the pentagon-shaped food preparation island and dining counter wasn't well suited for in-kitchen dining. And the corner breakfast area was cramped — making it hard to access a door to the back porch which used to be a pathway to the family's outdoor grill.
Fortunately, Kelly Layfields's first meeting with designer John Benson was productive from the start.
For instance, he proposed a rectangular food preparation island with a granite surface, parallel with the two corners of the cook's work zones.
To improve light, sightlines and floor space, Benson eliminated a corner window, adding a larger window over the sink and a three-foot-wide divided-light door in the middle of the rear elevation.
He then removed the side-porch door as well as two floor-to-ceiling windows, rebuilding the corner wall around two sets of windows and a custom-designed dining banquette.
The cumbersome bulkhead has been replaced with a coffered ceiling.
Benson also helped Layfield explore the lighter, more textured hues she had been seeking: marble subway tile wall covering; surfaces in Granite Bianco Antico; white cabinets with glass facings; and an oven backsplash in a white quatrefoil tiling. The coffers, likewise, are delineated in a white and grey duotone.
"This is just the balance I was looking for," Layfield said. "It feels like home."

Open Floorplan Defines Casual But Elegant Kitchen
Residential Kitchen; $80k to $120k; COTY Honorable Mention
Steve and Melynda Britt's four-bedroom colonial in Vienna offered considerable charms when the couple purchased it 10 years ago.
There was a nicely finished library and living room, a formal dining room and a sizable family room in the back half of the house with a 13-foot cathedral ceiling framing a lovely view of mature landscaping.
The main shortcoming was the kitchen — accessible from the back of the foyer, yet cut off from the wrap-around family gathering areas by a knee-high serving counter that converged into an "L" with a floor-to-ceiling wall partitioning the kitchen from the breakfast area.
Instead of creating privacy where needed, the rear suite configuration made a promisingly open space feel cramped and closed-in.
For Melynda Britt, the larger goal was a kitchen footprint that offered an efficient work space — integrated with the surrounding great room.
"Since the emphasis was on a more intelligent use of limited square footage," Sun Design's Durosko said, "we thought custom-built-ins would help create better coordinated work zones."
Critiquing the kitchen now, Britt is amazed at how much more effectively the solution works on several fronts:
The food preparation island not only protects the cook's work triangle, but is positioned for easy service to the family room;
The beverage station — an effective space divider — is accessible from both the breakfast area and family room.
The coffee bar is situated between doors leading to the dining room and the breakfast room — out of the chef's way.
The kitchen's mosaic tile flooring has been replaced by a refinished hardwood flooring that unifies the suite. White diamond granite backsplashes and surfaces, likewise, set an elegant tone.
"We can now comfortably entertain 20-25 guests," Britt said. "Better yet, the space is really warm and comfortable."

Finished Lower Level Offers Multi-Gen Family Solution
Residential Basement/ COTY Honorable Mention
Eric Park and his wife Tina, both physicians, were already quite busy 10 years ago when they purchased a 3,400-square-foot two-level neo-colonial in Falls Church. Blessed events, however, have a way of changing basic assumptions for the better. In 2007, the couple's first daughter was born; a second daughter followed four years later. Suddenly, active lives became even busier.
"Our plan all along was to create a family home," Tina Park said. "We saw the lower level eventually playing a part in our daily lives, but were only using it for storage. It wasn't until my mother began regularly helping us with the girls that we began looking at the house more closely."
At first Park's mother, Kay, would stay in the guest room, but gradually everyone started looking at ways to increase available privacy.
It's at this point that Sun Design Remodeling enters the story.

"A basement conversion is challenging," said Sun Design's Liz Lee-Sint, who guided the Park project from concept to completion, "especially when it's going to be mainstreamed with the rest of the house."
For Kay, the top priority was a suite with all the features of independent living, including a private entrance, a comfortable master suite and a fully functional kitchenette with dining for four.
On a separate note, the Parks envisioned a 195-square-foot family fitness center and a children's play zone with custom built-ins.
To gain uncluttered sightlines, Sun Design executed a few structural changes. The L-shaped stairway entrance was widened while preserving a necessary I-beam.
Describing the finished décor as "modern Asian contemporary," Tina Park stressed simple lines, soft tones and open visuals.
While the 150-square-foot kitchenette and dining counter provides everything needed for food preparation, the execution blends with other elements in a cleverly-zoned great room,
"It's really the nicest place in the house now," Park said. "And it satisfies so many different needs that it's become our main gathering place."
House and Grounds Reconciliation Judged this Year's Best
Exterior Solution/COTY Grand award winner
As Monte Zaben tells it, the rear elevation to his 8,300-square-foot colonial in Fredericksburg was so sun-exposed it was uncomfortable sitting by the pool he had just installed the year before.
"We spent about a year trying to picture a backyard plan that would to make the pool and grounds a more satisfying recreational experience," he said. "It was slow going."
After researching several options, however, he stumbled on Sun Design's portfolio of indoor-outdoor solutions, and set up a meeting.
From the start, company founder Craig Durosko proposed relevant ideas — including a design for a spacious, shaded pavilion outside the home's lower level.
Combining an extended radius that steps down to the pool with vaulted entrance way, the structure's architecture is welcoming.
Details
Sun Design Remodeling frequently sponsors tours of recently remodeled homes as well as offering workshops on home remodeling topics. Headquartered in Burke, the firm has a second office in McLean. Call 703-425-5588 or http://www.SunDes...">www.SunDesignInc.com for more.
Tapered craftsman-style piers support a seam metal roof. Inside, three distinct activity zones flow together: an open-air lounge, just outside the lower-level changing area, seats eight to 10; a cozy poolside vista with a pair of wicker chairs; and an outdoor kitchen equipped with a traditional grill, a power burner and refrigerators.
As a practical consideration, Sun Design constructed a sound-abating, architecturally-appropriate brick wall around exterior HVAC units, and added a period-style heat-screening overhang to an upper level kitchen window.
A second level grilling deck is now, likewise, under roof.
Happy with the outcome, Zaben said he enjoys the outdoor kitchen so much he was out grilling one of his specialties this past January.
"We make regular use of the outdoor space on just about every seasonable day," he adds. "It's very much a part of our lives now."

John Byrd has been writing about home improvement for 30 years. He can be reached at byrdmatx@gmail.com.