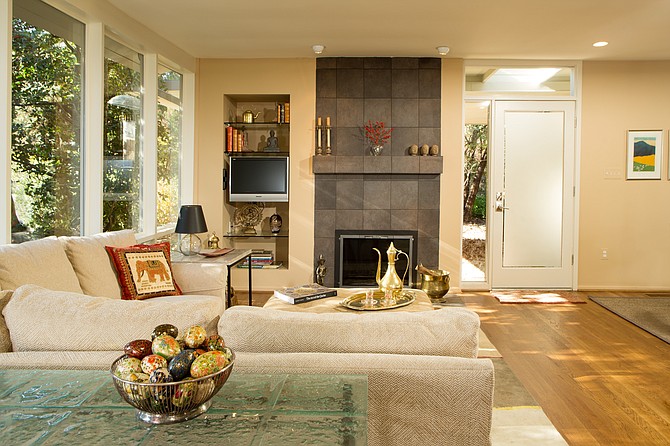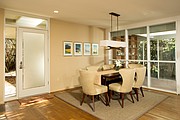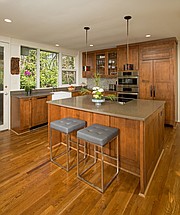 "We were wondering aloud whether we'd still want to be climbing five flights of stairs in 10 years. That's when we began thinking about … ways we might concentrate our primary living needs on one level." — Jeff Herre
Two years ago, Jeff and Jenny Herre, both retired, were living in a five-level townhouse in Old Town Alexandria with a view of the river. Long-term residents, they were satisfied with all the house had to offer. They collected art and fine furniture and their periodic renovations over several years had extended all the way to the attic.
As they approached their 70s, however, they questioned how much effort they wanted to expend getting from room to room.
"We were wondering aloud whether we'd still want to be climbing five flights of stairs in 10 years," Jeff Herre said. "That's when we began thinking about downsizing, and ways we might concentrate our primary living needs on one level."
As the research got under way, Jeff Herre saw that cost would inevitably play a role in their choices. One-level structures in and around Old Town were appreciably beyond the family budget. Looking further out of town, the options boiled down to: a) purchase a ready-to-occupy home which would come at a higher price; or b) find an older home with renovation potential that could be shaped into a place brimming with personal style.
The latter course would entail finding a creative design/build team with whom one could collaborate closely.
After assessing available northern Virginia properties for several months, a Realtor introduced the Herres to a home in Hollin Hills, a community of some 450 houses in Hybla Valley. Hollin Hills is renowned in architectural circles — even listed in the historic record as one of the first communities in the U.S. to feature modern architecture exclusively, mid-century modern in particular.
"In the 1950s, most progressive modern homes were owner-commissioned," said Roger Lataille, a design consultant at Sun Design Remodeling. "But Hollin Hills was an entire development focused on the advanced architectural concepts that emerged after World War II."
Part of the enduring appeal was that architect Charles Goodman and landscape architect Dan Kiley had sited each Hollin Hills residence to maximize privacy. Even though lots are seldom more than one acre, it's difficult for your neighbor to see you from their house, and vice versa.
"We loved the wooded setting right away," said Jeff Herre. "The problem was, the house itself didn't look like anything we'd want to live in."
For starters, there were the obstructed sight lines starting from the front entrance. Walking in, one looked left at interior drywall that defined the parameters of a 10-foot-by-10-foot galley kitchen. To the immediate right, a floor-to-ceiling exposed brick hearth with a masonry niche designed for firewood. To the left, a floor-to-ceiling bookcase and an odd chandelier. Straight ahead, an open stairwell descending to ground level.
Further back, a door leading to the master suite, which included the original 70-square-foot tile-clad bathroom. Two closets less than two feet deep provided the only wardrobe accommodation.
While floor-to-ceiling windows dominating the eastern and western wall elevations boasted a dramatic view of surrounding woodland, the Herres also soon learned that much of the glazing was single pane.
Herre's question for Lataille from the start was right to the point: "Can you make the changes we want within our budget?"
Topping Herre's wish-list: an open plan with places for art display that will work well for entertaining; design that allows the couple to mainly live on one level; a master bath with a walk-in shower and a new powder room; additional storage; a visually compelling interior design; replacement of single pane windows with insulated double-ply thermal glass.
"There have been significant developments in open floor plan design in recent years," Lataille said. "Part of this is driven by demand: more people want spaces that allow for both privacy and easy interaction. Part are options made possible by improving technologies. For instance, a reverse downdraft vent incorporated into a cook top works well for homeowners who want to keep the kitchen open, unobstructed by a hood hanging from the ceiling."
This is one factor that has made a kitchen-centric floorplan a popular option for a home's primary living space, and offered a practical solution for amateur chef Jenny Herre, who enjoys regaling guests with her original dishes while otherwise fully engaging in the party all around her.
"We thought an open kitchen would really work in this house," Jeff Herre said, "but we needed to see well-developed ideas before moving forward with the purchase."
Enter Jon Benson, Sun Design's lead designer, and a master craftsman with several published books on woodworking to his credit.
"When you're removing kitchen walls, the goal is to develop a space plan that meets all functional requirements, yet really supports the room aesthetically," Benson said. "That's why it's important to design elevations that present an appropriate combination of color, texture and tone. When this is done correctly, walls tends to be less necessary — and an open plan can work well."

On this score, Benson designed a cook top island and dining counter perfectly positioned between the dining room and the seating area around the fireplace. Custom-designed roll-out trays in both the island and near the oven stack provide a space-saving solution.
Light maple Shaker-style cabinet facings combined with quartz Caesarstone counter surfaces present clean lines and reinforce the light, accessible ambiance of a room surrounded by windows.
Nearby, Benson's re-designed hearth features America Palisades ceramic tile. Dark gray, the floor-to-ceiling vertical cladding presents an offsetting visual anchor in a composition otherwise comprised of light pastels.
The dining room table, in easy reach of the new island, is a stylized mid-century design.
To complement the play of light throughout the house, frosted glass doors are employed throughout the first level, including to the entrance to the lower level which is now enclosed.
A larger walk-in shower and double-vanity have replaced the existing former bath and there are walk-in closets adjoining the bedroom.
Collectibles from India, Lebanon and Brazil are now on view in Benson-designed display spaces.
"This really feels like our home now," said Jeff Herre. "We've made the transition we wanted, and are pleased with it."
Sun Design Remodeling frequently sponsors design and remodeling seminars as well as tours of recently remodeled homes. Headquartered in Burke, Sun Design also maintains an office in McLean. Sun Design will be sponsoring an open house in a recently remodeled home on April 29 and 30 from 11 a.m. to 5 p.m. daily. For more information: www.SunDesignInc.com
John Byrd (byrdmatx@gmail.com) has been writing about home improvement for 30 years.