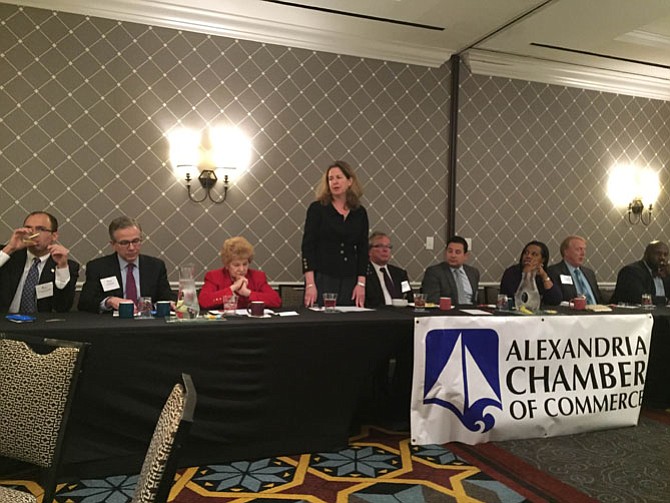 Over oatmeal, Alexandria's City Council and state legislators did their best to reassure local businesses, distressed by a recent spate of closures in Old Town. The 2016 Legislative Breakfast, hosted by the Alexandria Chamber of Commerce on March 29 in a room at the Hotel Monaco, offered local business leaders and professionals an opportunity to catch up with their city and state representatives.
Most of the meeting focused on City Council's role, centering around questions about what the local government plans to do to help local businesses thrive.
"It is concerning that businesses are closed, and yet a number of those had nothing to do with Alexandria's business climate," said Mayor Allison Silberberg, noting that some were pushed out by the internet while others wanted to retire.
As she'd suggested in the past, Silberberg recommended a coffee meeting with various business leaders in the area and reexamining suggestions from prior economic sustainability reports.
"When the council added hours to the meters in Old Town, business went down. That's something the council needs to look at. "
— Mayor Allison Silberberg
Other members of City Council noted that the businesses that had closed had, in many cases, not made use of various services offered by the city.
"The closing businesses are often not plugged in with our local support services like the Alexandria Economic Development Partnership," said Councilwoman Redella "Del" Pepper. "It might be that our city and services need to go door to door to these businesses to talk about what Alexandria has to offer."
For Councilman John Chapman, it's not just the city and services that need to be comfortable going door to door, but the customers.
"We have to make sure our main street is better than Tyson's," said Chapman. "We need to offer people a place to park here if they want to shop downtown and we need to look at our entertainment options."
In particular, Chapman lamented the demise of the Old Town Theater, saying the city needs to find more entertainment options to bring the kind of foot traffic into Alexandria that will cause them to shop at other nearby venues.
Councilman Justin Wilson noted that while the foot traffic is good, citizens still need to find a place to park. Wilson said the city needed to focus more on wayfinding to parking garages and parking availability throughout the city to combat the notion that there's no parking in Alexandria. However, when the question about the extended meter hours implemented in 2014 came up, a move that many business leaders say has severely hurt their businesses, most of the council was completely silent.
"When the council added hours to the meters in Old Town, business went down," said Silberberg. "That's something the council needs to look at. We need to encourage people to go to parking garages, but when I go to Arlington, the meters end at 6 or 7 and I park there. That is a big issue for folks. We need to make it easier for people to come here and shop and eat."
A smaller portion of the breakfast addressed the returning Virginia legislators. With a Republican majority in the house and senate, most of the major Democratic bills failed, though Del. Charniele Herring said that the relationship between the parties in Richmond is beginning to improve. The state legislators each referenced the new GO Virginia program as the greatest success, and the failure to expand Medicaid as the ongoing greatest failure. GO Virginia is an initiative that focuses on creating incentives, technical support, and assistance for collaboration for businesses working to diversify Virginia's economy.
"With GO Virginia, we're concentrating on business development in the region," said Herring. "It's easier this year because the economy is a little better, though it's still sluggish."
Both Herring and Del. Mark Levine lamented the continued blocking by the Republicans of any attempt to expand Medicaid, citing not only the humanitarian benefits, but the federal funding that it would come with it and the state funding that could be cleared up for other projects.